Why Followers Are Reportedly Still Loyal To This Convicted American Cult Leader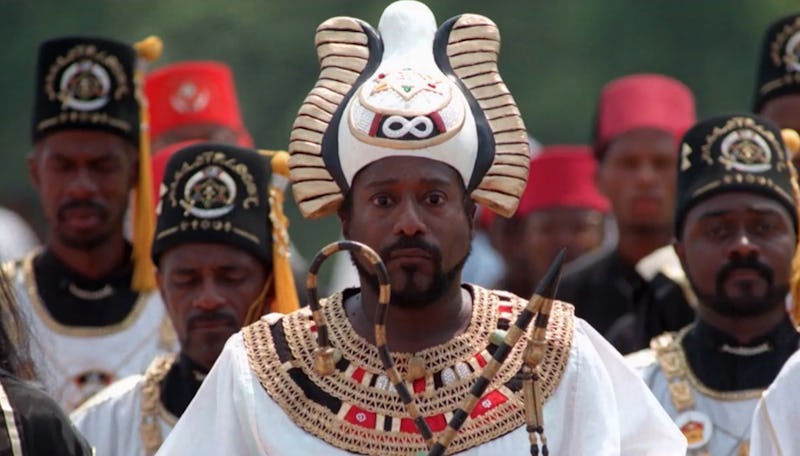 W. A. Bridges Jr./Atlanta Journal-Constitution/AP
People magazine's investigatory series has already dug through the histories of a few infamously persuasive groups, and in the July 9 episode, they add another to the list. According to the outlet, the Nuwaubian Nation was led by a Dwight "Malachi" York, who was eventually convicted of transporting minors across state lines for sexual purposes. People Magazine Investigates follows the discovery and demise of York, so where does that leave the Nuwaubian Nation in 2018?
Warning: This article contains information about sexual assault, which some may find triggering.
According to People, York originally founded the cult in New York City in the '70s by launching the "Ansaru Allah Community." There, he preached "black supremacist ideas and mystical Islam," told his followers he had descended directly from the prophet Mohammed, and even claimed to be a part of the Sudanese royal family, per the publication. From there, he began to gain followers, and his increased power led to reported criminal acts.
The article goes on to say that as the cult progressed to eventually become what York called the "United Nuwaubian Nation of Moors," the leader claimed that he was everything from an ancient Native American fighter to an extraterrestrial from a fictional planet. And as he was making these outrageous claims, he also was grooming his followers' children to be sex slaves, according to People.
The Southern Poverty Law Center, a non-profit dedicated to fighting hate crimes and documenting hate groups, has a page entirely devoted to the Nuwaubian Nation that describes their beliefs as difficult to precisely define — because they've been so dynamic and inconsistent.
According to the same People report, York was arrested in 2002 shortly before authorities found concrete evidence of his abuse, along with "dozens" of children and 50 to 75 women, in his Georgia compound. The SPLC reports that he pleaded guilty to 77 state charges, including dozens of counts of child molestation. Then in 2004, York was convicted of five counts of racketeering and six counts of transporting minors across state lines for sexual purposes, the People article continues. Those charges carried a combined sentence of 135 years in federal prison, and that's where People reports he still remains. But even without him, the mysterious group still seems to endure.
According to Patch.com, a news site specializing in community journalism, there was a Nuwaubian Nation presence in Hartford, Connecticut as recently as March. The Atlanta Journal-Constitution also reported that in 2014, authorities found Nuwaubian Nation literature and notes in the home of a man who was charged with starving his baby to death. And in a feature from 2015, Vice reported that a bookstore in Brooklyn called "All Eyes on Egipt" still sold York's own works, along with those of other conspiracy theorists.
The continued troubling behavior of the organization's followers come after years of alleged manipulation and strict rule at the hands of York. "It would be slander to say something negative about Malachi York. He was the divine teacher no matter what he did, and the repercussions could be severe," former follower Robert Rohan told Vice. "If you saw something that didn't make sense, and were vocal about it, you would be talked about, beaten, and sometimes thrown out of the community."
One former member and alleged victim of York's, Niki Lopez, is featured heavily in the People Magazine Investigates: Cults episode on his group. She claims that she was forced as a child into several traumatic sexual acts with other children, and was raped by York himself. During his trial, Lopez was one of the former Nuwaubians who testified against him. "I felt empowered," she told People. "I lived my whole life being told what to do by this person and he governed everything that I did."
This group is notoriously secretive and hard to pin down in terms of what their actual mission is, especially given a founder who told such tall tales and has been accused of such evil acts. People Magazine Investigates will hopefully shed even more light on the group as it exists today.