'PMI: Cults' Explores The Role These Religious Parents Played In Their Son's Tragic Death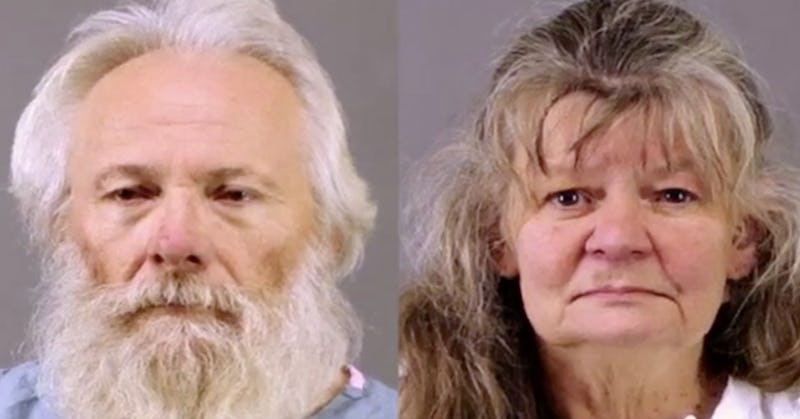 Investigation Discovery
One of the extreme religious groups featured by People Magazine Investigates: Cults will likely be fresh in the public mind after it caught national headlines in the last few years. Several members of the Word of Life Church — their parents among them — were sentenced to prison after teen parishioners Lucas and Christopher Leonard were subjected to brutal beatings, according to People. Lucas did not survive his injuries. So are Bruce and Deborah Leonard still in jail?
The former members of the Word of Life Church seem to still be behind bars — the above People article stated in early 2017 that Bruce was sentenced to 10 years in prison and Deborah was sentenced to five after they both pleaded guilty to assault. And there haven't been any updates to their status regarding any kind of early release.
According to the Utica Observer-Dispatch, Deborah and Bruce were just two members of the Word of Life Church who were allegedly encourage to beat Christopher and Lucas, who were 17 and 19 years old in 2015, respectively. The newspaper reported that it was alleged in court that Lucas had made known his plans to potentially leave the church and that Pastor Tiffanie Irwin accused the teenagers of crimes like molestation of young church members, witchcraft, voodoo, and even plans to kill their parents in order to convince the congregation to punish them. Police had repeatedly denied that there is any evidence to support Irwin's accusations were true, but Christopher testified during the trial that he and his brother had "inappropriately" touched children, per People. He was never charged.
The teenagers' parents both presented, through their representation, their reasoning for why things ended up taking the tragic turn. According to NBC News, Deborah's attorney said that she was too timid to stop the beatings, and Bruce's attorney claimed that prosecutors hadn't proven their intent was to seriously injure the teenagers.
"It looks like she went along with it, and it spun out of control," Deborah's attorney, Devin Garramone, said, according to a report by The Washington Post. "This woman is so meek and timid, she didn't have the temerity to stand up to them and say, 'You're not punishing my kid. You're not doing this.'"
According to Syracuse.com, Deborah also testified that if Irwin would have told the congregation to stop, the beatings would have ceased, and also said that she believed Irwin was a "prophet." But regardless, the parents did end up pleading guilty to assault, and they're not the only church members who faced legal repercussions after the incident.
A CBS News report states that the victims' half-sister, Sarah Ferguson, was convicted of manslaughter and assault for her role in the event, and other members of the church were also charged. The same NBC News report linked above states that Christopher even testified against his half-sister. "I can't imagine the stress he was under to go into a courtroom ... to testify against his sister," District Attorney Scott McNamara said, according to the outlet.
The People report linked above also reports that Irwin was sentenced to 12 years in prison after pleading guilty to manslaughter and assault. Apparently People Magazine Investigates will shed even more light onto this case — an article from the outlet reports that the show will have new footage taken of Deborah and Bruce just after the incident and throughout the events that followed.
The inner workings of the World of Life Church remain murky, and the influence that the religious institution itself had on the Leonards' parents and the other participants has been a topic of discussion since the tragedy occurred. Perhaps with People Magazine Investigates, the details could become a little clearer.