Every Delightful Moment From The Obamas' Last Christmas Tree Lighting Ceremony
by Priscilla Totiyapungprasert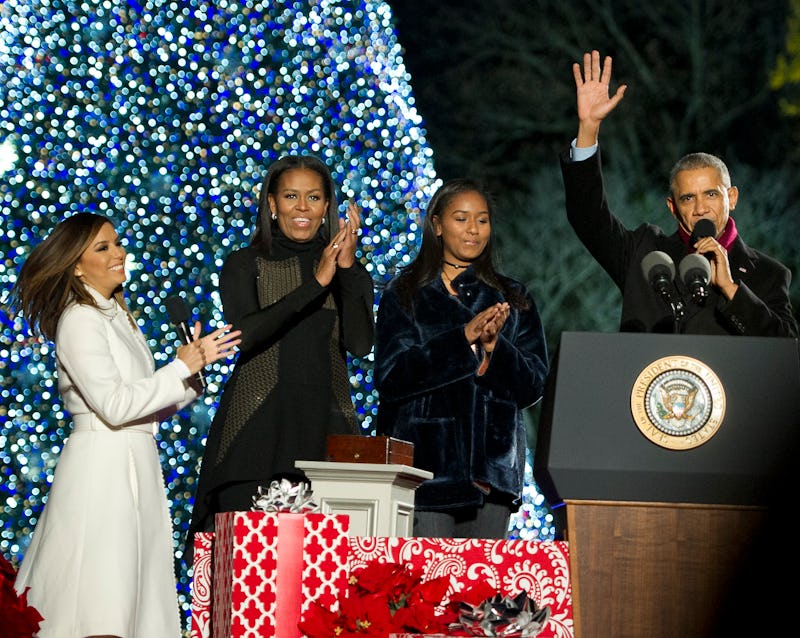 Pool/Getty Images News/Getty Images
Pictures rolled out this week of the Trumps' Christmas decorations at the White House, reminding us that its annual Christmas tree lighting is coming up. While decked out with a nativity set next to George Washington's portrait and a giant gingerbread White House, the President's Park is where the action will be happening on Thursday evening. The first family will light the National Christmas Tree and in the 95th year of this presidential tradition, there will no doubt be comparisons to the Obamas' Christmas tree lighting ceremony in 2016.
"It's like a Christmas edition of Lollapalooza," then President Obama quipped at last year's star-studded yuletide event that featured performances by Chance the Rapper, Kelly Clarkson, The Lumineers, Garth Brooks, Marc Anthony, gospel singer Yolanda Williams, and five-time Grammy winner James Taylor. Actress Eva Longoria hosted the holiday celebration and the Christmas tree lighting also marked the end of an era. Had eight years gone by so quickly?
This year, the Christmas tree lighting line-up will feature The Beach Boys, who had considered performing at the Trump inauguration. If you're feeling nostalgic and want a merry little pick-me-up, take a stroll down memory lane and remember your favorite moments from the Obamas' last Christmas tree lighting.