Some People Are Canceling Their Netflix Accounts Because … Obama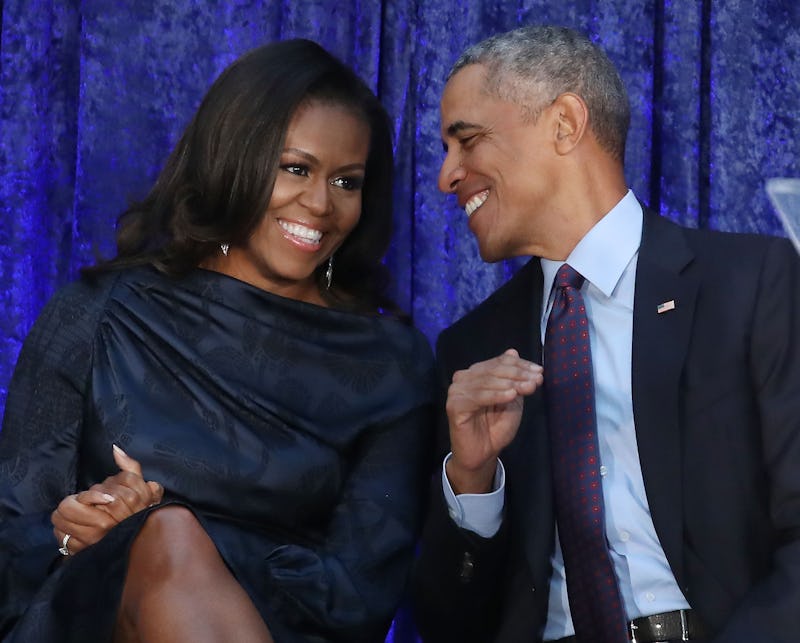 Mark Wilson/Getty Images News/Getty Images
Even at the end of their time in the White House, the Obamas retained a high level of popularity. With that, though, came a high level of animosity from the other side. This animosity seems to have lasted well past the end of President Obama's second term, and now the Obamas' Netflix deal has people threatening to cancel their subscriptions, as Business Insider reported.
After Netflix announced that the Obamas had signed a production deal with the media giant, the news quickly rippled across the internet, eliciting a variety of reactions. There were the expected celebrations from fans of Barack and Michelle, jokes about Obama and Joe Biden doing a "buddy buddy cop show," and even analysis from technology research firm GBH Insights saying that the contract would be "a 'home run' deal" for Netflix.
"We believe Netflix remains in a unique position of strength to grow its content and distribution tentacles over the next 12 to 18 months ... with a potential Obama deal the latest 'feather in its cap," wrote Daniel Ives, GBH Insights' head of technology research, in response to news that the deal was on the way.
However, Business Insider notes that Twitter has also seem a large stream of not-so-positive reactions.
"Dear @netflix, No one, I mean no one asked for more Obama garbage. I hope this falls apart, but I'm may have to cancel #Netflix and just go with @amazon or @hulu," wrote one Twitter user. Despite the apparent strength of his conviction, he didn't actually go as far as numerous others.
"Calling all Patriots! Do you subscribe to @NetFlix? Today they announced a multi year deal with Barack and Michelle Obama," wrote another Twitter user, along with a screenshot of a Netflix cancellation notification. "Please Cancel your subscription & show them this shall not stand!"
"I guess I will stop watching netflix and it will be hard for Obama to do shows from Leavenworth penitentiary," wrote another, in response to Fox News' article on the deal.
"Just joined Hulu and cancelling Netflix #Boycottnetflix#netflix cancelled," wrote yet another Obama detractor. "Sorry not interested in criminals. Directing financial advisors get rid all Netflix holdings."
The New York Times reported that Obama has made it clear that the goal of his and Michelle's Netflix platform won't be to fight back against Trump or conservative-leaning media outlets. The content, they say, will be primarily inspirational.
Even since Obama left office, at least one Fox Business host has suggested that Obama be arrested for criticizing Trump. Twitter is rife with people calling him treasonous. In early 2018, Snopes fact checked a series of stories claiming that Michelle Obama had been arrested — but not charged — because of an incident involving domestic abuse (they were rated as entirely false). After Trump falsely tweeted that Obama had "wiretapped" him during the election, Snopes also fact checked stories from right wing media sources claiming that the FBI was on the verge of arresting the former president — these were also false.
In short, there are a lot of people out there who strongly dislike Barack and Michelle Obama, and they don't exactly try to keep it a secret. Therefore, when Netflix was in the process of negotiating this deal, they must have taken a wave of conservatives unsubscribing from their services into the calculation.
According to Ipsos, a market research company, Obama left office with high popularity worldwide — so it's altogether likely that the deal will gain far more subscribers than it loses. The backlash so far is a downside that Netflix certainly expected, but there are only so many people who will care enough to lose access to all of that content just because the Obamas will be involved in some of it now.