Luke From 'The OC' Got Married & His Wedding Looked Picture-Perfect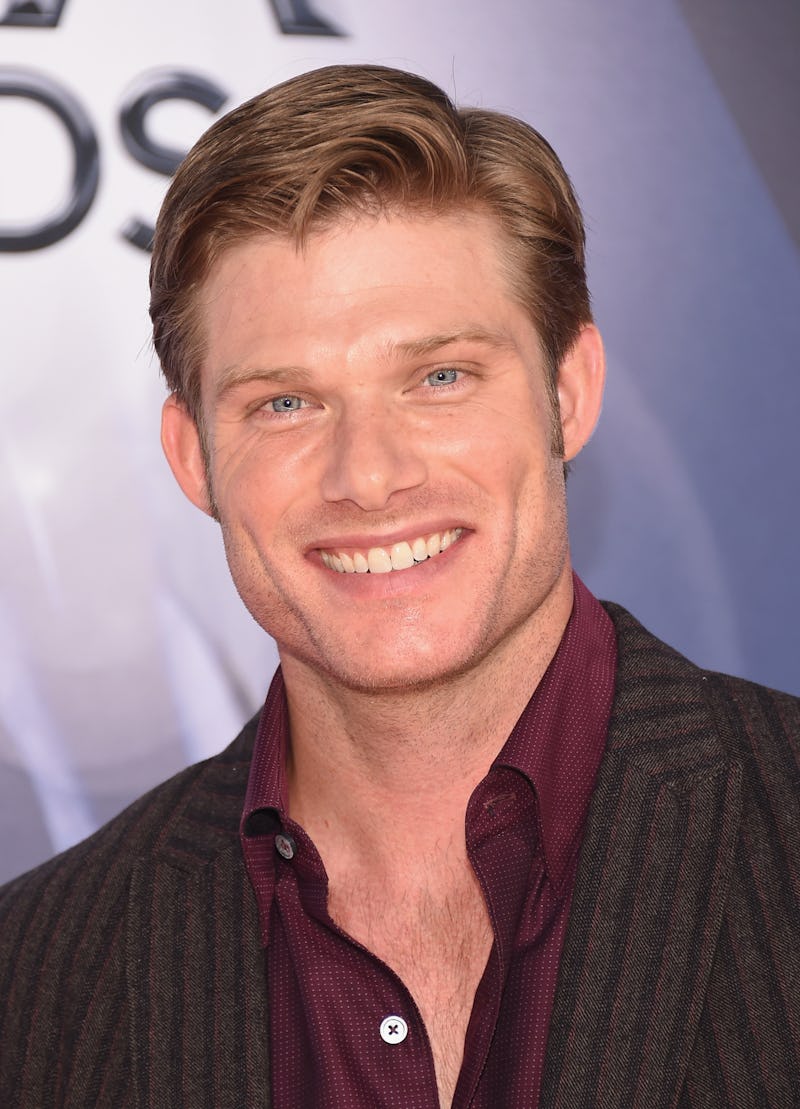 Michael Loccisano/Getty Images Entertainment/Getty Images
It seems like just yesterday he was playing Marissa Cooper's troubled boyfriend Luke on The OC, but now, he's a married man. Over the weekend, Chris Carmack married Erin Slaver, and from the photos that Carmack and his friends have shared of their big day so far, it seems like it was an absolutely beautiful wedding.
So far, Carmack and Slaver haven't shared any specific details of their day, but he did announce the big news on Instagram on Oct. 19, sharing the first photos of him and his new wife on their wedding day. "First look on the big day!" he captioned the photo.
In the pictures that Carmack has shared so far, he and Slaver are all decked out in their wedding attire and sharing lots of smiles all around. In one photo, they're smooching on a dock right on the water, and in another, they're looking into each other's eyes. Slaver wore a long, white gown with a tulle skirt, and in the photos, she's holding a big bouquet of purple, cream, and white flowers with plenty of greenery. Carmack chose a black tuxedo for the occasion.
But what stands out most about the photos isn't how beautiful the couple looks — it's how happy they seem to finally be married.
Slaver also shared a photo on Instagram of her wedding dress hanging up the next day in a dark room, writing, "Morning after.... night to remember" along with a heart.
It seems like Carmack and Slaver had plenty of their loved ones there to cheer them on as they tied the knot, including Carmack's former Nashville costar, Sam Palladio, who wished the couple well in an Instagram post of his own. He shared photos of Carmack posing for photos and fishing as well as one of them of him and Carmack together. He also shared a shot with his girlfriend and wedding date, Cassadee Pope.
Palladio wrote in his caption, "2 of my favourite people in the world got married this weekend and it was the most best weekend ever. Love you."
This wedding seems to have been a long time coming for Carmack and Slaver, who have been dating since they met on the set of Nashville when Slaver played one of Hayden Panettiere's backup dancers. In March 2016, they announced their engagement, and just a few months later, they started a family together. In September, they announced the birth of their daughter, Kai, who is now 2 years old.
This season, Carmack joined the cast of Grey's Anatomy as a new ortho surgeon named Link, and his character is already making waves in the hospital. Between his new gig and his marriage, the end of 2018 is turning out to be pretty busy for him.
Congratulations to the happy newlyweds! It's hard to believe that another former member of The OC cast is all grown up and married, but who knows? Maybe he and Adam Brody can now trade parenting and marriage tips. Seth and Luke did end up being friends in the end, after all.