Here's Why 'Grey's Anatomy' Fans Will Either Love Or Hate "Ortho God"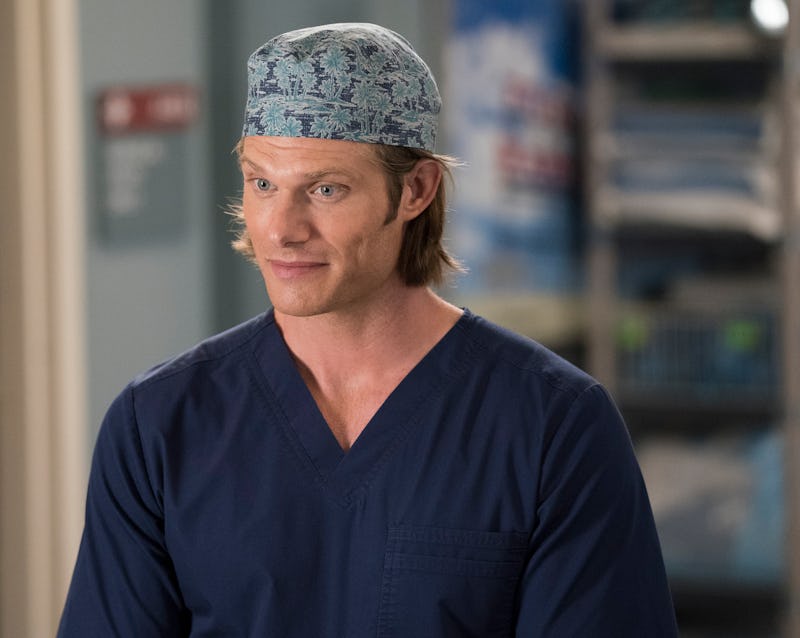 Mitch Haaseth/ABC
The revolving door of Grey Sloan Memorial Hospital is always turning, ushering in fresh-faced new doctors just as old favorites are heading out. But who plays Dr. Atticus Lincoln on Grey's Anatomy Season 15? The new character is one of the replacements the long-running procedural's writers are bringing in to fill the void left by the Season 14 departures of several veterans like Arizona Robbins, April Kepner, Ben Warren, and Nathan Riggs.
If fans have been watching other soapy primetime dramas on ABC, they'll likely recognize the man behind the scrub mask. That's because, for the past six years, actor Chris Carmack has been starring on the network's musical series Nashville (and on CMT when the show moved there for its final two seasons). But now that that show has played its final bluesy chord, Carmack has found a new home, moving from Nashville, TN to Seattle, WA.
Of course, fans of that show will know that Carmack played Will Lexington, who evolved over the show's run from a closeted gay singer to an out and proud country music star. And at least everyone knows he's got a great set of pipes, just in case the Grey's writers ever decide to try another musical episode again.
Of course, Nashville isn't the only thing Carmack is famous for. Carmack's credits stretch back nearly two decades and include work on both television and film. After getting his start as an Ambercrombie & Fitch model, Carmack's first major role was in 2003 on Season 1 of FOX's The O.C. as Luke Ward, the boyfriend of Mischa Barton's Marissa and the show's main antagonist in its first season.
Between his time in Orange County and his tenure in Tennessee, Carmack could be found guest starring on shows like Smallville, Desperate Housewives, and NCIS. Carmack's feature film debut came in 2004 in the seminal sequel Bring It On Again, but probably his biggest role on the big screen to date has been as the villain of the 2011 horror movie Shark Night 3D.
Carmack's latest role has him transforming from a villain into a hero — specifically, an "ortho god," as Deadline described Dr. Atticus Lincoln in its report on the actor's casting. And that's certainly the name for a hero: the first name of one of literature's greatest protagonists and the last name of one of our country's greatest presidents. (Though apparently the character prefers to go by the simple nickname "Link.")
Seattle Grace has been in need of a new orthopedic surgeon ever since Callie Torres left at the end of Season 13. Not only will Link fill that hole on the hospital's board... he could also fill a hole in Meredith's heart. Season 15 is being billed as the "Season Of Love," and with Nathan Riggs gone, Meredith is in the market for some new arm candy. (Sorry, Scott Speedman fans, no word on a return visit from his dreamy Dr. Marsh.)
Will Link heal Meredith's heart as easily as he heals bones? Or will Meredith prove too busy — and too badass — for this fresh-faced newcomer? Find out when Season 15 premieres on Thursday, Sept. 27.