The One Bralette Every Woman With Big Boobs Should Own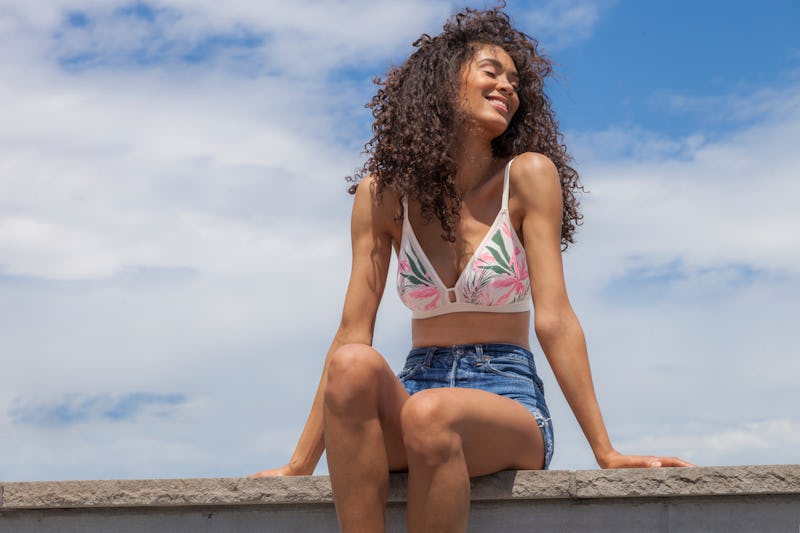 In case you somehow missed it, bralettes are totally having a moment right now. Whether it's adorable lacy styles or simple ones that are perfect for wearing under sheer and lightweight clothing, it's pretty much impossible to enter a store and not see a display of them. But if you're larger chested, finding a bralette that works for big boobs can be a little bit daunting.
Lingerie start-up LIVELY has been making waves since it first debuted, and its All-Day Bralette is seriously popular because of its no-wire style, comfortable fit, and sporty but chic design. It can hard to find bralettes you actually want to show off, but LIVELY excels at making them. So when the company announced it had created the Busty Bralette specifically designed for D-cups and up, it sold out fast and racked up an impressive 3,000 person waitlist.
The good news is, the bralette is finally going to be restocked on LIVELY's website Sunday, July 16. And the best part? LIVELY is adding a new Lush Life Print to the lineup of Busty Bralettes (which previously came in black and soft pink styles). It's the perfect time to add a tropical print to your bralette collection, don't you think?
With its wind band, supportive straps and breathable sling, the Busty Bralette has the right amount of support for D-DDD cups. It comes in two sizes, and it's designed to fit sizes 32D to 38DDD.
Busty Bralette in Black, $35, wearlively.com
Like other LIVELY bralettes, the Busty Bralette retails for $35 for one, $55 for two and $75 for three. All the more reason to stock up.
Busty Bralette in Soft Pink, $35, wearlively.com
If you're looking for something to wear under your sheer white tanks this summer, the Busty Bralette in soft pink is the perfect neutral pink shade.
Busty Bralette in the Lush Life Print, $35, wearlively.com
If you're looking for something a little more bold, the Lush Life Print is such a fun pattern.
Mark your calendars for this restock now, because I have a feeling this relaunch might sell out again.