This Was Gary & Carrie Fisher's Sweetest Moment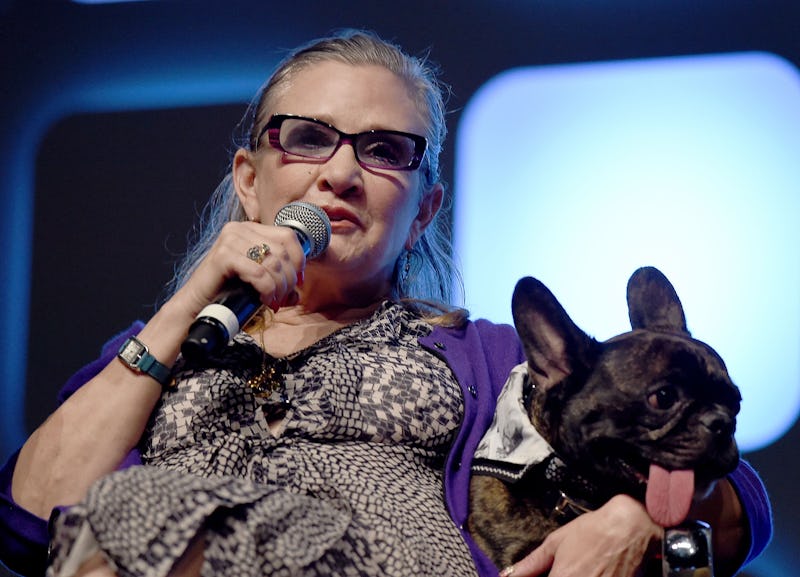 Ben A. Pruchnie/Getty Images Entertainment/Getty Images
The news of Carrie Fishers' death is hitting fans and former co-stars hard. There's no doubt that she will be missed by many, especially her family. Although Fisher only had one child, she also had a four legged BFF that was certainly part of her family as well. Gary Fisher and his mother shared tons of wonderful moments together, many of which were documented on the dog's Instagram account, but there's one image of the two that shows just how special their bond really was.
Fisher will never be forgotten for her role as Princess Leia, but her dog Gary was something of a social media star. The dog's Instagram page, which has over 60,000 followers, shows photos of Gary and Fisher traveling the world, sharing special moments, and even playing dress up.
It's clear to see from the posts that this was no ordinary pet-and-human duo. The most touching image on the page was posted on Mother's Day of 2016. It shows the two gazing into each others' eyes with the caption, "Happy Mother's Day to the best mom ever." I will warn you before you scroll down — you'll need some tissues because this is the sweetest and most heartbreaking photo you'll see all day.
While this might be the top moment of the entire Instagram account, there are still plenty others that are worth revisiting. Here are some of Gary and Carrie Fisher's most memorable moments.
1. Cuddling Up
The two shared a blanket during their final days on the set of the show Catastrophe.
2. Having Dinner
According to the caption, Gary went on a dinner date with his mom to celebrate the 39th anniversary of Star Wars.
3. Playing Dress Up
Like mother, like dog-hter!
4. Sharing Tea
Nothing out of the ordinary here, just a dog at the Ritz having some tea.
5. Touring Museums
That tongue though! It doesn't get any more adorable than this.
6. Napping On Mom
Because humans really do make the best pillows.
7. Signing Books
Even though he couldn't hold a pen, Gary was by Fisher's side for moral support.
I'm saddened that there won't be any more adorable mom and pet moments, but these touching images will live on.