The Part Of Drake Bell & Josh Peck's Origin You Didn't Know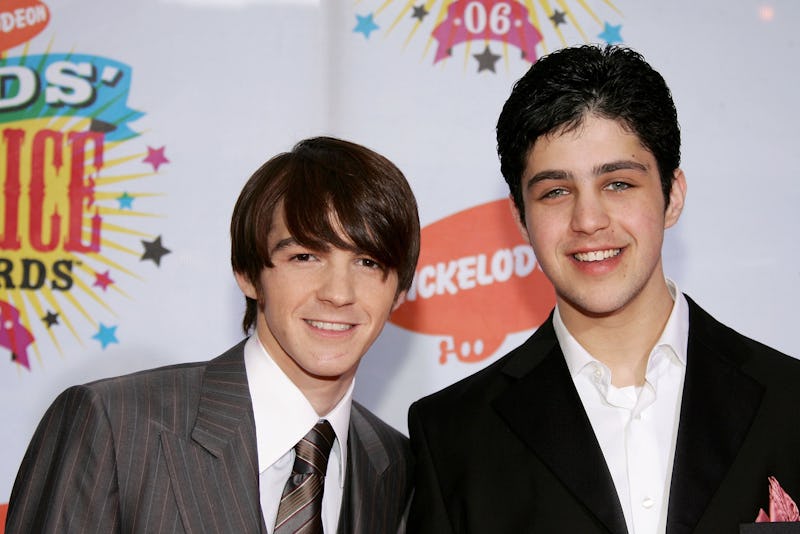 Frazer Harrison/Getty Images Entertainment/Getty Images
Although Drake Bell and Josh Peck have endured a series of public ups and downs in the last few years, no one can deny Drake & Josh is still iconic in its own right. Last month, fans were sad to learn the two on-screen stepbrothers were actually on the outs in real life when Bell wasn't invited to Peck's wedding. But from 2004 to 2007, the pair was inseparable and their hilarious on-screen antics provided the ultimate friendship goals. Although the two sadly haven't remained as close as fans would've hoped, this small detail of the Drake & Josh origin story will immediately bring fans back to a happier and much simpler time.
Turns out, Bell and Peck's union all started with, literally, one really big shrimp. Before the start of Drake & Josh, both actors appeared on The Amanda Show — Bell was a regular and Peck joined as a guest in Season 2. During their first performance together, their on-screen chemistry was undeniable in a skit with Bell and Peck fighting over a shrimp.
In an undated interview on YouTube, Bell reminisced about meeting Peck and how organic their partnership was. "We really clicked together," the actor said in the video, taken at Tampa Bay Comic Con. They were immediately forced to work as a team, as Bell explained how little direction they were given to actually fight over the shrimp.
"The shrimp comes down and all it said in the script was, 'Drake and Josh fight over a shrimp,'" he recalled. "That's all it said. There was no dialogue, no anything... We just went at it."
Re-watching the skit explains it all. The two use slapstick, physical comedy and throw out lines like, "I enjoy shellfish!" The behind-the-scenes team immediately took notice. "One of the writers leaned over to Dan Schneider, the executive producer, and said, 'You know that's your next show, right? That's your next show,'" Bell said in the video. The next thing they knew, the same producers of The Amanda Show would go on to create a new Nickelodeon hit: Drake & Josh.
And for these two, it all came full circle. At the end of Drake & Josh's run, the show paid tribute to the one and only shrimp. "We start by fighting over a shrimp and end by fighting over a shrimp. That was an homage to how we got started," Bell explained. The original shrimp scene was recreated in the final episode, which was titled, "Really Big Shrimp."
Although Bell, now 31, and Peck, 30, have gone their separate ways, the innocence and nostalgia of their amazing origin story provides a little hope. There may not always be a Drake & Josh friendship, but there will always be shrimp.