How 'American Gods' Complements Kristin Chenoweth's Personal Faith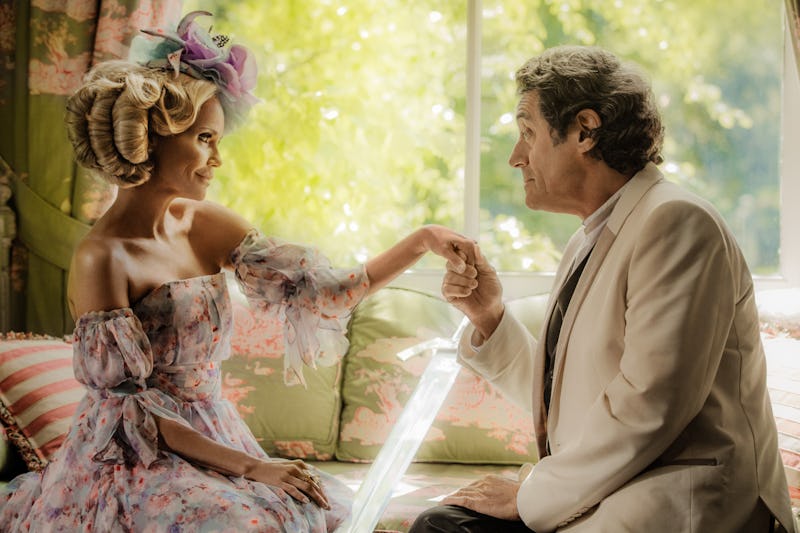 Starz
The season finale of American Gods is quickly approaching, with one of the most anticipated guest star appearances: Kristin Chenoweth as Easter, a Goddess of Spring who's not thrilled about sharing her special day with a bunch of "Jesi" (the actor's word), who upstaged her by resurrecting. In an interview with Bustle, Chenoweth discusses how American Gods' message of acceptance complements her own faith and the importance of giving yourself permission to own your power.
"When I first started in show business I never thought it was different," Chenoweth says of her own Christianity. "Because I grew up in the Bible Belt. Then when I moved to New York I discovered that, 'oh, there's all kinds of people in the world that believe all kinds of things.' Now I wasn't that naïve, but I saw it in front of my face." American Gods mirrors that experience by telling a myriad of spiritual tales starring deities from cultures born all over the globe.
"There are Christian people out there that actually do understand there are people who believe differently from them and look at the world from a different way," says Chenoweth, pointing out that there are many sects of Islam and all major religions too. "Not everybody believes the same," she says. "The Christianity that I come from is a world of acceptance and love. Not just tolerance, but acceptance."
Chenoweth was honored by GLAAD in 2011 as a recipient of its Vanguard award, for people in the media who raise awareness of the LGBT community and the discrimination they face. In her acceptance speech, the actor urged "people of all faiths to come forward and stand with me" in this quest, and again advocated acceptance over merely tolerance. While Christianity can be equated by some with opposition to LGBT rights, Chenoweth certainly doesn't believe her advocacy clashes with her religion. Nor does it clash with her latest gig.
If Chenoweth being a person of faith on American Gods starts a conversation, she's happy. "I might be associated with a group sometimes that seems judgmental and harsh," she says, but "that's actually the antithesis of what my faith is based on." That's just one of the many important conversations that American Gods brings to light.
Though her character has been hinted at in ways I don't want to spoil, Chenoweth joins the show in the series finale — though co-creator Bryan Fuller and the cast welcomed her into the ensemble, according to her. They're "a group of players," she says, "if you will."
Fans of Pushing Daisies know that Chenoweth and Fuller are a natural creative fit, but their pairing may seem odd on paper. Her: a petite Broadway veteran with a big voice; him: an auteur with a passion for visually (and beautifully) representing death. "It's really funny that we're so close," Chenoweth says, though they apparently share similar interests and senses of humor. She also cites Fuller's dialogue as being its own kind of music. "It's a music I speak very well," the actor says.
On American Gods, Easter, or the Goddess Ostara, is "a woman who is very much in placation mode," says Chenoweth, "and has been for a long time.." Easter is a bit similar to her fellow Old God Vulcan, in that she has already made compromises.
"Once maybe in her past she was easily able to get people to come into her basket," says Chenoweth. She has found a way to live with being somewhat forgotten in the modern world, though the regret is apparent. "She's put those talents on the shelf," in order to be relevant, the actor says, "welcomed all the 'Jesi' at her home, and is having this celebration that was supposed to be her day."
When Wednesday and Media come calling, Easter is forced to reconcile her past and present position with surprising results. "She takes over," the actor says. "She gets her power back." Without giving anything away, it's an impressive and empowering moment. "I think there are a lot of interesting thoughts to be had [about] when you give yourself permission to do something," she says.
Though Wednesday arrives at the garden party with a specific purpose, it's a scene that Easter shares with Laura that might be the most important. When you mentor or inspire someone or tell them the truth," Chenoweth says, "it inspires you to go do your truth."
Whether you view American Gods as a story about faith and belief, a story about America, or a story about human beings, it's the diversity of experiences that shines through.
"When you look at American Gods," says Chenoweth, "you have these Old Gods that have done it a certain way for so long, and then you have the New Gods that are sitting back laughing at them. But the truth is that we can all learn from each other. I guess that's the bigger picture for me." Assumptions cannot be trusted, both on the show and in real life.