Fans Are Paying Tribute To Tom Petty With This Beautiful Lyric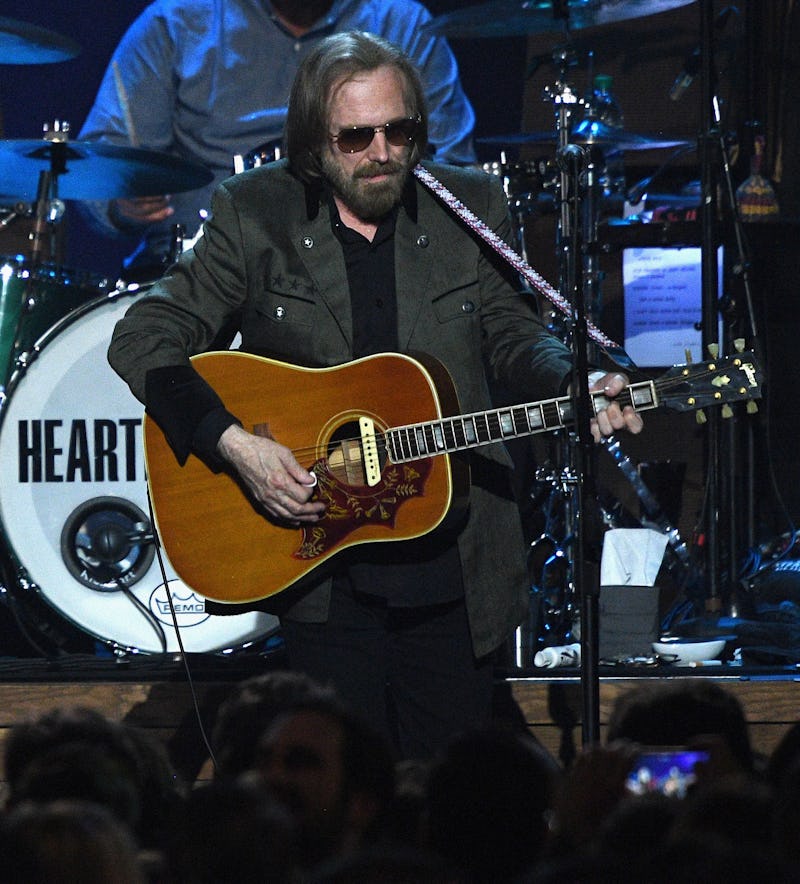 Kevork Djansezian/Getty Images Entertainment/Getty Images
In a tragic loss for the music industry, Tom Petty passed away at age 66 on Monday. He was such a staple to American rock and roll, and his death is especially surprising considering that he'd just performed at the Hollywood Bowl on Sept. 25, though he'd told the press that he was planning on slowing down after his 40th anniversary 2017 tour. Now, fans are flocking to social media to share their favorite songs of Petty's, as well as their favorite quotes. The one Tom Petty lyric that everyone is quoting is actually not from Petty's most popular songs, but it's the perfect way to memorialize that brilliant musician. Those lyrics are:
"You belong among the wildflowers"
These words — which you can find all over Twitter, Instagram, and Facebook right now — are from Petty's song "Wildflowers," the titular song from Petty's 1994 album. Rolling Stone reported that this album was a difficult one for Petty to make, as the album's producer, Rick Rubin explained, "It took us two years to make, but it sounds like it was made on a weekend — the right weekend."
The AV Club's 2014 review of the album contextualizes it as coming out at a time of transition and when Petty had a "clean slate" after his recording contract with a label had ended and drummer Stan Lynch angrily left The Heartbreakers. Petty took that opportunity to do something different, and he successfully did with Wildflowers.
Although its lyrics are currently making the rounds in tribute to Petty, "Wildflowers" isn't the most popular song off that album. In fact, in a comprehensive list of Petty's "50 greatest songs" ranked by Rolling Stone leaves out the song altogether. The album as a whole, though, is an interesting mix of both folk and rock, which AV Club's David Brusie also described as a "rare rock record that sounds both varied in style but consistent in sound." "Wild Flowers" is one of the most pure folky songs from the album, and since Petty is best known for his quintessential rock-and-roll drumming rhythms and electric guitar solos — who could ever forget the one from "American Girl?" — "While Flowers" is decidedly simple and stripped down.
Though it was a distinct style for Petty, "Wild Flowers" still sends a similar message to all of Petty's other songs, which is that everyone should pursue freedom and passion in their lives. Though it might sound different from "American Girl" and "Runnin' Down A Dream," all of Petty's lyrics support people going out into the world to live wild and free, which Petty certainly did.
As John Mayer said in a tweet, he performs Petty's songs because he wants to "know what it felt like to fly." Mayer also goes on to quote another "Wildflowers" line, which is, "you belong somewhere you feel free." It really is the perfect song for memorializing someone's life.
Even Petty's more heavy rock songs share the same tone as "Wild Flowers," and so many of his lyrics suggest that people enjoy the moment and try to live freely. The song that Rolling Stone called Petty's greatest, "American Girl" is all about breaking free of the life and its customs that you might have grown up with. And perhaps no song captures the feeling of escaping everything you know than "Free Fallin'," in which Petty sings, "I wanna glide down, over Mulholland, I wanna write her name in the sky. I wanna free fall, out into nothin', Gonna leave this, world for awhile."
It's upsetting for music-lovers to now know that Petty has physically left this world forever, but the music that he's left behind will make people feel wild and free — like wildflowers — forever.