The New 'OITNB' Premiere Date Was Finally Announced & It's Sooner Than You Think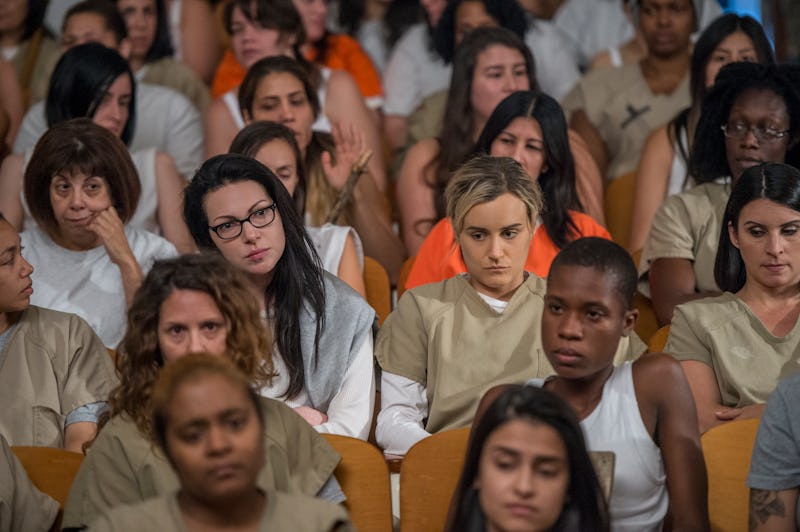 Jojo Whilden/Netflix
After almost a year of waiting, Orange is the New Black has finally given fans what they want. Well, not exactly what they want, because that would be a surprise Netflix drop of the new season — but it's close. A new Facebook video posted Tuesday morning revealed that Orange is the New Black Season 6 premieres on Friday, July 27. That's not the most exciting part of this video though. Because before the premiere date actually gets announced in the clip, fans are treated to a sneak peek of the new season and things look pretty bleak.
Considering how Season 5 ended last summer, it's not a big surprise that the teaser video for Season 6 looks as catastrophic as it does, though. Spoilers for Season 5 ahead. As you'll probably remember, Season 5 ended with almost every Litchfield inmate getting boarded onto buses after CERT busts down the prison doors in full-blown riot gear. It's unclear where the busses would take the divided inmates, but it's even less certain what will happen to the group of inmates who remained in the bunker, or dried up pool. The latter group includes Alex, Piper, Taystee, Nicky, Red, Black Cindy, Frieda, Suzanne, Blanca, and Gloria.
The new teaser video might offer an idea of what could happen to those 10 inmates, who are arguably the show's most prominent characters. After the video pans around the wreckage of Litchfield, the words "To the max" appear on screen. Perhaps that could mean that the bunker group will get sent to a new prison's Maximum Security holding. Hopefully not, though.
Anticipation for Season 6 couldn't be higher than it is now, and even the actors on the show were left in the dark after shooting Season 5. When Bustle interviewed the OITNB cast at a red carpet event celebrating the latest season last summer, most actors agreed that they wanted to know the next season's story lines as badly as everyone else does. "I don't know where that bus is going," Rosal Colon, who plays Ouija, said.
The inmates getting loaded into buses with unknown destinations was definitely scary, but it also led to some heartbreaking separations. Maritza (Diane Guerrero) and Flaca (Jackie Cruz) had to say goodbye to each other while getting onto different buses, and Morello (Yael Stone) looked terrified to leave Nicky (Natasha Lyonne) behind in the pool. The ending to Season 5 proved what always becomes clear at some point throughout Orange is the New Black, and that is that the show is about the friendships that help every inmate get through their time.
Danielle Brooks, who plays Taystee, told Bustle last June, "This ending has been my all time favorite because it is... about women uniting." It's true that the ending showed the 10 inmates from the pool holding hands right as CERT broke through the doors to the makeshift bunker, but it seems like Season 6 could quickly devastate all of that female bonding. From getting separated on the buses to possibly facing Max, it will definitely be interesting to see how the show continues after Season 5's rioting and usurping of Litchfield.
As Piper (Taylor Schilling) says during the Season 6 teaser trailer, "This is a whole new world." That could very well mean that all of the strong alliances and friendships built up during the first five seasons of OITNB will each face a reshuffling. That doesn't mean that the show is close to being over — far from it.
When talking to Bustle last summer, so many cast members suggested that the show might just be getting started. "We still have so much to talk about," Guerrero said. She continues, "I'd like to tackle immigration, I'd like to tackle more feminist issues. Intersectionality. I'd like to tackle more, just more." It seems likely that "more" is exactly what Orange is the New Black fans will get come July.