This New Edition Of 'Frankenstein' Shows You How Mary Shelley Wrote It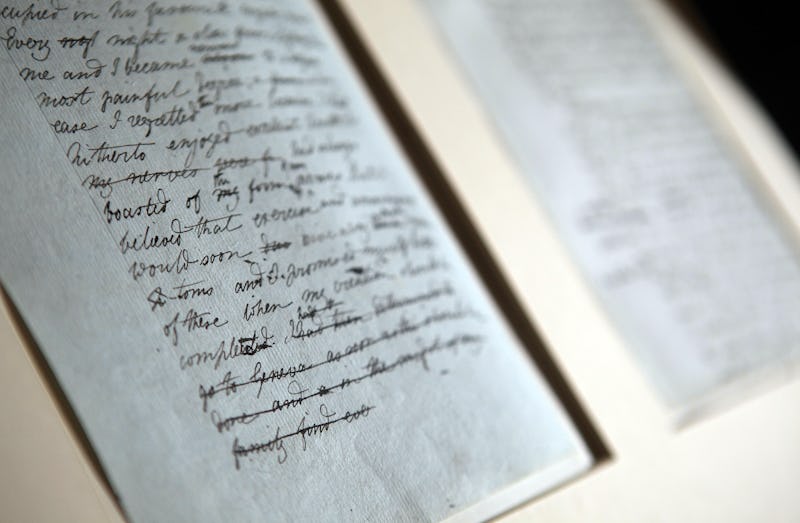 Matt Cardy/Getty Images News/Getty Images
If you consider yourself to be a book-lover, then you probably already know the story behind author Mary Shelley's most famous novel: according to legend, the Modern Prometheus was an idea born out of a friendly ghost story writing challenge put forth by Lord Byron during a group vacation at Lake Geneva. Now, you can actually see the genesis of the classic character yourself, because a limited run of Frankenstein's original manuscript is being released this March, and it reveals a lot about the creation of Shelley's iconic monster.
To celebrate the bicentennial of Mary Shelley's beloved science fiction novel, British publisher SP Books is releasing a collectible manuscript of Frankenstein. The beautifully designed, slipcased hardcover is being published from the author's own handwritten notebooks, and carefully preserves each note, correction, annotation, and revision from the original pages.
Frankenstein by Mary Shelley, $263.75, SP Books
If you have read Frankenstein, chances are the version you read was based off of a heavily revived 1831 edition, according to The Guardian's Alison Flood. With the upcoming facsimile of Shelley's manuscript, however, readers can see for the first time how the author's monster evolved and how her original ghost story transformed into one of the greatest novels in the English language.
The origin story of Mary Shelley's Frankenstein is the stuff of legends. According the author, who was only 18 when she wrote the novel, Frankenstein was the product of a good-humored ghost story telling contest proposed by Lord Byron during a 1816 vacation to his villa on Lake Geneva. On a dark and stormy night, the story goes, Shelley was first unable to find an idea for an original ghost story. Later that evening, however, she had a "waking dream" in which the inspiration of the Modern Prometheus hit her like lightning.
"When I placed my head on my pillow, I did not sleep, nor could I be said to think," Shelley describes in the preface for Frankenstein. "My imagination, unbidden, possessed and guided me, gifting the successive images that arose in my mind with a vividness far beyond the usual bounds of reverie. I saw—with shut eyes, but acute mental vision, —I saw the pale student of unhallowed arts kneeling beside the thing he had put together. I saw the hideous phantasm of a man stretched out, and then, on the working of some powerful engine, show signs of life, and stir with an uneasy, half vital motion."
While Frankenstein and his monster's origin story has been well-known for years, now, for the first time, readers will get the chance to see Shelley's literal writing process. They will also have the opportunity to study edits — description suggestions, spelling corrections, and even silly and loving notes — from Mary's husband Percy Shelley, and the many revisions that lead to the creation of the beloved novel.
"What's really moving about this manuscript," SP Books founder Jessica Nelson told The Guardian, "is that you can see the literary work mixed with something tender and emotional–literature and love inside the pages of the manuscript. Their two handwritings are very similar, which is bizarre and sweet at the same time."
This special edition of Frankenstein will be available March 15 from SP Books but if you want to see for yourself how Shelley created one of the most famous monsters in literary history, you're going to have to act fast. The deluxe edition of Frankenstein is a limited run: according to the publisher, only 1,000 hand-numbered copies are being released. If you have the money to spare — $263.75, to be exact — you're going to want to pre-order ASAP.