'The Originals' Series Finale *Isn't* About Romance & That's Why It's Perfect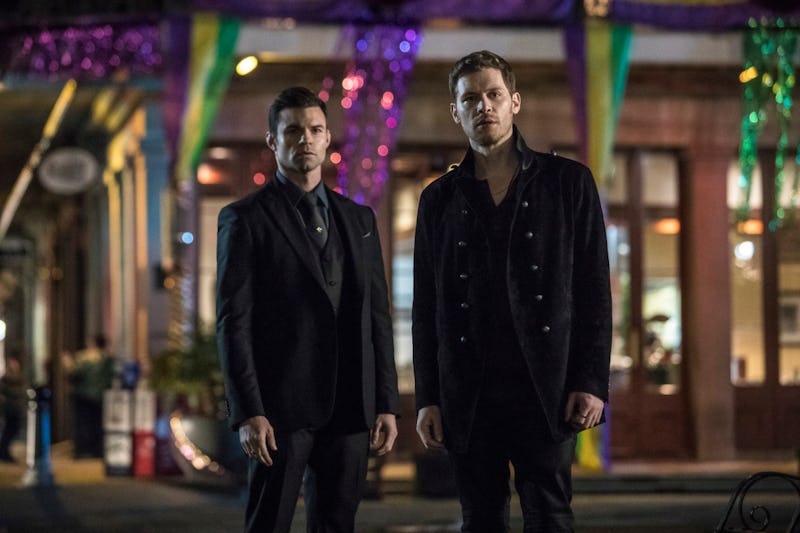 The CW
Over the past five years (eight, if you count the years the characters spent on The Vampire Diaries), The Originals has gripped the hearts of fans with epic tales of love, loss, and every emotion in between. But over those years, fans of The CW drama have splintered off into separate factions championing their 'ship of choice. The possibilities seemed endless: Klayley, Haylijah, Marbekah, Klamille, Kolvina, Marcille, Klaroline ... the list of fan favorite relationships goes on and on. But despite the fan fervor around all these 'ships, the series finale of The Originals doubles down on family instead of romance — and it's all the better for it.
Instead of dividing the fanbase in the last episode of the series, The Originals finale (airing Wednesday at 9 p.m. on The CW) doesn't alienate any particular 'ship and instead unites fans by focusing on the characters that we all fell in love with back on The Vampire Diaries. Yes, there are romantic storylines and callbacks to all of the 'ships at some point in the hour (this wouldn't be The Originals without some epic romance, after all), but executive producer Julie Plec and the writers decided instead to shine the spotlight on the Original family and their relationships with each other.
"When the Saints Go Marching In" wraps up each one of the Mikaelson siblings' stories in different ways. Whether you'll be laughing, crying happy tears, or just straight-up crying when the end title card appears for the last time, it won't be because your favorite 'ship was revealed to be "endgame" or not but rather because you were able to say goodbye to your favorite characters in a satisfying way. While that may not be what some fans are hoping for, it's the right way to end a series that's really always been about a family.
Speaking with Bustle ahead of The Originals finale, Plec was confident in her choice to focus on family over romance to wrap up the stories of characters who have existed for the better part of a decade. "The only choices I made in the finale were choices based on how I felt as a 'shipper or a fan or how our room, the people who have been writing this show for many years, felt," she says. "We very much did not want to make choices based on certain factions of any one particular fandom."
While romance has always been a big part of the series, Plec says there's so much more to the series than that. "It was never a show that was meant to be built around a love triangle. It was never a show that was meant to thrive on romance. It was always a show about family and so we wanted to keep our heads clear of the noise of certain fandoms that are more aggressive, perhaps a little bit more invested than others because we didn't want to taint our own choices," she says.
And that's also why Plec and company didn't want to shoehorn in the backdoor pilot for upcoming The Vampire Diaries/The Originals spinoff Legacies, the third show in Plec's extended TV universe Instead, the showrunner chose to introduce the setting and characters of Legacies into The Originals' penultimate episode when Klaus (Joseph Morgan) visits The Salvatore School for the Young and the Gifted, reuniting with Caroline (Candice King) and Alaric (Matt Davis), along with their children and Hope's (Danielle Rose Russell) new schoolmates.
"Our goal was to really make The Originals finale about The Originals finale and not make it seem like we were saying, 'Hey, it's all going to be fine because there's another show coming!'" Plec laughs. "So literally I think there is only one mention of the word school in the whole episode. It's really much more about finding the end result of the journeys of all of these characters that we've followed for the past five and some of them eight years."
The creation of the new spinoff Legacies also didn't affect how The Originals ended when it came to all the fates of the characters. "I think it gave us freedom to make a few of the choices that we made," Plec says. "But it didn't certainly make us make a choice about a character other than Hope surviving [to lead the new spinoff]."
Looking back on her time spent developing The Originals finale, Plec recalls (without spoiling!) how ending one character's journey gave her a deep sense of pride. "Honestly, the ending that makes me the most emotional in a joyful way is how we ended Vincent's [Yusuf Gatewood] story," Plec says. "Because he's been through so much and he's lived through so much darkness and made so many sacrifices."
She says it was tough to say goodbye to the entire Mikaelson family, simply because they survived against all odds behind-the-scenes. "It was such a beautiful success story creatively," Plec says. "Introducing Elijah Mikaelson [Daniel Gillies] in The Vampire Diaries was just supposed to be a few episodes and then deciding to make him Klaus' brother and then deciding that they needed a sister and then deciding that they had a whole other family, an origin story, and then loving that family so much that they got their own TV show and watching them all come to terms with their cycle of dysfunction and abuse they've been plagued with for a thousand years, always finding love where they could with each other, it's just a great dynamic."
She then adds, "I've enjoyed that family so much and I've been so challenged by them that the entirety of the Original family is the hardest to say goodbye to." Thankfully they'll live on forever — if not onscreen in Legacies, then on Netflix and in our hearts.