This 'Other Two' Moment Will Make You Rethink All Your Jokes About Influencers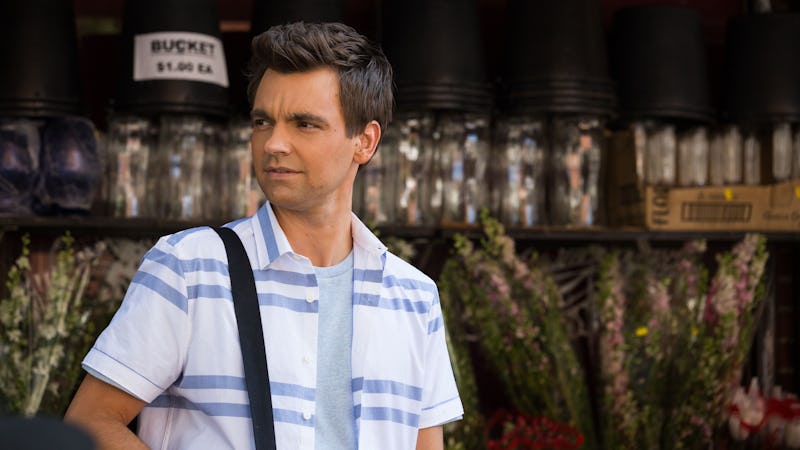 Jon Pack/Comedy Central
The Other Two pokes fun at viral fame in a lot of ways, but there's a reason that some people break big and others don't. Brooke and Cary may see their younger brother's sudden jump into the spotlight as a fluke, but it does take more than just random luck. This week, the Instagays on The Other Two show being an influencer does take some skill — even if it sometimes doesn't seem like it.
At the beginning of the March 7 episode, Cary and Curtis (played by Brandon Scott Jones) bemoan the fact that auditions now require you to have a significant social media following in order to be considered for roles. In real life, having a proven audience is how some actors are securing work, and how casting directors are scouting new talent. Case in point: Other Two star Case Walker, who plays Chase, gained traction on TikTok (formerly Musical.ly) before landing the role.
On the show, Cary has done his best to be supportive of Chase's sudden fame, but he's also started to lose sight of himself. It's clear his younger brother's success has brought out an insecurity about where he's at in life, and he's since been scrambling to make a name for himself by whatever means he can. In his latest attempt to do so, he starts hanging with a crowd called the "Instagays" — influencers on Instagram that he hopes will help him gain the following he needs to get a role at an upcoming audition. Their names form a daisy chain: Dallas Drake, Drake Cameron, Cameron Colby, and Colby Dallas. They don't have jobs, they have vague identity titles like Creator, Lifestyle, and Inspiration. "I'm religious kinda," shrugs Dallas, played by Broadway's Nick Adams. "I used to be fat and now I have two nieces," says Navaris Darson's character Drake.
Who among us has not followed someone on Instagram who has built a brand on something so seemingly vague? Yet miraculously, it works for them and not for Cary. The Instagays know exactly when to post, what to post, and what time everyone is looking at said posts. Their pictures are over-the-top thirsty and accompanied with nonsensical captions, but they weirdly know what they're doing.
The Other Two is trying to tell Cary that there isn't one path to fame and success, and he's just not heeding the message. You can't manufacture a viral sensation — really! Sure, as we saw with Chase's fake girlfriend, a lot of social media stardom is fabricated, but it's still a business and it still takes talent. There is such a thing as trying too hard, as Cary will ultimately learn.
Plus, at the end of the day, influencers are human beings too! That's what Cary realizes when his new friends figure out that he was taking advantage of them to advance his career. By using them, he was way more "about followers" than they ever were. Brooke, who inadvertently ends up on a date with someone who bashed Chase online, learns a similar lesson. Social media can often feel dehumanizing, but there are people behind profiles, and apparently, those people are also pretty savvy with brands and business. The Other Two continues to pick that apart in its own silly, sweet, and satirical way.