'Outlander' Season 3 Trailer Will Make You Wish It Was September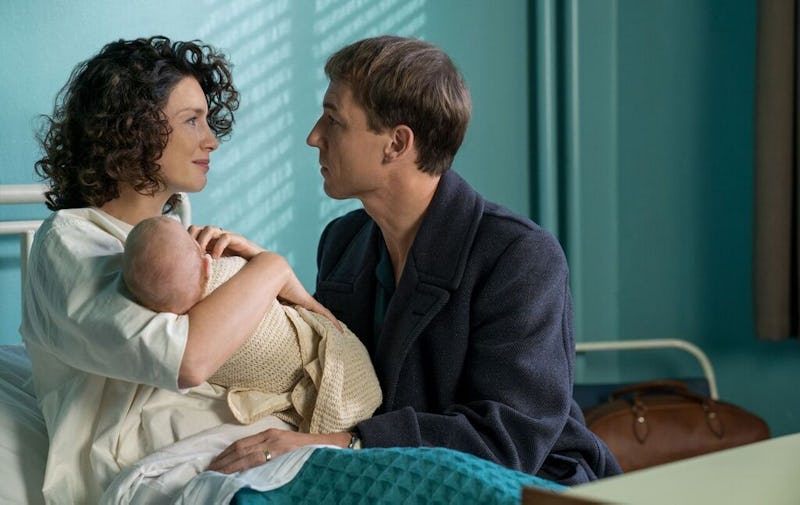 Starz
If you thought the previous seasons were intense, the new Outlander Season 3 trailer suggests it may be the most gut-wrenching one yet. In the trailer Starz released on Tuesday, Claire (Caitriona Balfe) looks back at her life and still won't give up on finding Jamie (Sam Heughan). Season 2 left off with fans desperately wanting to know if Claire would travel back through the stones once she left Jamie in the Battle of Culloden. And oh yeah, she was pregnant. The emotional Season 3 trailer shows that Claire fully embraces motherhood once she travels back to the 1960s, but she still won't forget her lost love Jamie.
In the Season 2 finale, Jamie and Claire had a tearful goodbye after attempting to save Scotland, without derailing history too much. Although their tragic goodbye at the stones led to Claire accepting that Jamie had died in battle, he didn't. In the new trailer, audiences see how she reacts when she learns Jamie may still be out there for her to find.
The trailer opens with Frank (Tobias Menzies) by Claire's side, as she's in the hospital after giving birth, looking into her baby's eyes. As tensions between Claire and her husband rise, it looks like they ultimate accept life as a family as their baby grows into a young woman. But something is missing from Claire's life.
Twenty years into the future and Claire is filled with sadness and regret over leaving Jamie's side. In the trailer, she's conflicted about returning to the past and revisiting the heartache all over again, until the peek at the print-shop scene leaves her (and fans) intrigued. Going through records to establish if Jamie is indeed alive, the trailer ends with Claire looking at a paper, saying, "I found him" and going back into the past. But what she finds when she gets there is a mystery.
Will Jamie have moved on with his life? Will he have a family of his own? The emotional roller coaster has only just begun.