The 'Outlaw King' Trailer Shows Chris Pine As A Hero From A TOTALLY Different Era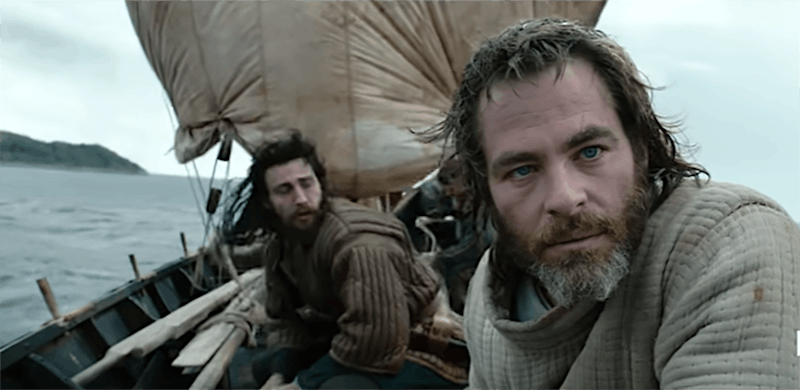 Chris Pine may have won over the world's heart while playing government agent and super spy Steve Trevor in Wonder Woman, but now he's looking to take on an entirely new kind of hero in the new Netflix movie Outlaw King. Based on the true story of Robert the Bruce (played by Pine), who rounds up a vengeful band of outlaws in order to free Scotland from British rule, the first Outlaw King trailer proves that the film has all the ingredients of a classic medieval drama, including revenge, sharp swords, impressive beards, and lots of body armor. And while Pine's character is a far cry from Steve Trevor, he still proves to be a swoon-worthy hero, regardless of what century he's in.
And it seems Pine was born to play this role, as many people involved in the project can attest to. "He's amazing, apart from the fact his accent is spot on and his horsemanship was stunning," producer Gillian Barrie recently told Entertainment Weekly regarding Pine's portrayal of the Scottish warrior. "He was genuinely a leader for the rest of the cast. The amount of stunts and action he had to perform on daily basis … riding in a wild terrain, thrown into waterfalls…my hat's off to him, really."
When it comes to Scottish warriors and heroes, it's hard to think of anybody else other than Mel Gibson's William Wallace in Braveheart, but knowing how good Pine is at playing underdog heroes, he may just give poor Wallace a run for his money. "Robert sacrificed everything he once owned to set Scotland free," Barrie explained during the same EW interview. "He was the second richest person in the British Isles. He gave up everything to take on the most ridiculously powerful army and king. He had to go to hell and back."
The official synopsis of Outlaw King reads as follows:
"The untold, true story of Robert the Bruce who transforms from defeated nobleman to outlaw hero during the oppressive occupation of medieval Scotland by Edward I of England. Despite grave consequences, Robert seizes the Scottish crown and rallies an impassioned group of men to fight back against the mighty army of the tyrannical King and his volatile son, the Prince of Wales."
But just in case all of that isn't enough to get you to tune into Pine's latest project, it's also worth mentioning that this guy knows how to wear a suit of armor. Case in point:
Outlaw King will begin streaming worldwide on Netflix and in select theaters starting on Nov. 9. However, there is a way to see it before then for those lucky enough to attend the Toronto International Film Festival on Sept. 6. The film also stars the likes of Aaron Taylor-Johnson, Florence Pugh, Tony Curran, Billy Howle, Stephen Dillane, James Cosmo, and Sam Spruell.
Could this end up proving once and for all that Pine is the best Hollywood Chris out there? It's definitely possible based on this footage alone. You'll just have to wait and see him in action to know for sure.