Ryan Reynolds Has Settled The "Which Hollywood Chris Is Hottest" Debate Once & For All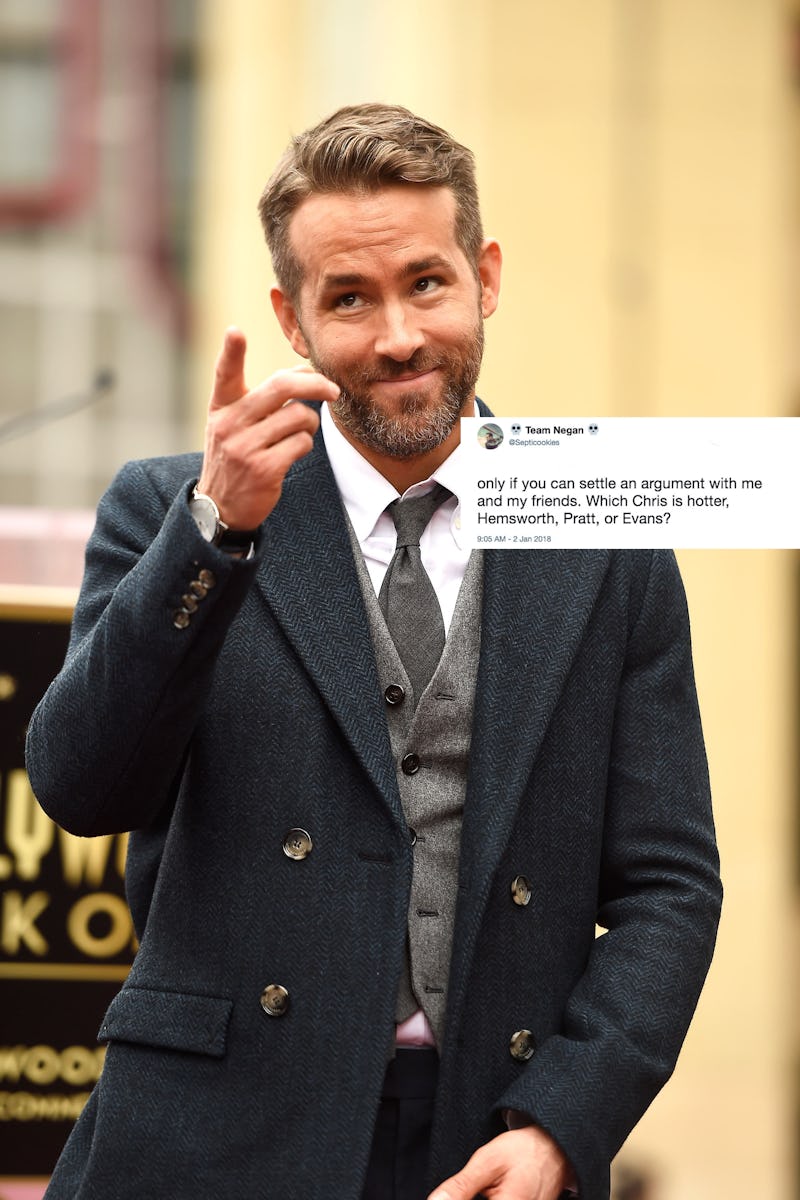 Getty Images/Bustle
Considering he's one of the most entertaining celebs in the Twitterverse, it's no surprise that Ryan Reynolds picked the hottest Marvel Chris, a debate that has been raging in the fandom for ages. And he did so with the most perfect tweet ever. Seeking to settle the endless argument of who's hotter when it comes to Chris Hemsworth, Chris Pratt, and Chris Evans, Reynolds used a metaphor involving frozen desserts to help him get his point across. If you thought only one Hollywood Chris could be the hottest, think again.
The moment happened on Tuesday (Jan. 2) morning as part of Reynolds' response to a fan's request for help settling a debate: "Only if you can settle an argument with me and my friends. Which Chris is hotter, Hemsworth, Pratt, or Evans?" The actor quickly obliged in a way that only Ryan Reynolds could. "When ordering ice cream, I like to get all three scoops," he said. Consider this mic dropped, and all other answers invalid.
However, Reynolds added an important cross-comic 'verse follow-up that fans sat up and paid attention to, especially since it shed light a missing component in the equation. After all, can you really talk about the hottest Chrises in Hollywood without mentioning DC's own Chris Pine?
Fans couldn't get enough of the cleverly crafted response, and of course jumped in to share their thoughts on Reynolds' awesome reply.
1. Caught It
The Chris Pine reference didn't go over this fan's head.
2. Pine Proud
Another fan pointed out that Diana Prince would be proud of Reynolds' inclusion of Pine in the scenario.
3. Well Played
Meanwhile, another Twitter user used a Deadpool meme to congratulate Reynolds on his response to the question.
4. Gratitude
Another commenter expressed love and gratitude to Reynolds for not forgetting to add Pine to the fold.
5. Superb Suggestion
This user seems to be totally into the idea of a Chris sundae.
6. Generation Genius
"The Elon Musk of this generation"? Well, okay then.
7. One-Line Wonder
It turns out that Canadian sarcasm is the best sarcasm. Who knew, really?
8. Good Call
Yet another perfect meme used express the love for the actor's clever response.
9. Love/Hate
The reply is making people feel a lot of feelings.
10. More Sprinkles, Please
Someone wants all the sprinkles on their Chris sundae.
11. Smarty Pants
They're not wrong. That was a good one.
12. You Can't Choose One
This follower was happy to know that they weren't the only one who couldn't just choose one Chris.
13. Team Ryan
Sorry, Chrises, but you'd lose to Team Ryans every time. Especially since they've got Gosling.
It's fitting that Reynolds was given the difficult task of judging the Hollywood hottie competition, because he has long been the subject of a similar contest. After all, we can't forget the entertainment industry's trinity of Ryans, which includes the 41-year-old Reynolds alongside fellow actors Ryan Gosling and Ryan Phillippe. But this entertaining moment is just the latest of Reynolds' interactions with his social media followers, because he often finds himself in the midst of hilarious Twitter exchanges with fans. He often chimes in on many social issues and entertainment topics — factors which all have helped him to amass 9.31 million followers on Twitter. Not that starring as Wade Wilson in the smash hit Deadpool hurt either.
With the debate of the four Chrises now finally put to rest on Reynolds' Twitter feed, it seems that there's only one more Hollywood heartthrob competition left to settle. Perhaps one of the Chrises will find time to join in on the Ryans conversation.