Here's Who All The Adorably Tiny Page Boys Are At The Royal Wedding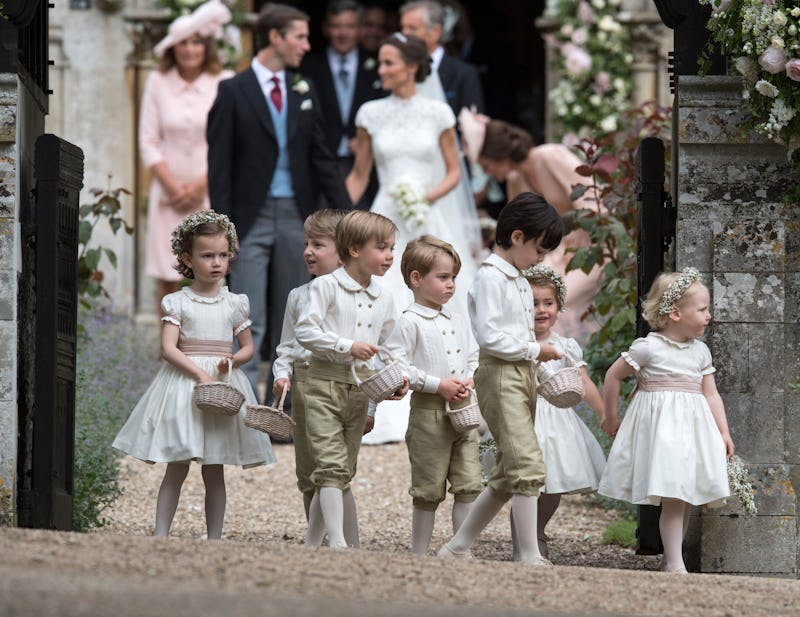 WPA Pool/Getty Images Entertainment/Getty Images
Of course, Prince Harry and Meghan Markle will be in the spotlight at their own wedding, but there are other people with significant roles on the big day. Kensington Palace has announced the page boys selected for Prince Harry and Meghan Markle's wedding, and the list is nothing short of adorable. On May 16, the page boy news broke when the Kensington Palace Twitter account posted, "Prince Harry and Ms. Meghan Markle have chosen the Bridesmaids and Page Boys for their Wedding on Saturday 19th May."
Who made the cut? The Royal Family's official website lists His Royal Highness Prince George of Cambridge (of course), Master Jasper Dyer, Master Brian Mulroney, and Master John Mulroney as the page boys for the wedding.
For anyone who is unfamiliar, a page boy is essentially the British version of a ring bearer. According to UK wedding website Confetti, page boys traditionally carry the bride's train when she walks down the aisle. They also can carry the wedding rings, but usually they just walk down the aisle during the ceremony. Typically, page boys are between the ages of 3 and 10 and they are chosen because of their close relationships with the bride and/or groom. Essentially, page boys are there to add some cuteness and a personal touch to the wedding ceremony.
This wedding is a huge deal, to put it mildly. So, who are the four boys who will get to play a major role on this historical day?
Prince George
This was pretty much a given. Prince George is the future King of England, he is Prince Harry's nephew, and at four years old he's the perfect age to take on this role. Of course he was going to nab a spot. Not only that, but the young prince has page boy experience. Prince George served as page boy in his aunt Pippa Middleton's wedding back in May 2017, as reported by Harper's Bazaar.
Plus, Prince George's role in his uncle Harry's wedding was essentially confirmed a long time ago. On December 3, 2017, a Kensington Palace spokesman told The Sunday Times, "The wedding will be a family event. You can expect the family to be involved." Unfortunately, Prince George's little brother, Prince Louis, was just born on April 23, making him way too young to partake in the ceremony, but their sister, Princess Charlotte, will serve as a bridesmaid during the ceremony.
Jasper Dyer
The Royal Family's website lists Jasper Dyer as age 6 and Prince Harry's godson. He is the son of Amanda and Mark Dyer. According to the Daily Mail, Mark became a mentor figure in Harry's life after his mother Princess Diana's death. Dyer serviced as a Royal Equerry to Harry's father, Prince Charles. The Daily Mail article states Prince Charles wanted Mark to serve as "a male counterpart" to his sons' former nanny Tiggy Legge-Bourke and he has remained close to Harry ever since.
In 2010, Prince Harry was an usher at Mark and Amanda's wedding, according to the Daily Mail. Since Prince Harry was in their wedding, it only makes sense for things to come full circle with their son Jasper serving as a page boy during his and Markle's ceremony.
Brian & John Mulroney
The Royal Family's page boy announcement lists Brian and John Mulroney as age 7 and the sons of Jessica and Benedict Mulroney. Jessica is a stylist and one of Markle's best friends, according to The Sun. They used to work together on Markle's now defunct lifestyle website, The Tig.
In addition to being a stylist, Mulroney is also described by The Sun as a "PR and brand expert and wedding planner to the rich and famous," which sounds like the perfect go-to friend to have around for a royal wedding. Vanity Fair reported that Jessica does have some duties on the day of the wedding. Reportedly, her task is "to help take charge of the children so that everything goes according to plan." She is the perfect person for the job because of her career experience, closeness with Markle, and because three of her kids are in the wedding party. Jessica's daughter, Ivy Mulroney, will join her brothers at the wedding ceremony as one of the bridesmaids.
Of course, Markle and Prince Harry will be the ones to watch at their own wedding. Nevertheless, the guests in person and viewers at home should expect some cute moments from the adorable page boys and bridesmaids selected for the ceremony.