See The Winners Of The PEN America Literary Awards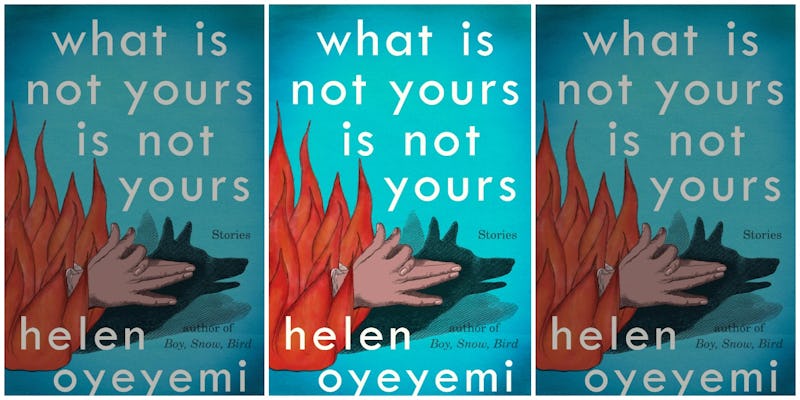 You can get your new year off to a good start by reading an award-winning book that you didn't crack open in 2016, so check this out: Helen Oyeyemi has won a PEN Award for her short-story collection, What Is Not Yours Is Not Yours. Oyeyemi will take home her PEN Open Book Award after a ceremony on Mar. 27.
Helen Oyeyemi's What Is Not Yours Is Not Yours was one of 10 titles selected for the PEN Open Book Award longlist back in December. The award is granted to "an exceptional book-length work of literature by an author of color published in 2016," along with a $5,000 cash prize. Other longlisted titles include A. Igoni Barrett's Blackass and Imbolo Mbue's Behold the Dreamers. PEN announced What Is Not Yours Is Not Yours as one of the finalists for the prize on Jan. 18, alongside Petina Gappah's The Book of Memory, Jamaal May's The Big Book of Exit Strategies, Solmaz Sharif's Look, and Monica Youn's Blackacre.
Oyeyemi isn't the only notable PEN Award winner this year. In Moonlight Black Boys Look Blue playwright Tarell Alvin McCraney — on whose work the Oscar-nominated Moonlight is based — won the PEN/Laura Pels International Foundation for Theater Award for an American Playwright in Mid-Career. Matthew Desmond will take home the $10,000 PEN/John Kenneth Galbraith Award for Nonfiction for Evicted, and Natalie Scenters-Zapico has won the PEN/Joyce Osterweil Award for Poetry with The Verging Cities. PEN will also honor 12 authors — including Angela Ajayi, Laura Chow Reeve, and Ben Shattuck — with the PEN/Robert J. Dau Short Story Prize for Emerging Writers in recognition of "their debut short stor[ies] published in 2016."
The winners of four PEN Awards will not be announced until the PEN Literary Awards Ceremony on Mar. 27. They are:
PEN/Nabokov Award in International Literature
This $50,000 prize is offered "[t]o a writer of any genre and of any nationality for their exceptional body of work." No finalists have been announced at this time. The winner will be chosen by judges Aravind Adiga, Ayad Akhtar, Robin Coste Lewis, Jessica Hagedorn, and Thrity Umrigar.
PEN/Jean Stein Book Award
The author of "a book-length work of any genre for its originality, merit, and impact" will take home $75,000 with this award. The currently anonymous judges will choose a winner from the following finalists:
Known and Strange Things by Teju Cole
Olio by Tyehimba Jess
The Return: Fathers, Sons and the Land in Between by Hisham Matar
Dark Money: The Hidden History of the Billionaires Behind the Rise of the Radical Right by Jane Mayer
The Underground Railroad by Colson Whitehead
PEN/Robert W. Bingham Prize for Debut Fiction
Judges Jami Attenberg, Tanwi Nandini Islam, Randall Kenan, Hanna Pylväinen, and Akhil Sharma will bestow this $25,000 prize on "an author whose debut work — a first novel or collection of short stories published in 2016 — represents distinguished literary achievement and suggests great promise." The finalists are:
Insurrections by Rion Amilcar Scott
We Show What We Have Learned by Clare Beams
The Mothers by Brit Bennett
Homegoing by Yaa Gyasi
Hurt People by Cote Smith
PEN/Diamonstein-Spielvogel Award for the Art of the Essay
This $10,000 award honors "a book of essays published in 2016 that exemplifies the dignity and esteem that the essay form imparts to literature." Judges Eula Biss, Kiese Laymon, and Paul Steiger will choose a winner from the following finalists:
The Art of Waiting: On Fertility, Medicine and Motherhood by Belle Boggs
Known and Strange Things by Teju Cole
A Woman Looking at Men Looking at Women: Essays on Art, Sex, and the Mind by Siri Hustvedt
The Girls in My Town by Angela Morales
Becoming Earth by Eva Saulitis