Ariana Grande Left The Most Subtle Message To Pete Davidson In Her "Thank U, Next" Video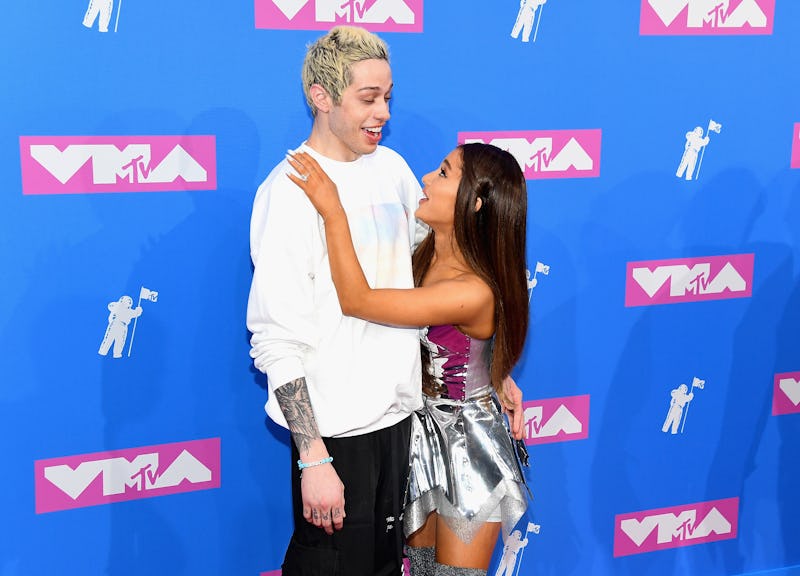 Nicholas Hunt/Getty Images Entertainment/Getty Images
After many days of anticipation, the video we've all been waiting for has finally arrived — and oh, did it deliver. Ariana Grande's "Thank U, Next" music video was the rom-com inspired clip of everyone's dreams, with hilarious and spot-on references to Mean Girls, Bring It On, 13 Going on 30, and Legally Blonde. And while all the movie shout-outs were great, the Mean Girls ones were especially satisfying because they included direct mentions of Grande's exes. Yes, there was a Pete Davidson reference in the "Thank U, Next" video, and it's actually pretty intense.
In the time leading up to the highly-anticipated video's release, many fans wondered if Grande's ex-fiance would get a shout-out, considering that the lyrics of the song reference him directly. If you somehow don't have "Thank U, Next" memorized, those lyrics are: "Even almost got married/and for Pete I'm so thankful." (The song also mentions Grande's exes Big Sean, Ricky Alvarez, and the late Mac Miller). So it's not a shocker at all that the "Thank U, Next" music video includes a brief but clear reference to all those men, including Davidson.
The shout-out happens relatively early on in the video, during the part of the clip in which Grande re-enacts scenes from Mean Girls. As she sits with her "Thank U, Next"-themed Burn Book, she writes a page for each ex, noting both their good times together and leaving them messages. On Davidson's page, you can see "Pete" with a heart around it, along with the words "I love u always", as well as "Huuuuuge."
But what's most intriguing is the message "Sry I dipped," written on the top of the page.
"Sry I dipped" certainly implies that Grande was the one who broke up with Davidson and ended their engagement, perhaps leaving the SNL star unexpectedly. Yet despite this hint, it's not totally clear what happened to cause the duo to split. Although both stars were very public about their relationship while it lasted, posting frequently on social media about each other and engaging in serious PDA, they haven't given too many details about why they broke up. The most fans have gotten so far is what Davidson said on SNL back in early November: "Sometimes things just don't work out, and that's OK. She's a wonderful, strong person, and I genuinely wish her all the happiness in the world."
It's possible that Davidson will comment on his shoutout in Grande's new video now that it's out in the world, but he also might choose to stay quiet. He didn't respond to the song after its release, so he might simply be choosing to let Grande do her own thing and not get involved. But that doesn't mean fans won't keep theorizing about the relationship and break-up, of course, especially now that we've read "sry I dipped". Did Grande walk out on Davidson? Did their relationship end on a dramatic note? We may never know, but the "Thank U, Next" video has certainly given us plenty of reason to wonder.