Here Are All The 'Legally Blonde' References In Ariana Grande's "Thank U, Next" Video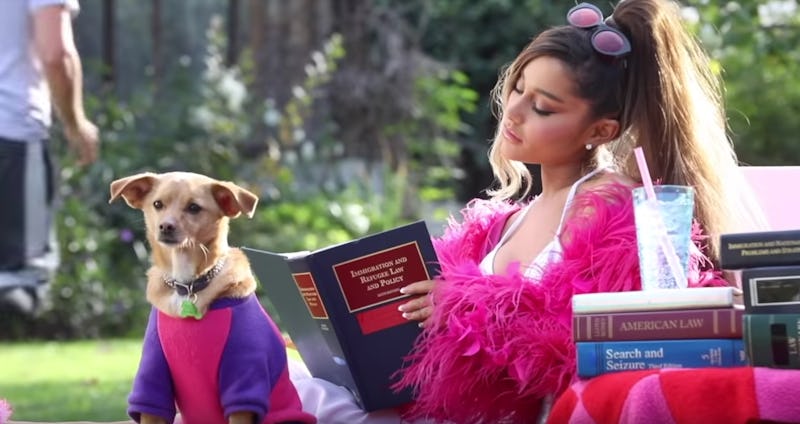 Ariana Grande/Youtube
Paying homage to one of the most iconic girl power movies of the early 2000s — what, like it's hard? Not for Ariana Grande who released the music video for "Thank U, Next" on Friday afternoon, which honored several iconic films, including Bring It On, Mean Girls and 13 Going On 30. And with all of the incredible outfit homages, shot-for-shot recreations and celebrity cameos, it might have been hard to catch all of the details that Grande put into the video — so here's every single Legally Blonde references in "Thank U, Next."
While Grande may have made some small changes to the iconic film for the music video, like rocking her natural brunette hair for multiple scenes, or having her beagle-mix puppy, Tolouse, play the role of Bruiser Woods, the singer's ode to Elle Woods and her adventures at Harvard Law was incredibly accurate. Of course, the fact that she had Jennifer Coolidge cameo and reprise her role as Elle's manicurist BFF, Paulette Bonafonté, for the music video didn't hurt either.
From her recreation of the iconic bend-and-snap scene, to all of the very pink ensembles that she and Tolouse rocked on "campus", here are all of Grande's references to Legally Blonde.
Reading Law Textbooks On The Lawn
Early on in Legally Blonde, shortly after Elle arrives at Harvard, she attempts to catch the attention of her ex-boyfriend, Warner Huntington III, by relaxing on the quad to "study" while he plays a game of football with his friends. Grande recreates the scene perfectly, from Elle's feathery pink jacket, to the bikini she wears underneath in order to try and ensure that Warner's eyes are on her.
In a twist appropriate for 2018, the book that Grande is reading isn't just any standard law text: She's holding a book called Immigration and Refugee Law and Policy, as a way of showing support for those seeking refuge in the U.S. amidst President Trump's crackdown on immigration. Next to her is another book titled Search and Seizure, which highlights the issue of police brutality and equal rights, a cause that Grande has spoken about in the past.
Arriving At Harvard In All Pink
Harkening back to Grande's days as an actor, the singer manages to capture every detail of Elle's arrival at Harvard Law, from the convertible she drives to the all-pink skirt suit that she wears while walking onto campus for the first time. Most impressively, Grande masters the quick, short-stepped walk that Reese Witherspoon used to show how Elle would walk with purpose across campus:
Truly, all that Grande is missing in those scenes are Elle's signature pink sunglasses.
Working Out While Watching C-Span
One of the first looks at the Legally Blonde homage that Grande teased featured the singer, wearing an orange tank top, and working out on an elliptical machine with her candy-colored MacBook open in front of her. That moment is a tribute to one of the most motivational montages in Legally Blonde, where Elle decides to show Warner how "valuable" she can be, and fully dedicates herself to her schoolwork and her studies. In the film, Elle has a textbook open while she works out; in the video, Grande decided to balance Elle's infamous laptop on the machine instead. Either way, it's an inspiring moment for aspiring lawyers (and students) everywhere.
Paulette's Salon
What would a Legally Blonde tribute be without a good, old fashioned "Bend and Snap"? Grande recreated the blue and purple walls of the salon that Paulette works in for a scene where she and her dancers will show off their own version of Elle's patented seduction move. Eagle-eyed fans might noticed that there are black and white photos of Grande on the walls, instead of the glamour shots that tend to dominate most salons.
And most importantly, Coolidge is wearing the same outfit that Paulette wore for her Bend and Snap tutorial in the music video:
With looks as fierce as that, it's no wonder the Bend and Snap works every time.
The Bend and Snap
It's the signature move to guarantee a second date, as perfectly demonstrated by both Elle Woods and Ariana Grande. Ladies and gents of the world, take note — and make sure to turn any and every bend and snap demonstration into a dance party.
The UPS Guy
In Legally Blonde, Paulette is in love with the handsome, buff UPS guy, who she eventually woos with the Bend and Snap — or, well, after she accidentally breaks his nose with the Bend and Snap. They eventually get married and have a daughter named Elle, so naturally, it's only right that they manage to fall in love in Grande's music video as well.
Tolouse On The Pool Float
For her "video essay" as part of her application to Harvard Law, Elle appears in the pool, wearing a sparkling bikini, and advocating for why she should be admitted to Harvard Law. And while, sadly, Bruiser doesn't appear on a floatie in her essay, we're choosing to believe that Tolouse's journey on a pink float is an homage to Elle Wood's application.
Here's hoping that Grande's attention to detail and love of the early 2000s classic means that she'll be cast in the upcoming Legally Blonde 3. Maybe she can be the new president of Delta Nu? Think about it, Reese — she's already got the wardrobe.