The Photo Of Trump Coloring An American Flag Has Twitter Cracking Up For This Reason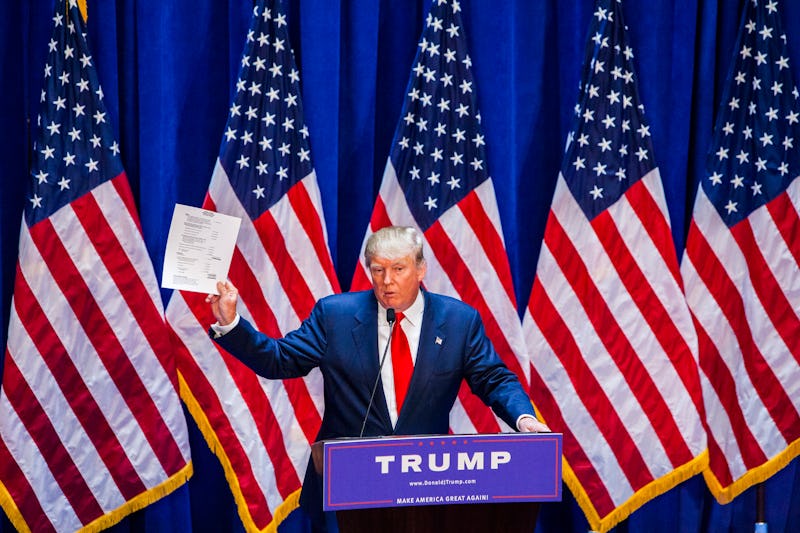 Christopher Gregory/Getty Images News/Getty Images
As part of an effort to learn about how the opioid crisis is affecting various groups — specifically infants — Donald Trump and his wife recently joined Health and Human Services Secretary Alex Azar on a trip to Columbus, Ohio. While there, the president and first lady participated in an arts-and-crafts activity at Nationwide Children's Hospital — and Trump seemed to color an American flag wrong during a photo-op with the kids, causing Twitter users to crack up.
In a photo posted to Twitter by Azar, Trump seemed to have colored in a blue stripe where there isn't supposed to be one. That isn't what Azar meant to draw attention to, of course; his tweet intended to focus on HHS' efforts to mitigate the opioid epidemic.
"The opioid crisis is one of our top priorities at HHS, with a drumbeat of action on the full range of efforts where we can assist local communities," Azar tweeted on Friday. "Today, I joined @POTUS & @FLOTUS in Ohio to learn how states and communities are responding to the challenge of opioid addiction."
But one Twitter user quickly noticed that Trump was filling in one of the stripes on the American flag with a blue marker, prompting a number of jokes from Twitter users.