Sarah Sanders Tweeted A Photo Of Trump & Putin, But It's Not The Best Look For Them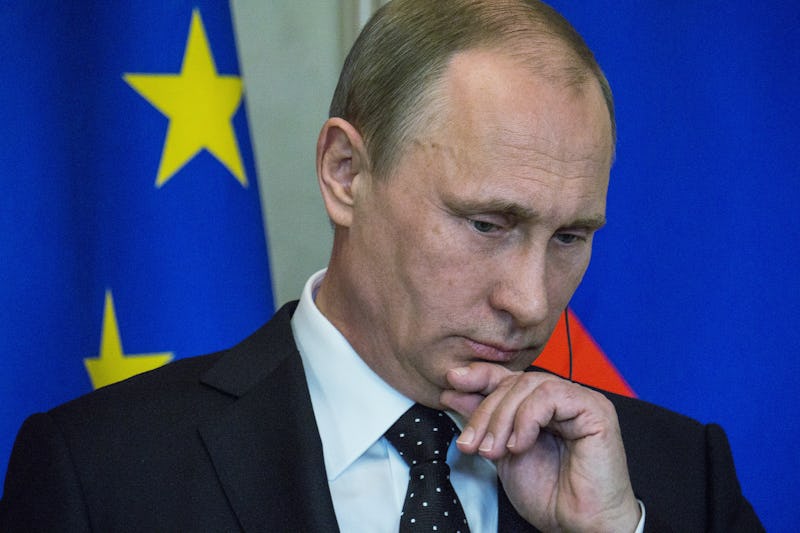 Alexander Aksakov/Getty Images News/Getty Images
The meeting between President Trump and Russian leader Vladimir Putin is underway in Helsinki, Finland, and the first photos and videos from their meeting have come out. Press Secretary Sarah Sanders tweeted a photo of Putin and Trump where Putin's eyes are closed and Trump has a blank look across his face.
The choice to portray Putin this way — on Twitter, folks are noting his "eyes are closed" and that it "looks like he's napping" — seems at odds with the tactic that the president has chosen. He tweeted early Monday that all the problems between Russian and the United States were America's fault, not Russia's.
"Our relationship with Russia has NEVER been worse thanks to many years of U.S. foolishness and stupidity and now, the Rigged Witch Hunt!" Trump tweeted early Monday in Helsinki before meeting with Putin. In a separate tweet, he attacked former President Obama and the Russian investigation in more detail.
That was received well by Russia. The Russian foreign ministry quote tweeted Trump just hours later and wrote, "We agree."
Trump's opening remarks also showed an openness to Putin and Russia, making the choice of the photo even more curious. "I've been here not too long but it is getting close to two years, but I think we will end up having an extraordinary relationship," Trump said to Putin in front of reporters. "I've been saying, and I'm sure you've heard, over the years ... that getting along with Russia is a good thing, not a bad thing."
Some of the critiques of the photo online were particularly rough. "Kind of funny that you pick the pic where Putin looks so unimpressed with Trump," wrote user @MHowe75 in response to Sanders' post. From there they get a lot meaner and more crass.
But some used sarcasm to tease the president and Sanders. "Gosh Sarah, Putin looks so scared in this picture. Was this the part where Donald told him to stop interfering in our elections? Or maybe asked him to turn over the Russians that our DOJ just indicted?" joked user @sallyd1961.
The photo aside, things seemed to be on track between the two. They both arrived late — Trump was last to arrive. They both came in big limos — Putin's was a bit bigger.
Then came the opening part of the meeting, where Trump expressed how great it was to be meeting with Putin. He explained how the day would progress with lots of positivity.
"The world awaits and I look forward to our personal discussion which I think begins now and then we are going to meet our whole team," Trump told Putin, just before they went off for their one-on-one meeting. "You have quite a few representatives as I do. We all have a lot of questions and hopefully, we will come up with answers most importantly. It is great to be with you."
Some in the foreign policy realm would likely appreciate the photo choice more than Trump's warm words about Russia. Former U.S. Ambassador to Russia Michael McFaul noted on Twitter that "no previous President of the United States of America has ever spoken like this about relations with Russia. Ever." He continued, saying:
"Improved relations" with Russia or any other country should never be the goal of American foreign policy. Instead, concrete objectives need to be defined, and then strategies for pursuing them — engagement, containment, isolation — need to be implemented.
Trump's strategy may be endorsed with a retweet from Russia, but that hasn't won over American diplomats.
Either way, the photo choice has Twitter puzzled.