Trump Ripped Into His Own Country On Twitter Before Meeting With Russia's Putin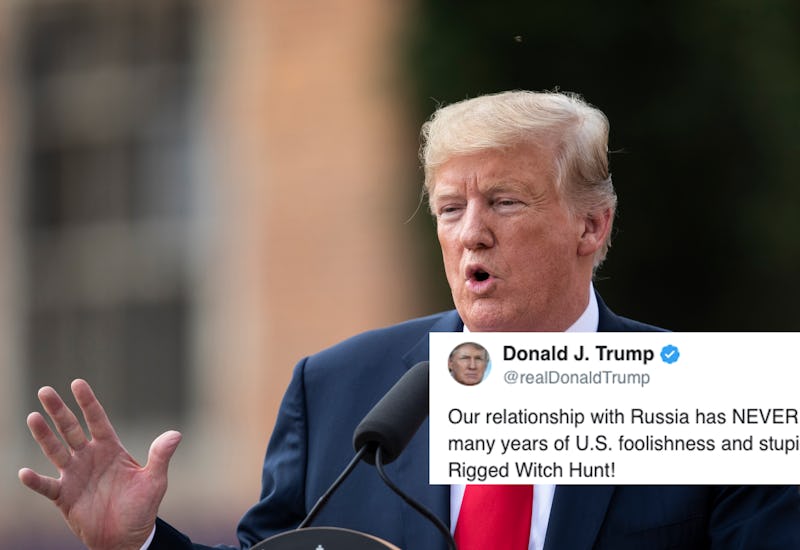 Dan Kitwood/Getty Images News/Getty Images
President Trump barely touched down in Finland before he started attacking a past American president and a Department of Justice investigation on Twitter — not the Russian leader he's about to meet. Trump's tweets before meeting Vladimir Putin show his priorities headed into the meeting do not include holding the Russian leader accountable. Instead he attacked the United States for the deteriorating relationship between the two countries.
"Our relationship with Russia has NEVER been worse thanks to many years of U.S. foolishness and stupidity and now, the Rigged Witch Hunt!" Trump tweeted in the early morning hours in Helsinki, where the meetings with the Russian leader are set to occur later in the day.
Just before that, Trump attacked his predecessor. "President Obama thought that Crooked Hillary was going to win the election, so when he was informed by the FBI about Russian Meddling, he said it couldn't happen, was no big deal, & did NOTHING about it," Trump tweeted. "When I won it became a big deal and the Rigged Witch Hunt headed by Strzok!"
Peter Strzok is the FBI agent who worked on the Russia investigation and whose texts have been used by Republicans to argue bias.
Trump attacked the investigation this week in an interview with CBS News. "I think it hurts our relationship with Russia. I actually think it hurts our relationship with a lot of countries," Trump said in the interview that aired Sunday. "I think it's a disgrace what's going on."
That's despite the fact that on Friday, Special Counsel Robert Mueller indicted 12 Russian agents for their reported role in trying to meddle in the 2016 elections.
Trump's argument seems to literally be the Russian one. The Russian foreign ministry quote tweeted Trump and wrote, "We agree."
Many Democrats have called on Trump to cancel the meeting with Putin given the indictment of 12 Russians for hacking Democratic email servers and computer networks — as well as the voter rolls in some states. "These indictments are further proof of what everyone but the president seems to understand: President Putin is an adversary who interfered in our elections to help President Trump win," Sen. Minority Leader Chuck Schumer said.
Even Republican Sen. John McCain said Trump needs to treat the issue seriously or cancel the summit. "If President Trump is not prepared to hold Putin accountable, the summit in Helsinki should not move forward," McCain said in a statement.
Trump has said that he will bring up the issue of meddling, but that he doesn't expect a different answer. Trump has said in the past he believes Putin's denials.
"I don't think you'll have any 'Gee, I did it, I did it, you got me,'" Trump said at a news conference on Friday in the U.K. "There won't be a Perry Mason here, I don't think, but you never know what happens, right?" Perry Mason was the lead character in the show of the same name from the '50s and '60s about a detective who often scored last-minute courtroom confessions.
Despite caving on all the positions an American leader would typically take, Trump still tried to play the role of a macho negotiator, arriving at the meeting after Putin.
But the opening comments were only positive:
I think we have great opportunities together as two countries that frankly we have not been getting along very well for the last number of years. I've been here not too long but it is getting close to two years, but I think we will end up having an extraordinary relationship. I've been saying, and I'm sure you've heard, over the years ... that getting along with Russia is a good thing, not a bad thing.
It's what's going to happen behind closed doors that has some worried, and there won't be any transcript of that talk.