Lady Gaga Hits The 'RuPaul's Drag Race' Runway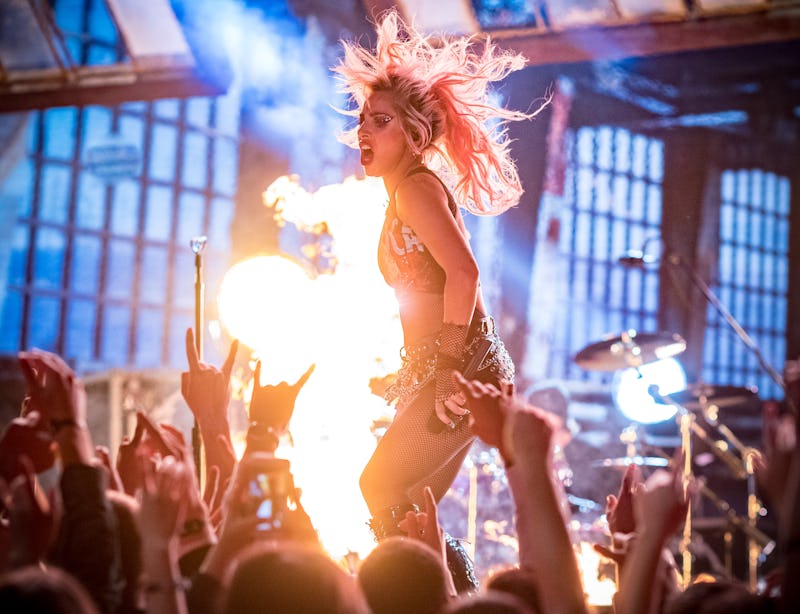 Christopher Polk/Getty Images Entertainment/Getty Images
If you worship at the altar of Mama Monster, you've probably already heard the star is appearing on the hottest show on television. But be still my beating heart, because the photos of Lady Gaga on RuPaul's Drag Race runway confirm what you'd already suspected: she looks right at home. Host RuPaul explained why this makes all the sense to Entertainment Weekly:
"There's an ease 
and familiarity that is apparent when 
you watch her. We had a fabulous time with Gaga. She was in heaven because this is all so much a part of 
her wheelhouse and what she does with imagery, costumes, and the way she 
presents herself."
Gaga first campaigned to be on the show via tweet way back in 2013, begging "Can I PLEASE be a judge on drag race! @RuPaul I started out in these club, these women taught me how to serve!" And it makes all the sense. Gaga doesn't just pay lip service to her LGBTQ fans, she supports gay and lesbian charities, has come out as bisexual, and has publicly spoken in support of repealing the US military's "don't ask, don't tell" policy. Besides which, her song "Born This Way" was the first number one song in history to include the word "transgendered" in its lyrics.
So no wonder Lady Gaga looks like she's been working on that runway since the show's conception. I'm impressed by her composure, because I know I'd be freaking out if I ever made it to the runway, especially in a judging capacity. And I love the glasses/no bra combination.
Then again, Gaga's background helps. RuPaul explained in the same Entertainment Weekly article why Gaga had been chosen over other potential celebrity judges:
"She comes from this background of downtown New York City clubs, so that was the difference between her and other guests who've been appreciative of what we do but 
don't know where we come from. She comes from that world."
But Gaga has kept in touch with the drag community. In 2011, she surprised drag queens performing "Born This Way" at Louisville gay bar Connections by appearing unannounced and proceeding to sing the song live.
The singer looks incredibly at home on the runway — but is that surprising? Not particularly, given her history of support for both the drag community and the wider LGBTQ world. Gaga will judge on the show in the Season 9 premiere — so start your countdown for March 24. It can't come soon enough.