Lady Gaga's Halftime Show Got Political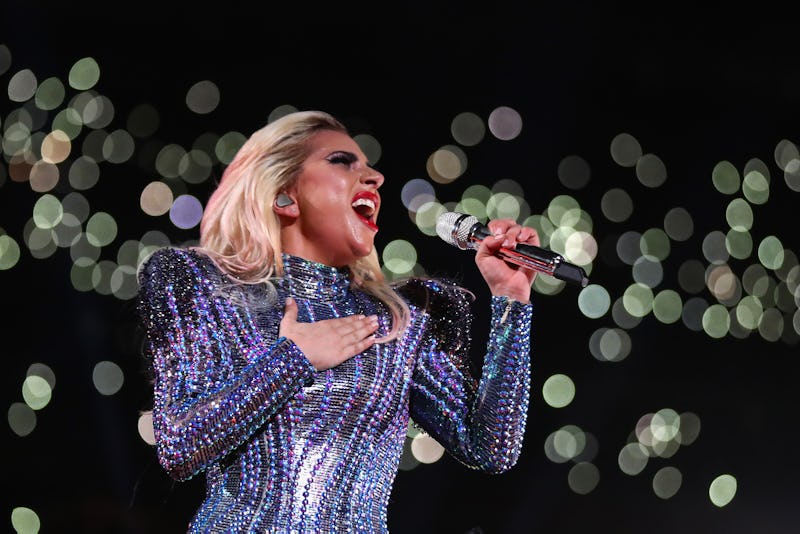 Al Bello/Getty Images Sport/Getty Images
No doubt about it, 2017 has gotten off to a rough start for many people. But, a bright spot in this new world we're living in was Lady Gaga's Super Bowl halftime show. This may be Trump's America, but it was her Super Bowl, and Lady Gaga got political during the halftime show thanks in large part to her song choice.
Gaga didn't make an explicit political statement during her performance. She started off pretty tame, singing a patriotic combo of "God Bless America" and This Land Is Your Land." Though, it can certainly be argued that the latter was a strong choice considering Trump's recent travel ban. Singing about how the land from coast to coast was made for all of us was a great way to kick the night off.
From there things got even more bold. Gaga sung her hit "Born This Way," which has some seriously powerful lyrics that she proudly sang on stage.
"Don't be a drag, just be a queen
Whether you're broke or evergreen
You're black, white, beige, chola descent
You're Lebanese, you're Orient
Whether life's disabilities
Left you outcast, bullied, or teased
Rejoice and love yourself today
'Cause baby you were born this way
No matter gay, straight, or bi
Lesbian, transgender life
I'm on the right track baby
I was born to survive"
There's something really exciting about hearing her say those words knowing over a 100 million people (perhaps including the president) were tuning in and hearing her message of strength and inclusivity.
Gaga is inherently political because of her songs and the people who love her. Many of Gaga's fans are marginalized people (especially those in LGBTQ communities), and she was speaking for all of them during the halftime show — we were all born this way and we're here to survive.
Her performance was lauded by GLAAD, with its president and CEO Sarah Kate Ellis tweeting her excitement about the performance in general and the fact that Mike Pence was watching the celebration.
And, as executive editor of Eater Helen Rosner pointed out on Twitter, Gaga was political from the start of her performance, even if she didn't make a direct statement about the current state of political affairs. I recommend reading Rosner's entire list of reasons Gaga made a statement with her opening songs (linked above), but here are some highlights.
So, no, Gaga didn't have a giant sign expressing her beliefs, but she made her feelings clear in a low-key way, while millions of Americans tuned in and absorbed a political message that they may not even have realized was happening.