Twitter Is Totally Obsessed With This Piano Player From Cardi B's Grammys Performance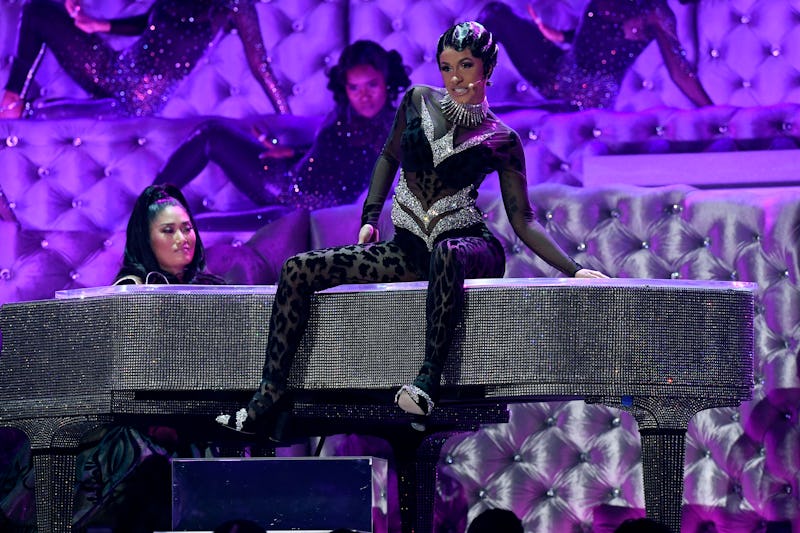 Kevork Djansezian/Getty Images Entertainment/Getty Images
Cardi B gave an epic performance at the Grammys on Sunday, Feb. 10, but there was someone else on stage who stole the spotlight. The piano player in Cardi B's Grammys performance has Twitter obsessed with her dramatic moves. Her name is Chloe Flower and she is a classical pianist, composer, and activist, according to her Instagram account bio.
Cardi B performed her hit single "Money" during her Grammys performance and Flower played piano. Of course, Cardi took center stage as she sang the rap song and danced with her backup dancers, but eagle-eyed viewers noticed Flower behind the piano keys. She didn't even sing or say a single note, but she didn't have to — Flower wowed fans with her incredible facial expressions and dramatic moves as she played the bedazzled piano. It's hard to steal attention away from Cardi B, but Flower's own performance was able to, and many Twitter users were clamoring to know her name. For a lot of viewers, Flower stole the spotlight and the social media platform now can't get enough of the pianist.
I mean, just look at this GIF from the performance. Flower's flair behind the piano seems to be simply, truly unmatched.
After the performance, Flower posted an Instagram video of herself playing piano during the Grammys. She thanked Cardi B for the opportunity in the caption. Flower wrote:
What an honor. Thank you @iamcardib for having me on stage with you at the Grammys and for graciously allowing me to add my style of music to yours! #cardib#cardibgrammys#pianist#chloeflower#piano
According to Entertainment Weekly, Flower is an alum of the prestigious Juilliard School and she is currently signed to Def Jam Records. The pianist has recorded with Celine Dion, Timbaland, and Nas. In addition, she has also scored ads for Nike and Levi's, as well as composing the scores for 2015 documentary A Ballerina's Tale about ballerina Misty Copeland, and the Mike Epps Netflix comedy special Don't Take It Personal.
And if you want to listen to more of Flower's music, you can check out her songs and EPs on Spotify.
For many viewers, though, this was their first time seeing Flower perform. These viewers took to Twitter asking for the impressive piano player's name.
Those viewers who were familiar with Flower's work took to Twitter to praise the pianist.
Some fans admitted that they couldn't take their eyes off Flower during the performance.
Many tweeted that the piano player's performance was a total mood and inspiration to us all.
A few Twitter users tweeted that the performance inspired them to take piano lessons.
These fans felt that Flower was the true highlight of the night at the Grammys — and this was a show that included an additional piano performance by Alicia Keys.
It's clear that Flower and her unique, expressive way of playing the piano has won her so many fans on Twitter.