The Sonic Pickle Juice Slush Is Officially Here — Along With A Ton Of Other Bonkers Drinks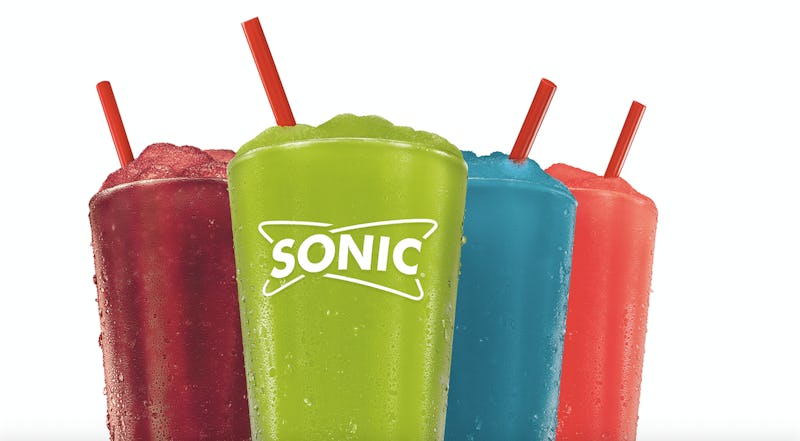 Sonic
Earlier this year, fast food chain Sonic made headlines and turned heads with the announcement of a forthcoming pickle-flavored slush. Those familiar with the chain know all about its expansive menu of iced beverages, which includes classics like cherry and more inventive ones like ocean water (it's blue and tastes subtly of coconut). But a vegetable-flavored drink? Revolutionary. Since its initial announcement, eager fans have been waiting patiently to get their hands on (and straws in) one of these salty slushes— and now they can. Or at least, almost. Starting, next Monday, June 11, the polarizing Sonic pickle juice slush will launch at restaurants nationwide.
Marla Yagoda, the Digital Restaurant Editor of Food and Wine, was one of the first member of the general public to report on the taste of the slush. In an article published earlier this year she described the flavor as "Sweet and tangy," assuring that "the bright brine compensates for the over-savoriness you might have been worried about." So if you've scoffed at the idea of getting a mouthful of brine, think again. Pickle slushes are a subtle art, and Sonic appears to understand that. Now, it seems that it's up to the general bravery of the public to determine it for themselves.
But the pickle slush is just the tip of the iceberg in terms of what Sonic has in store for this summer. According to a press release, it's but one of a fresh array of flavors being added to the lineup, which are part of a new collection of Snow Cone-inspired treats. It is a pretty nifty idea, as Sonic's signature slushes are pretty much snow cones in sippable form. The three other forthcoming flavors are more tropical than intriguing. The Bahama Mama and Blue Hawaiian flavors likely resemble the cocktails for which they are named. Per Myrecipes.com, the former typically tastes of pineapple, banana, coconut, orange juice, and cherry (from grenadine); the latter tastes of coconut and pineapple and is ALWAYS aquamarine blue. The fourth and final slush menu addition also has a pretty interesting name: Tiger's Blood. It sounds scary but in reality tastes of a mix of strawberry and coconut.
The inspiration for the slushes come from the season of their release. "The entire Snow Cone Slush lineup — including Pickle Juice, Bahama Mama, Blue Hawaiian and Tiger's Blood — has a distinctly summertime vibe, allowing our guests to create new summer memories," notes Scott Uehlein, Sonic's Vice President of Product Innovation and Development.
To celebrate the chain's new line of summery (and photogenic) treats, Sonic has teamed up with Snapchat to create a signature filter, perfect for framing all your food portraits. The lens will transform users' selfies into an icy-cold Pickle Juice Slush world for a limited time this summer, between June 11 and July 29. Customers can also snag any of the new slushes for half-price during Sonic's happy hour from 2 p.m. to 4 p.m. on weekdays. If you're in search of an early morning sugar rush, keep in mind all large specialty drinks (like slushes) are $1.49 until 10 a.m. each day.
With any slush, you are given the option of adding a fruit or candy mix-in. Some choices include pieces of real lemon, lime, pineapple, and strawberry. Candies to choose from include Nerds and popping candy. So maybe if you're feeling adventurous you'll be able to answer the age-old question: which fruit pairs best with brine? Rather, do purple or yellow nerds better complement the flavor of pickle? Or do you go all out and order a side of pickles and put them in your slush? You can never have too much of a good thing, especially when that good thing is pickled snacks.