The "Pissing Pug" Statue Next To "Fearless Girl" Hurts Feminism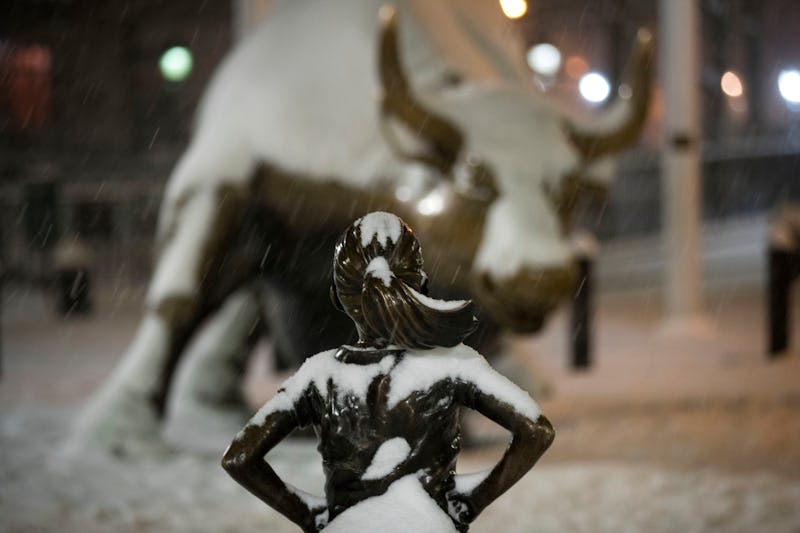 Drew Angerer/Getty Images News/Getty Images
Feminists trashing one another is dangerous. It slows down progress and keeps us bogged down in minor details that don't matter too much. So I was saddened when I heard that Alex Gardega, a New-York-based artist who claims he's "pro-feminism," placed a "pissing pug" next to the Fearless Girl statue in an effort to "downgrade" its powerful symbolism.
"I decided to build this dog and make it crappy to downgrade the statue, exactly how the girl is a downgrade on the bull," Gardega told the New York Post. Calling Fearless Girl "corporate nonsense," Gardega added, "It has nothing to do with feminism, and it is disrespect to the artist that made the bull. That bull had integrity." (The pug was removed a few hours after its installment.)
Gardega was likely referring to Fearless Girl's sponsor, State Street Global Advisors. On March 8, in honor of International Women's Day, the Boston-based financial services company had Fearless Girl installed on Wall Street, facing down the iconic bull statue. At the time, State Street said the statue was meant to celebrate "the power of women in leadership." But some have opined that the statue being funded by a wealth management firm diminishes Fearless Girl's supposed feminism.
Jillian Steinhauer of Hyperallergic called the Fearless Girl statue "fake corporate feminism." A Guardian article argued that it "sums up what's wrong with feminism today." A piece in the New York Times, which pointed out that State Street has a small minority of female executives (five out of a 28-person leadership team), reads:
The point is not that working to expand the presence of women on corporate boards is in itself an unworthy goal. It is that building a bronze monument to the plight of the more than 14 million women who make up two-thirds of the low-wage work force would also be worthy. Would anyone Instagram it?
This back-and-forth, including Gardega's latest provocation, reminded me of a famous Ti-Grace Atkinson quote: "Sisterhood is powerful. It kills. Mostly sisters." Since the late 1960s, some feminists have frowned upon the more corporate strains of American feminism — the less radical, "work within the system" school of thought. This was particularly true of radical feminists of the so-called "second wave," such as Valerie Solanas and the New York Radical Women.
A recent example of this was the backlash against Sheryl Sandberg's book, Lean In. Some argued that Sandberg's book and the philosophy it espouses actually weakens feminism by bringing more attention to the problems of women at the top of our patriarchal power system, rather than those who are marginalized most. The Lean In philosophy makes maternity leave an individual problem to be negotiated with bosses, rather than a universal one to be lobbied for in D.C. and state capitals.
Feminists who argue against corporate feminism do have a point, but that point can get lost in the context of the overarching struggle for equality. It's important that feminism fights for equality on all fronts, but it's also important that feminists feel empowered as individuals, because change has to happen on both the societal and personal level.
In 1970, Atkinson gave a speech at Harvard rallying those in attendance to act on their ideologies. "Tonight, the women's movement stands accused by me," she said. "There is a false and dangerous rumor that a feminist movement exists. It is false because it is not moving. You've got 20,000 women moving no place." Feminists at that time, she said, have "only got their rhetoric."
So when I hear feminists criticizing corporate feminism for being watered down and not radical enough, I shake my head. It reminds me too much of feminism's past internal divisions. To professed feminists like Gardega, I'd like to ask you to refrain from "pissing" on that statue. It gets us nowhere.