Why This Author Felt It Was So Necessary To Write About An Afro-Latina Teen Poet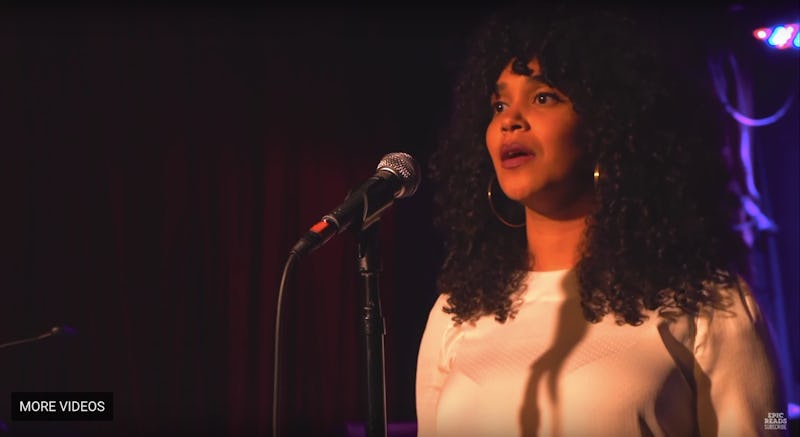 EpicReads/YouTube
Elizabeth Acevedo's The Poet X has been one of the most anticipated YA novels of 2018, ever since its powerful cover hit the internet last year. The cover, which depicts an Afro-Latina girl surrounded by words, perfectly illustrates the journey of Acevedo's heroine, Xiomara Batista. Below, Bustle is thrilled to reveal an Epic Reads video, which gives readers a behind-the-scenes look at the creation of The Poet X.
The Poet X follows Xiomara, a young girl in Harlem who is struggling with her body image, her mother's religion, her evolving relationship with her twin brother, and her first experience with young love. Desperate for an outlet for all of these experiences and emotions, she begins to pour all of herself into the pages of a leather notebook, penning emotional poems and verses. But Xiomara understands that these thoughts are best kept to herself, especially since her mother is determined to force her to obey the laws of the church,. Will a slam poetry club at her school change everything? All Xiomara knows is that she can no longer be silent.
"The Poet X has a long story. I technically began writing it in 2012, when I was an 8th grade English teacher in Maryland," Acevedo says in the video. "My students were 90% Latino. And I realized that all these stories I had been telling in class and these poems I had been writing didn't necessarily end up on their bookshelves."
To hear more from Acevedo about the inspiration behind the book, her journey to becoming a novelist, and to see her perform some of her own powerful poetry, check out the video below.
Acevedo began writing The Poet X in response to her students' desire to see themselves in more published works, and although she put it aside to focus on other manuscripts, she finally completed it in 2016 when she decided the story she really needed to tell was about "finding your own voice." And that's certainly what Xiomara does through Acevedo's powerful novel-in-verse.
"We write to remind ourselves that we are still here," Acevedo says in the video. "And that we can still heal." I can't think of a more perfect tagline for The Poet X than that.
The Poet X by Elizabeth Acevedo, $18, Amazon (Pre-order)
If you don't already have The Poet X on your 2018 TBR, now is definitely the time to add it to the stack. Though you still have a little while to wait until the book hits shelves on Mar. 6, it's available for pre-order right now.