Jared Kushner Will Reportedly Advise Trump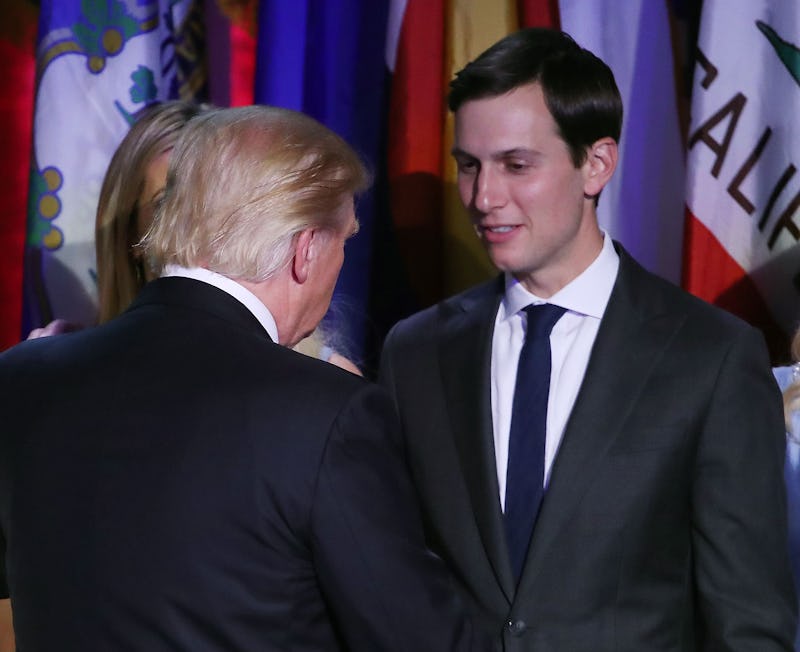 Mark Wilson/Getty Images News/Getty Images
Expect to see Donald Trump's son-in-law hanging around the White House for the next four years. Jared Kushner will reportedly serve as a senior adviser to the president, CNN and NBC News report a senior transition official has revealed. Although Kushner, who is married to Trump's eldest daughter, Ivanka Trump, reportedly played a major behind-the-scenes role in Trump's presidential campaign, rumors he would take on an official position in the White House raised multiple legal questions early in the transition.
Kushner's appointment to a senior adviser role could potentially test the boundaries of anti-nepotism laws, which prohibit public officials from handing jobs out to relatives. The federal anti-nepotism statute specifically states "a public official may not appoint, employ, promote, advance, or advocate for appointment, employment, promotion, or advancement, in or to a civilian position in the agency in which he is serving or over which he exercises jurisdiction or control any individual who is a relative of the public official."
However, some legal experts believe the president-elect may have the legal precedent to appoint a relative like Kushner to an advisory position given the 1993 ruling in a federal lawsuit brought forth after former President Bill Clinton appointed Hillary Clinton to the president's Task Force on National Health Care Reform. According to ABC News, the court ruled both the White House and the Executive Office of the President were agencies outside of the jurisdiction of the federal anti-nepotism statute.
But while Trump may have the wiggle room to appoint Kushner to a senior White House position, other legal experts have questioned the idea of excluding the White House or Office of the President from federal anti-nepotism laws. "I think the American public just feels there's something wrong about setting up a dynasty around you, having your family around you officially advising you," Larry Noble, general counsel of the Campaign Legal Center, told NPR. "You don't want the White House to look like a family business."
The strain on anti-nepotism laws aside, Kushner's reported appointment has also raised concerns over the potential conflicts of interest his personal business dealings might bring. According to a New York Times report, Kushner's real estate company has significant outstanding loans from foreign financial institutions, including an Israeli bank investigated by the U.S. Justice Department. Kushner's dealings with Anbang Insurance Group, a Chinese company that has raised alarm bells within the Obama administration by aggressively snatching up hotels across the country, has also caused many to question how his potential conflicts of interest might influence future foreign policy decisions. His involvement in a controversial federal program that trades U.S. visas for investments in U.S. companies has also raised concerns.
Trump is expected to hold a press conference Wednesday to discuss how he'll manage the potential conflicts of interest his own company presents and it is believed he will also mention Kushner's appointment and what role, if any, Ivanka will play in the Trump business empire. Kushner's lawyer told NBC Trump's son-in-law was "committed to complying with federal ethics laws" and had "been consulting with the Office of Government Ethics regarding the steps he would take."