'The Princess Diaries 3' Is One Step Closer To Actually Happening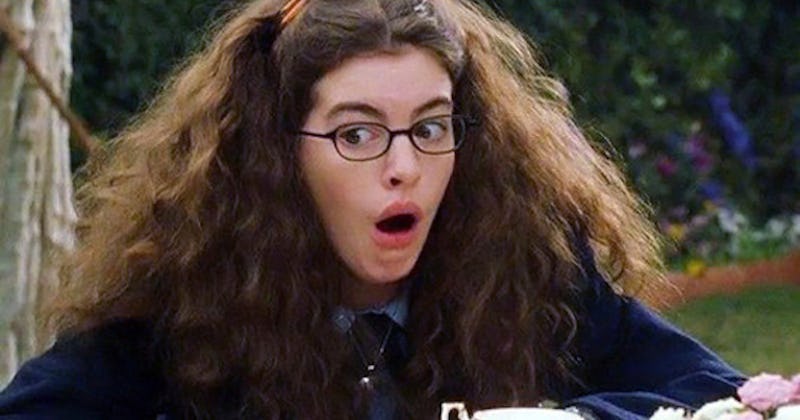 Buena Vista Pictures
Shut up! Here is some seriously exciting news for fans of The Princess Diaries. There is a Princess Diaries 3 script, Meg Cabot, the author of the book series, revealed to Entertainment Weekly in late July. She doesn't know any details or if an actual movie will be made, but Cabot announced a script does exist. "So, who knows?," she said. "[It] could happen, as we say." Bustle reached out to Disney for comment, but did not receive a response at the time of publication.
Cabot also shared that there is interest in potentially making the third installment as "kind of a tribute" to the late Garry Marshall, who directed both the first movie and its 2004 sequel, The Princess Diaries 2: Royal Engagement. Honoring Marshall in the third movie is something Julie Andrews told BuzzFeed in March that she and Anne Hathaway, aka Mia Thermopolis, were both interested in pursuing. "I think we might do it in honor of him," Andrews, who played Queen Clarisse Renaldi in both films, said. "Annie had an idea that she wanted to pursue about it, and I'm all for it, so if she'd like to."
For those wondering what the third film's script includes, Cabot is keeping quiet. She said, "I am not allowed to say. I would love to sit and talk about [it], but I can't. I'm not allowed." That said, she opened up about whether or not the story follows more along the lines of the movies or the books.
"[I]t's really more following the movie than the books, so if she — the last version I read, she definitely did not find out that she has a biracial younger sister … which I personally would've thought was hilarious, but that was not the direction they were going." In May 2015, Cabot released a Princess Diaries spin-off book titled, From the Notebooks of a Middle School Princess, which focuses on the story of Mia's long-lost half-sister.
In April 2016, Marshall said that he was in talks with Disney about creating a third film. However, the future of the film remained unclear after he died in July 2016. Though, it says a lot that there is now a script.
Even though another Princess Diaries may not happen and fans should be careful about becoming too excited about the possibility, things seem to be moving in the right direction.