Vanessa Hudgens' Christmas Movie Trailer Is Everything You Love About Cheesy Rom Coms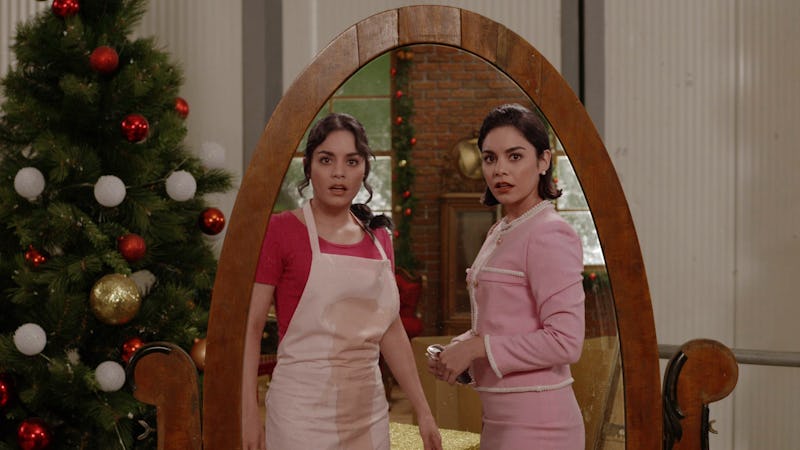 Gabrielle Hennessey/Netflix
Halloween has officially come and gone, and the weather is getting colder, which can only mean one thing: Tis the season to cuddle up on the couch and watch cheesy, holiday-themed romantic comedies. Netflix has kicked things off early this year with the first trailer for Vanessa Hudgens' rom com The Princess Switch, which is guaranteed to make you feel all things merry and bright.
The Princess Switch, which arrives on the streaming service on November 16, is the perfect treat for anyone wanting to relive the excitement of the royal wedding — or just someone who counts A Christmas Prince as one of their favorite guilty pleasures. Hudgens stars in dual roles Stacy, a baker from Chicago, and Margaret, the Duchess of Montenaro, who decide to switch lives for the week leading up to Christmas. (See, Stacy wants someone to fall in love with this holiday season, while Margaret just wants a chance to live a normal life out of the spotlight.)
Over the course of their adventures, Stacy finds herself drawn to Margaret's uptight fiancé, Prince Edward (played by Nashville star Sam Palladio), while Margaret falls in love with Stacy's handsome co-worker, played by Nick Sagar. Naturally, hijinks, snowball fights and romantic waltzes under the Christmas lights ensue.
A Princess Switch is just one of Netflix's royalty-themed holiday offerings in 2018; the sequel to last year's surprise hit, A Christmas Prince, is set to be released on November 30. And while The Princess Switch trailer doesn't seem to promise the same kind of absurdity and ridiculousness that fans enjoyed on the Aldovian adventures — rather than breaking priceless vases, the biggest destruction here is that a piece of toast burns — Hudgens' take on the classic royal romance seems to be just as charming and endlessly rewatchable as its predecessor.
Of course, A Christmas Prince and its tale of a commoner falling in love with a prince isn't the only thing aboutThe Princess Switch that might feel familiar to Netflix viewers this holiday season: the plot, where a normal girl switches places with someone who wants to take a break from the spotlight is a well-known set up, as featured in nostalgic fan favorites like The Lizzie McGuire Story. Throw in a handsome prince and lots of sweet, Christmas activities and it truly is — to paraphrase Lizzie herself — what Christmas dreams are made of.
There's also the striking resemblances between The Princess Switch and the beloved '90s classic, The Parent Trap, present in everything from Stacy cutting her hair in order to look more like Margaret, as well as the fact that both of the film's leading ladies have to fake an accent in order to maintain their ruse. (Is it too much to hope for a matching scene where they pierce each other's ears?)
The Princess Switch is far from the only nostalgia-inspiring project that Hudgens has released in the last year. In August, she released a new single in collaboration with EDM duo Phantoms called "Lay With Me," which saw the actress recreate iconic scenes from High School Musical for the video.
"I mean, it's really special," Hudgens told Bustle about the long-lasting love for the blockbuster Disney Channel musical. "So many people that have seen [High School Musical] have been inspired to pursue their dreams in the arts, and that's such a special thing to be a part of."
And while she's played a variety of characters over the years, in many different and exciting projects, it's a little hard not to feel like the sweet, romantic roles at the center of The Princess Switch aren't a perfect fit for the girl who brought the shy but extremely talented Gabriella Montez to life on the small screen. Years may have passed, but fans looking to relive the glory days of Troy and Gabriella's high school romance might find something new to swoon over, thanks to Stacy and Margaret.
If nothing else, Hudgens' fans can always pour themselves an extra cup of hot cocoa and follow up The Princess Switch with a special, holiday marathon of the High School Musical movies, for extra Christmas comfort.