'The Defenders' Post-Credits Scene Stars A Marvel Fave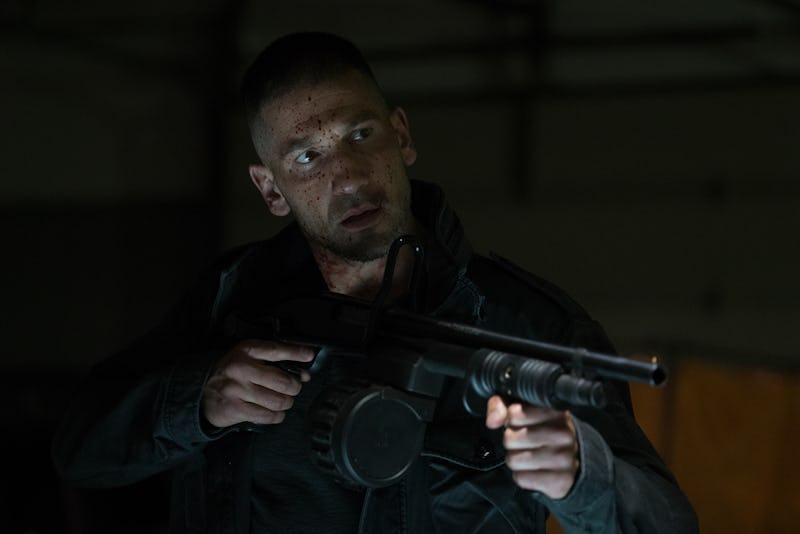 Patrick Harbron/Netflix
Nothing against the four Defenders and the various friends and accomplices who put up with them, but I spent much of my marathon of the Netflix series looking out for a cameo by one Frank Castle (Jon Bernthal). The Punisher, who made his debut in this particular franchise in Daredevil Season 2, will be heading up his own spin-off series, landing sometime this year. Spoilers ahead! Presumably, the ex-Marine-turned-vigilante is off somewhere else doing his own thing during the crossover series, but The Punisher's post-credits scene in The Defenders gives fans their first taste of what his solo show is going to look like.
If you haven't finished The Defenders yet, just make a mental note to stick around through the closing credits of Episode 8. You'll cycle all the way through them and past the logos for Marvel and Netflix, but don't switch off. Because after those are gone, you'll hear the distinctly gravelly voice of anti-hero Frank Castle, who's been on a mission to clean up New York City since his family was brutally murdered in front of him. His morality is a little twisted and his methods aren't exactly legal, but is Frank's vigilantism that much different, at its core, than that of any of the Defenders?
Like Luke, Jessica, Danny, Luke, and any other good superhero, Frank is haunted by his past. This promo indicates that The Punisher Season 1 is going to dig deeper into the demons that drive him. In his voiceover, Frank says:
"All the things that I done. Memories, they never hurt me. But the past — it's more than memories. It's the devil you sold your soul to. He's comin'. He's comin' to collect."
The words are spoken over a montage of scenes from the show, some of which could be taking place in the present, post-Daredevil, and some, such as shots of Frank with his children and with his platoon, have to be flashbacks. Those scenes are intercut with someone — the Punisher, surely — punishing some concrete with a sledgehammer. He's carving out that famous skull logo. There's no sign of Deborah Ann Woll's Karen Page, who'll also be making the jump from Daredevil to anchor this new series.
None of the Marvel Netflix series are particularly light, but The Punisher is shaping up to be the darkest and grittiest of them all. All of these heroes have their issues. They've killed, and they're not proud of all of their actions. But Frank is an entirely different beast, and putting him at the center of a show opens up this universe even further. This promo is a big clue to the tone of The Punisher Season 1 and the perfect reward for wrapping up a Defenders marathon.