Meet All The Doggos In This Year's Puppy Bowl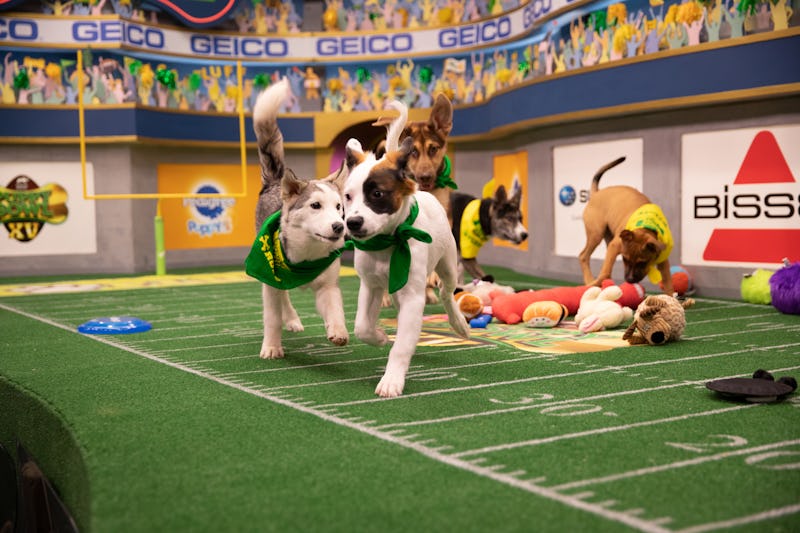 Courtesy of Animal Planet
America's favorite annual sporting event is back! Puppy Bowl XV premieres Sunday, Feb. 3, at 3 p.m. ET., where you can see a slew of young pooches duke it out for the coveted Lombarky Trophy. This year, 36 pups comprise the starting lineup — divided into teams Ruff and Fluff. And the dogs in this year's Puppy Bowl are so cute, they have to be seen to be believed.
The scrimmage is once again facilitated by Puppy Bowl fixture Dan Schachner, who's refereed for the past eight years, according to an interview he did with Deadspin. What's more, Schachner told The Today Show that this year, he has a sloth assistant, Shirley, who will help him "with slo-mo replays," but it seems like she's mainly preoccupied with hanging upside down on her special jungle gym. The referee also teased that this year, viewers will get to see the Bowl's first ever "Neutral Bone Infraction Foul" and "Invasive Sniffing."
As for the dogs themselves, the show features 93 puppies from 51 shelters, according to an Animal Planet press release. However, these little guys aren't the only critters up for adoption — there's also the Dog Bowl, which features 63 older pooches and airs Saturday, Feb. 2 at 8 p.m. ET, per the press release. Then there's the Kitten Bowl, which airs on the Hallmark Channel on Sunday, Feb. 3 at 2 p.m. ET. So even if puppies aren't your thing, there will be plenty of other adoptable critters to choose from.
That said, there's nothing quite as entertaining as watching little (or huge, in Will and Gallagher's cases) puppies run around, cluelessly licking cameras and getting distracted by their own tails. Here are the 36 pups in this year's starting lineup, divided into Teams Fluff and Ruff.