Meet The Woman Who Rescued 2 Of The Puppy Bowl Pups After Hurricane María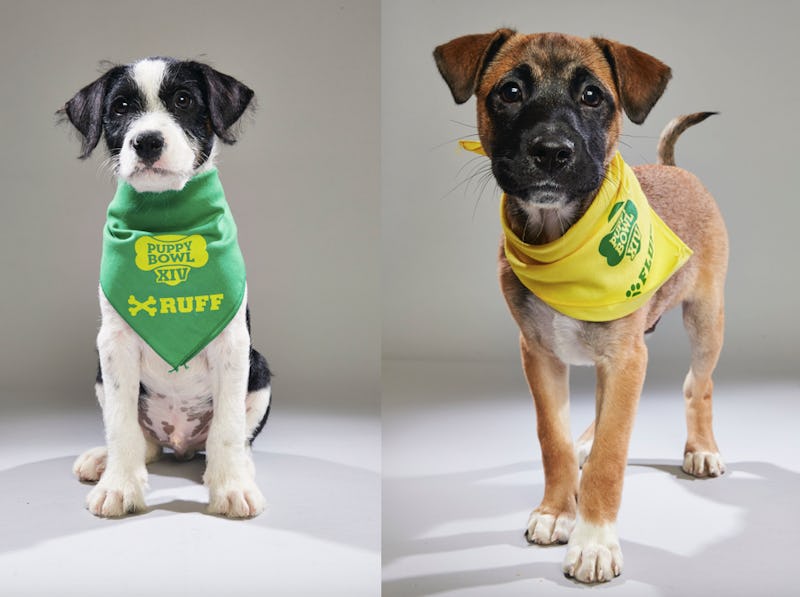 Courtesy of Animal Planet
If you, like me, are bored to tears by the Super Bowl (or choose not to watch for ethical reasons), for the last 13 years, Animal Planet has been coming in clutch with the Puppy Bowl on Super Bowl Sunday. If you've somehow missed it, the premise is simple: Two teams of adorable floofers compete for the title of MVP, or Most Valuable Puppy, all while raising awareness for adopting, not shopping. This year, however, there'll be two very special dogs vying for the title — Kaleb Jr. and Archer, two pups who were rescued after Hurricane María decimated Puerto Rico in September. While both Kaleb Jr. and Archer have found forever homes, the organization that rescued them — The Sato Project, founded by former boxer Chrissy Beckles — has had to completely change its mission in response to the ongoing crisis.
Beckles tells Bustle that Hurricane María actually made landfall in Yabucoa, near the beach where The Sato Project has centered their rescue efforts since the organization was founded 11 years ago. "We had 72 hours prior where we needed to get our dogs out of the vets' offices," Beckles tells Bustle, and "48 hours out, we had evacuated 60 of our dogs to a volunteer property that was higher up in the mountains." These dogs, which included Kaleb Jr. and Archer, who were born in The Sato Project's care, were some of the first dogs flown out of the island in the aftermath of the hurricane, on a plane that had flown down to drop off humanitarian supplies.
Since the hurricane, The Sato Project's small team has rescued over 1,000 dogs, and reunited 183 of them with their owners. For context, Beckles says, "In a normal year, we transport between 300 and 350 dogs. And it's been over 1,000 since September." The team had to suspend its spay and neuter efforts during October and November because veterinarians didn't have the resources — such as electricity — to perform the procedures, but Beckles says they're already feeling the direct effect of that setback: "We're seeing more [unintended] puppies being born than ever, more so than I've ever seen in the 11 years I've been working in Puerto Rico," she says. "It feels like we lost seven years of work in the hurricane," she adds. "We're right back to where we started." The organization has been able to resume spaying and neutering stray animals, but it feels, Beckles says, like a game of catch up.
Though The Sato Project has been sending dogs to participate in the Puppy Bowl for the last seven years, Beckles says this year is more critical than ever before. "The Puppy Bowl has certainly taken on a different meaning for our organization this year," she says. "The crisis in Puerto Rico is far from over." The Sato Project continues to work with aid groups to send rescued dogs to the mainland on airplanes that have been sent down to deliver humanitarian aid, but Beckles says they need more help. "We're trying to organize flights, at least every other month. If people give me access to planes, I'll fill them." For those who don't have access to a plane, The Sato Project's website has a link to donate money directly to the organization.
But amid all the chaos that continues to define life for many in Puerto Rico, as well as the many thousands of Puerto Ricans who have had to leave the island since the hurricane, there are a few silver linings. Kaleb Jr. and Archer, Beckles tells Bustle, have been adopted by the same extended family, "so they get to hang out together" in their new forever homes. And Beckles has reason to believe that this year might be their year. "There's no better time for a Puerto Rican MVP of Puppy Bowl," she says. I know I, for one, will have my eyes glued to Puppy Bowl XIV to find out.