How 'Riverdale' Turned A Musical Theater Song Into A Modern Feminist Anthem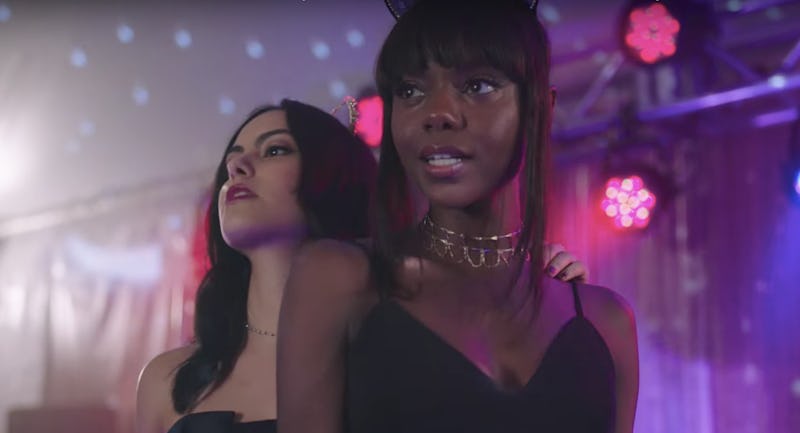 The CW
Riverdale exists in an aesthetic that feels out of time, despite a healthy peppering of pop culture references. That said, Wednesday Nov. 8's episode could not feel more timely, even if by coincidence. While Betty Cooper is engrossed in a toxic relationship with the Black Hood killer, Veronica and the girls beat up Nick St. Clair on Riverdale while "Out Tonight" from Rent played in the background, because why not? The episode features maybe the Pussycats' most deliciously indulgent cover song yet for an empowering montage.
We all knew that Nick St. Clair (Graham Phillips) was going to be no good the second Veronica drops his bougie name, right? Not only does he proposition Veronica during the episode, but he drugs Cheryl and tries to rape her during a fundraiser. Thankfully, the girls are on to his suspicious behavior, and intercept him. Veronica, Josie, Melody, and Valerie kick the jingle jangle out of Nick St. Clair and take care of Cheryl. She's not even their friend, really, but this was a scene about girls looking out for each other, no matter what their relationship.
The fact that the Pussycats' cover of "Out Tonight," which they had been singing at said fundraiser, is playing during this sequence is the girl power bonus that you didn't know you needed. The character of Mimi has got baggage, as all Rent fans know, but the song and the Broadway show are, at their core, about living life to the fullest. It's OK to let loose, even in the extra yet uptight world of Riverdale.
Sure, the lyrics in the bridge ("In the evening I've got to roam/Can't sleep in the city of neon and chrome/Feels too damn much like home when the Spanish babies cry") don't make a whole lot of sense contextually. But who cares? Valerie and Melody sound amazing. Let them have this moment.
Jughead's final Southside Serpent initiation also takes place during the "Out Tonight" montage, which appeared to be mainly about punching. His story arc includes another musical theatre reference. The way Archie gets emotional and chooses to break his best friend's heart rather than gently put a pause on Jughead and Betty's relationship is almost certainly an homage to a scene in West Side Story between Anita and the Jets.
Is this the cast of Riverdale's official audition submission for Rent Live!, which will happen... eventually? Not that Jonathan Larson's Pulitzer Prize winning musical is infrequently referenced in pop culture, most recently in the Netflix series Friends From College. The song that the Pussycats performed even made an appearance on The Big Bang Theory.
But the Riverdale scene is not quite as cringe-worthy as that, or the time Marnie and Hannah did "Take Me Or Leave Me" on Girls, nor is it as affecting as Glee's cover of "Seasons of Love," or as bizarre as the Rent homage that is the entire second season of NBC's dearly departed musical dramedy, Smash. But let's be real, "Out Tonight" is totally the 20-year-old musical theater rock song you'd expect a high school band that thinks they're cool to be peforming un-ironically and in front of all their parents.
Oh, and obviously the CW uploaded a full performance version of the song, without those cuts to the other plots. Because they love us back just as much as we love them.
All in all, this was one of Riverdale's most off-the-wall episodes yet. It's nice to see these kids get one over on evil, for once. The Black Hood is bringing everyone down, and Betty had to be way harsh to her friends while trying to keep the peace. Heroically interrupting a date rape to a Jonathan Larson soundtrack was a very necessary (if traumatic) high point.
It'll be interesting to see how the aftermath of Cheryl's assault plays out, as well. She's ready for revenge, and so is Betty apparently. Will the Black Hood get to Nick? Will Veronica's parents be upset that she didn't appease their potential business partner? It's a realistically messy situation perfectly timed to this moment in history, where it seems as though women are being believed and listened to more when it comes to sexual harassment, assault, abuse, and rape.
As silly and over-the-top as this Rent moment was on Riverdale, it is incredibly satisfying, and proves that this modern classic musical may never go out of style.
If you or someone you know has been sexually assaulted, call the National Sexual Assault Telephone Hotline at 800-656-HOPE (4673) or visit online.rainn.org.