Queen Elizabeth's Net Worth Is Way More Than Might Think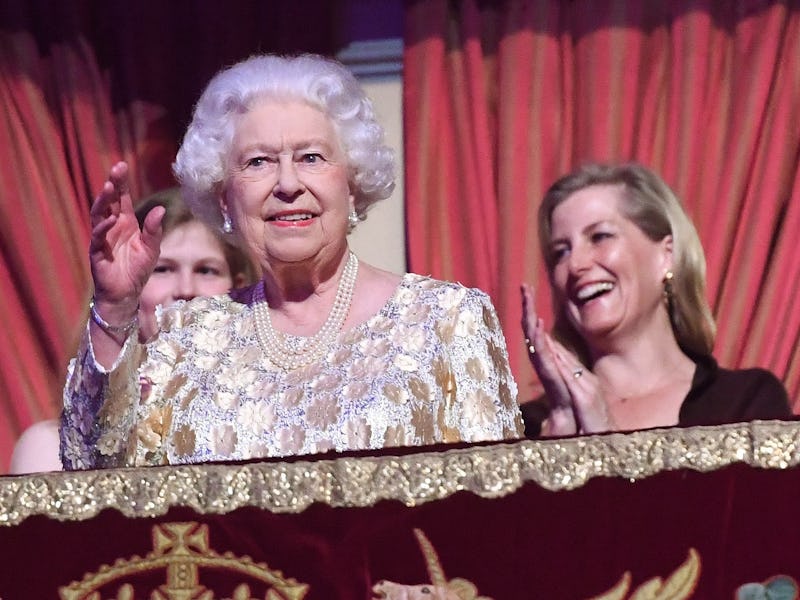 WPA Pool/Getty Images Entertainment/Getty Images
Prince Harry and Meghan Markle's royal wedding is quickly approaching on May 19, and while enthusiasts of the festivities are excited for all that the big day has to offer, some can't help but think about who will be footing the supposed, larger-than-life bill. It's led many to wonder just what Queen Elizabeth II's net worth is. It's been rumored that it's tradition for the queen to oversee the nuptials, including the financial portion. Well, according to Time's April 28 ranking of all of the British royals, the Queen's net worth is quite a lot.
Years of reports digging into Queen Elizabeth's personal net worth and assets totally support this as well. In 2016, while assessing the queen's extravagant life, Forbe's Magazine estimated her private wealth to be close to the $530 million mark. And when taking into consideration her living in and owning one of the largest palaces in the world, Buckingham Palace, in addition to numerous properties in her possession, such as the Crown Estate and Windsor Castle, having half a billion dollars to call her own makes perfect sense. In the April 28 report, Time reports that the queen's net worth to be a tad less than the 2016 estimate, but still sitting a whomping $520 million — adding another title to the queen's, already, impressive resume, and making her the wealthiest royal in the family.
Throughout the years, Queen Elizabeth's wealth has helped her recieve a few accolades as well, one of them being the Guinness World Record for being the wealthiest queen in April 2012, with an estimated $504 million fortune.
With her $520 million reported wealth in tow today, Queen Elizabeth is not only the wealthiest member of the royal family, but the estimation also shows that half of the British royal's family wealth comes from the queen, alone.
In 2018, Time reported that altogether, the royals having an astounding $1.1 billion. The queen's husband of nearly seven decades, Prince Phillip having an estimated $30 million. Heir to the queen's throne, Prince Charles's net worth was estimated at around $400 million. The Queen's grandsons Prince William and Prince Harry's net worths were estimated to be between $25 and 40 million, separately. Duchess of Cambridge Catherine Middleton had an estimated $10 million and the soon-to-be, newest British royal Meghan Markle was estimated to have an estimated $5 million net worth.
In addition to monumentous estates, fancy dinner parties with world leaders, and private security at your beck and call, having hundreds of millions of dollars at your disposal definitely leads for an extravagant private lifestyle, as well. As if taking the most amazing vacations ever isn't amazing enough, the queen aslo knows how to party like a champ. According to The Hollywood Reporter, Queen Elizabeth celebrated turning 92 with a pop concert in London April 20 — featuring some of England's biggest musicians, such as Sting, Craig David, Kylie Minogue, and Shaggy.
It's being reported that while the queen's official birthday is April 21, she usually chooses to spend the day with close friends and family, celebrating her birthday with the public in June. This time around, however, it looks like the queen wanted to ring in this milestone in the most stylish way ever, and seriously who could blame her? Along with being the wealthiest royal in the family, she's also the longest living monarch, and what better way to mark that occassion than with inviting some of the most successful names in music to perform for your honor in a thrilling concert on a Saturday night?
And when it comes to Prince Harry and Meghan Markle's royal wedding, it's being reported that Her Majesty will be calling the shots there, as well — from giving her official consent for Prince Harry to marry Markle, to hosting the nuptials at her Windsor Castle estate. And with the knowledge the public has surrounding her estimated income, with Queen Elizabeth at the helm, enthusiasts of the royals can look forward to one mind-blowing royal wedding event on May 19.