Here's Everything You Need To Know About Operation London Bridge
A meticulous plan of what happened after Queen Elizabeth II passed away.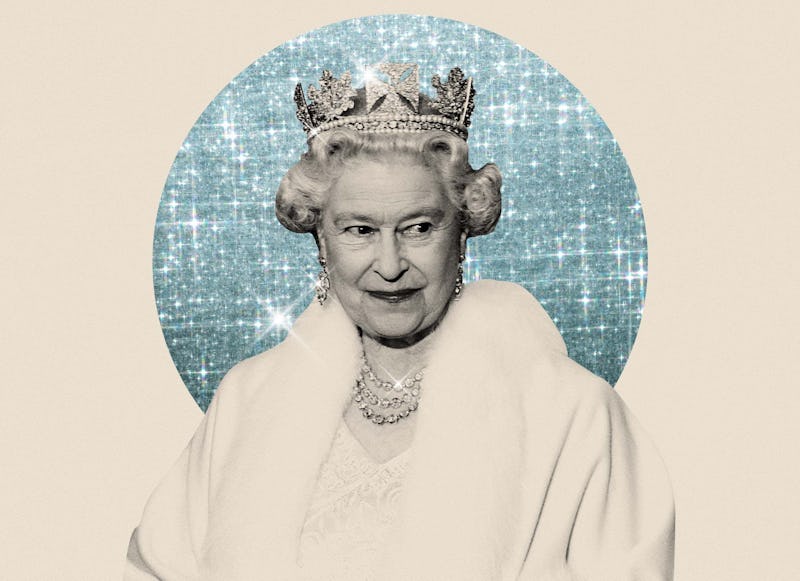 On Sept. 8, Buckingham Palace announced that Queen Elizabeth II had died, aged 96. This followed a statement released earlier that day, informing the public that Her Majesty was under "medical supervision" as doctors were concerned for her health. Soon after the announcement of the monarch's death, "London Bridge" became a trending topic. Operation London Bridge refers to the step-by-step plan in place for after the Queen passes away. Here's everything you need to know about the meticulously organised course of action.
The Meaning Behind Operation London Bridge
Used to prevent the news of a royal family member's death from leaking before an official announcement, the first use of a codeword for the death of a monarch was in 1952 for King George VI. His codename was Hyde Park Corner, which the palace used to tell government officials of his passing.
Since his death, codenames for other senior royals have been related to bridges. The Queen Mother was codenamed Operation Tay Bridge (shared with Princess Diana), Prince Philip was known as Operation Forth Bridge, and Prince Charles carries the codename Operation Menai Bridge.
Queen Elizabeth's codename is London Bridge. Operation London Bridge has been in place since the 1960s, and has been regularly revised.
The Steps Taken After Queen Elizabeth Died
The Queen's private secretary was the first person to hear of her death. They carried the duty of informing the Prime Minister, Cabinet Secretary, Privy Council Office, and senior civil servants through the use of the code phrase: "London Bridge is down." The Commonwealth Heads of Government were then informed by the Foreign and Commonwealth office.
Since the Queen was residing in Balmoral, Operation Unicorn (the codename for the plans in Scotland) was implemented. Her body was brought to St Giles' Cathedral on the Royal Mile in Edinburgh on Monday, Sept. 12.
After a service, the Queen's coffin was brought to lie-in-state for around 24 hours from 5 p.m. local time, as per Sky News. Accompanied by her only daughter, Princess Anne, the Queen's coffin was then transported to Edinburgh airport, where a plane transported her to London. Once Her Majesty reached the capital city, Operation London Bridge took precedence.
The Queen spent one final night in Buckingham Palace. Then, after a procession led by King Charles on Sept. 14, Her Majesty's coffin was brought to lie-in-state in Westminster Hall until 6.30 a.m. on Monday Sept, 19, the day of her funeral. Members of the royal family came to pay tribute to their mother and grandmother. The lying-in-state allowed heads of state, dignitaries, and the public to pay their respects. Mourners queued for hours in order to catch a glimpse of the coffin, with David Beckham waiting in line for 13 hours to pay tribute to the Queen.
Queen Elizabeth II's funeral took place at Westminster Abbey at 11 a.m on Monday, Sept. 19. A 23-mile procession from London's Hyde Park Corner to Windsor Castle followed, where the Queen will be laid to rest with her father, King George VI, and her mother. The coffin of the Queen's late husband, Prince Philip, has been moved from the Royal Vault to join her.
How The Public Was Notified
Once key figures were alerted, news wire services such as Press Association, Associated Press, and Reuters informed the leading broadcasters. Radio presenters also provided coverage. They were notified through an "obit light" system, which flashes when a member of the royal family or other key figures in the world have died.
In a blog published by HuffPost, Chris Price, a BBC radio producer, previously referenced the specific playlists in place for the Queen's death. He said: "If you ever hear 'Haunted Dancehall (Nursery Remix)' by Sabres of Paradise on daytime Radio 1, turn the TV on."
How The Government Responded
Flags were lowered to half-mast in Whitehall. The newly-instated Prime Minister Liz Truss made a statement outside Number 10 Downing Street, and MPs paid tribute during an hours-long session in the House of Commons the day after the Queen's death. All parliamentary business was suspended for 10 days of mourning. On Saturday, Sept. 17, Liz Truss and her husband, Hugh O'Leary, stepped outside Number 10 to lead the nation in a minute's silence at 8 p.m.
When Does Charles Become King?
Prince Charles has officially ascended to the throne. The day following the Queen's death, a meeting of the Accession Council took place, followed by a proclamation that Charles has become king. Meanwhile, King Charles III's coronation is expected to take place next year.
This article was originally published on