See The Cover For This "Game Of Thrones" Meets "King Lear" Fantasy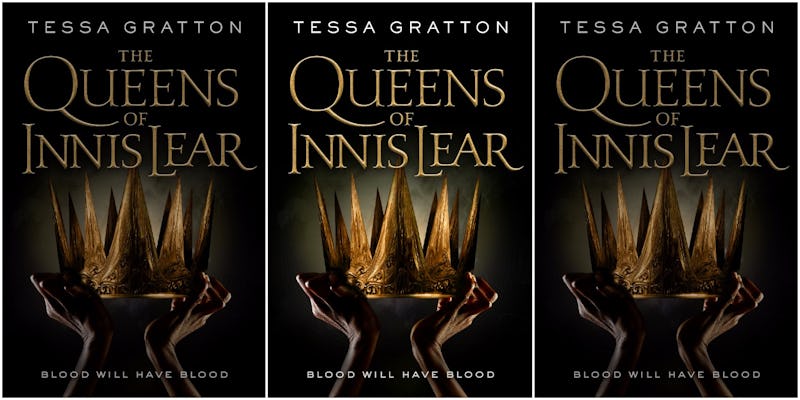 If there's one thing I'm always looking for in a new adult fantasy blurb it's the terms "feminist" "multicultural" and "epic." Lucky for me that's exactly how Tessa Gratton's new book The Queens Of Innis Lear is being billed. Oh, and also? It's inspired by both Game of Thrones and Shakespeare's King Lear. I know, I know. Let's take a more in-depth look at the plot shall we?
Enemy nations circle the once-bountiful Innis Lear, sensing the growing vulnerability of its prophecy-obsessed king. The island itself is already in revolt, between the straining poor harvests and decaying magical power of the land. The king's three daughters — battle-hungry warrior Gaela, seductive blood witch Regan, and their youngest sister, star priestess Elia — know the realm's only chance of resurrection is to crown a new sovereign. Refusing to leave their future in the hands of prophecy, the daughters of Lear prepare for war.
The Queens of Innis Lear won't hit the shelves until March 27, 2018 but to hold you over in the meantime, Bustle's got the gorgeous (and super fierce) cover reveal, with art by Larry Rostant, right here.
The Queens Of Innis Lear by Tessa Gratton, $26, Amazon
Not only a story of love and betrayal, The Queens of Innis Lear promises to explore questions of birthright, gender, faith, and the complicated bonds of family... while also bringing to life a new fantasy world that is thrumming with ancient magic and filled with characters that are as ruthless as they are compelling.
I'll be counting down the days to March 27, 2018 right along with you.