The 'Queer Eye' Guys Fight About This One, Super Relatable Thing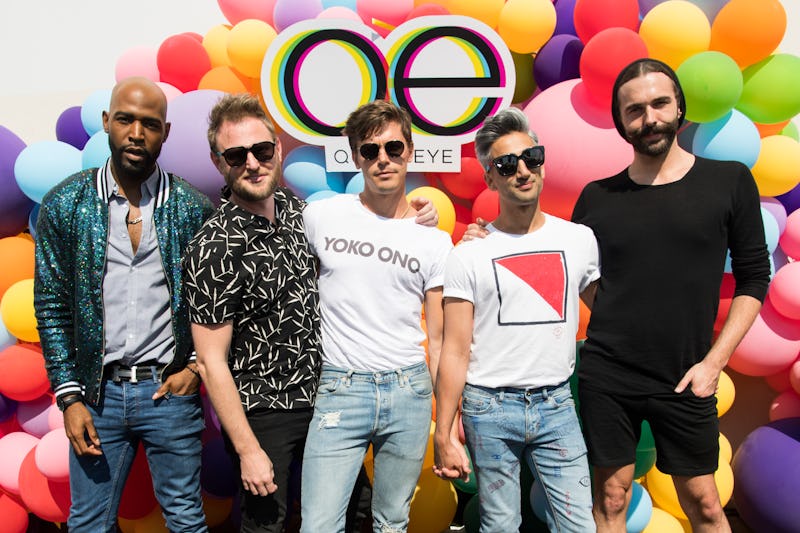 Emma McIntyre/Getty Images Entertainment/Getty Images
There have been a lot of new shows this year, however nothing moved America (and the world) quite like Queer Eye did. The show premiered on Netflix back in February, immediately launching its five stars, Antoni Porowski, Karamo Brown, Bobby Berk, Jonathan Van Ness, and Tan France to stardom. But just because viewers love them so much doesn't mean the cast always love each other with the same fervor. In fact, it has been revealed that they do get into the occasional tif. And the thing that the cast of Queer Eye fight about the most is, honestly, super relatable — and definitely understandable given their busy schedules.
Though they seem to always get along on the show, France, the series' fashion expert, revealed to Entertainment Tonight that they do sometimes have disagreements. "Oh, gosh well what did we last fight about? Probably lateness?" he said. "Yeah, we're all terrible at it. So, yes we'll all fight with each other about lateness but the next day the person who started the argument is also late."
ET caught up with France at the Unforgettable Gala, an event that honored Asian Americans making an impact in their lines of work, held on Dec. 8. And while habitual lateness might be a hangup for some but not for others, anyone who has been left waiting for a friend 20 minutes past your dinner reservation knows that lateness can truly ruin a friendship. It's a bit refreshing to know that the Queer Eye guys fight about the same things we all do. Clearly, the Queer Eye guys are super close and total #FriendshipGoals, but even they don't get along all the time.
Of course, whatever conflicts or fights they do have, France said they've gotten pretty good at squashing things before they escalate. "I don't know if you know this… we share a trailer," he also told ET. Yes, that's right, Porowski, Brown, Berk, Van Ness, and France all share a trailer while filming the show. In fact, it's something France said has helped them learn to face conflicts head on, and fast, because they're in such close quarters and share a trailer. "We're not like any other show. Because we film in the middle of nowhere, we don't have space for 5 trailers. So if there are problems, you solve them real fast."
But, like any good friends, the Queer Eye cast are still very much huge fans of each other, even if one of them is annoyingly late. In a roundtable interview attended up Bustle in February, Van Ness called their group "the cutest fraternity." Meanwhile, Porowski said that even after long days shooting and being together, they still weren't sick of each other.
In an interview for Variety, Brown said that one thing he wanted the reboot to emphasize was the friendship between the new Fab Five. "We wanted to have fun and show the brotherhood and love we have for each other," he said. "At the end of the day with everything that's going on in our world why not just take a moment to have fun with five people who are your friends."
And the Fab Five really are our friends, occasional lateness and all.