The Director Of Netflix's Controversial Rachel Dolezal Doc Wants It To Make You Uncomfortable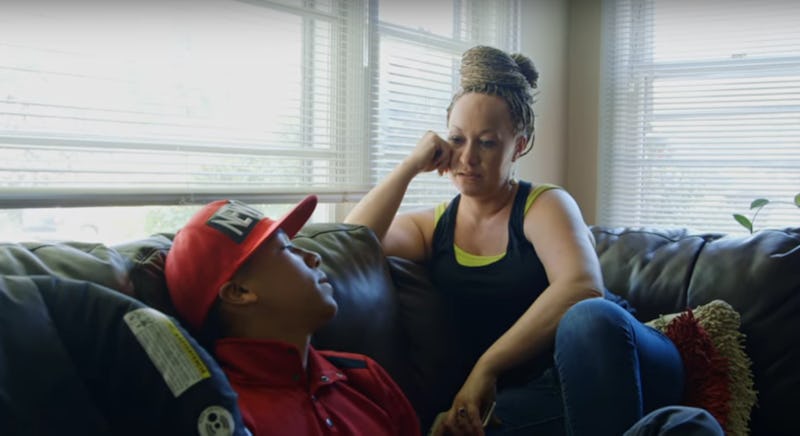 https://www.youtube.com/watch?v=gyhOTvC1v-A&feature=youtu.be
If your initial reaction to hearing that Netflix would be releasing a Rachel Dolezal documentary was, "Why?" you're not alone. When the streaming company announced The Rachel Divide — which follows the former Spokane, Washington NAACP president, who was famously found to be lying about being a black woman three years ago — the backlash was so immediate that Netflix released a statement explaining the decision and stated that Dolezal was not paid. Now, reviews are in for the film, out April 27, and they're mixed; some critics wonder if the movie potentially asks viewers to be sympathetic to Dolezal, while others question the reason the documentary was made at all. But director Laura Brownson wants to make it clear that she didn't "have an agenda" when making The Rachel Divide.
"I was interested [in finding out] could this woman — who had become a media pariah and all of the collateral damaged that happened to her and her family — could she recover from that?" Brownson says, sitting in the Roxy Hotel after the doc's Tribeca Film Festival premiere. "Can people recover from that? What does that look like? What sort of toll does that take on a family?"
Brownson began filming The Rachel Divide just a month and a half after Dolezal's story started making the news in June 2015, and follows her over the course of several years. As a result, the doc isn't about revisiting Dolezal long after she gained notoriety; it starts right in the middle of things and follows her up until she legally changed her name to Nkechi Amare Diallo in 2016. "You can't really tell a good story without letting time go by," explains Brownson.
By following Dolezal's complicated journey over a longer period of time, The Rachel Divide makes viewers think about bigger themes of identity and race in America in a fascinating, eye-opening way. But it can be argued that the doc is also responsible for "push[ing] you to sympathize with her," as The Guardian put it. Going further, The Wrap wrote that Dolezal is "clickbait in human form" and posited that the Brownson was using Dolezal to gain notoriety for herself.
Brownson understands the criticism of the documentary giving Dolezal more attention, but, for her, the film is about far more than the woman at its center. "I set out to make a movie about somebody I found to be a perplexing and confounding character," she explains. "But more importantly, I feel that when somebody elicits strong feelings and reactions, there is something very important to be paid attention to, and in those reactions is something very relevant. And I, as a filmmaker, wanted to unpack that."
The film does do that. In attention to hearing from Dolezal and her family, Brownson interviewed members of the NAACP who had worked with Dolezal when she was president of their chapter. She also spoke with reporters from Spokane, who covered the story locally, and included critiques from those outside the community via a series of YouTube clips. The film doesn't so much ask you to sympathize with Dolezal as offer that as an option, only to turn everything upside down (or, perhaps, right side up again) with the each new interview or fact presented.
Of course, the fact that Dolezal did agree to do the film and allow cameras into her home might lead some to believe it takes her side. Brownson, however, insists this isn't the case. "The movie has no agenda whatsoever. I do not want to dictate how people feel about Rachel Dolezal," she says. "This is a character that provokes very strong feelings. She is extraordinarily polarizing, and the movie is not meant to change people's opinions. She is in some ways a Rorschach test. She is that person that depending on who you are, and where you sit, and your lens, you will react to her differently. And I respect all of those reactions."
One of the main conflicts in The Rachel Divide has to do with how much attention Dolezal actually wants. She says that she wants to live a calm, safe life and be able to secure a job, but she still goes on talk shows, writes a book, and posts about herself and her family on social media. So, when it comes to the documentary itself, it's hard not to think that she agreed to it for the attention, too.
"I think that Rachel has a proclivity to put herself time and time again out into the public's eye," Brownson says, adding that she'll never know Dolezal's motivations for the decisions she makes, and that includes choosing to make the film. The director explains that she was the one who approached Dolezal about the documentary, having known of a connection to the figure through the NAACP. When Brownson visited Spokane and saw how quickly things were moving, she told Dolezal of her idea, the subject agreed, and they began filming.
And filming, naturally, included Dolezal's life with her three children. Her son Franklin, who was 13 when production began, makes it clear in the documentary that he is not OK with how much attention his mom received and the detrimental effect it has on his life. Watching Franklin, it's easy to think that maybe The Rachel Divide shouldn't have been made at all, if only to spare the teen from something that could potentially cause him more anguish. Brownson, though, argues that Franklin's feelings in the doc's scenes aren't necessarily representative of his overall attitude.
"On the day in the film where Franklin was upset with the film, that was two years in and Franklin was upset with everything," Brownson says. She's referring to the scene that circulated when Netflix announced the release, and it shows Franklin saying, "This book coming out and this documentary might just backfire like everything else has backfired."
"I felt as a filmmaker it was essential to let him have the moment where he can say, I want it to all go away, including you. To empower him to say that felt like one of the more important choices I could make," Brownson continues. She adds that Franklin was a "willing participant" in the doc, and that he was excited about filming, especially in the beginning because there was a chance for him to communicate his side of things.
Brownson says that when a screening was held for Dolezal and her family it was "difficult." She explains, "Her immediate reaction was sort of stung, I think. But I think from the points of view of the kids, who really feel that they were able to speak their truth, they were able to really be understood, and they see that they're the shining stars of this movie in some ways, I think that gave her as a mother that gave her the ability to feel OK about the movie."
Brownson knows how many opinions stem from Dolezal's story, but she says that her "deepest hope is that it will spark some conversation," specifically ones about cultural appropriation, white privilege, colorism, the underrepresentation of black women, and the idea of fluid identity. Yet while that may be the case, one thing people will remain divided on just as much as Dolezal, is rather we should be using her to spark conversations at all.