The Radical Way Women Politicians Are Being Trained To Fight Sexism In Trump's America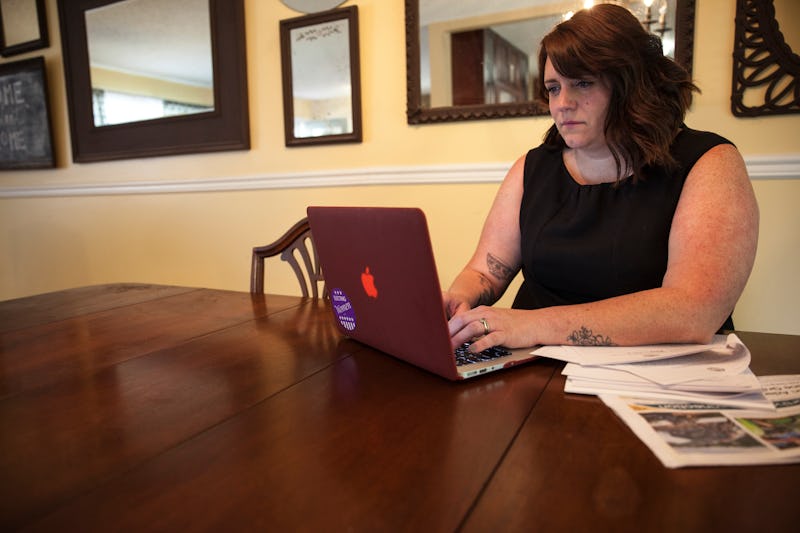 Jenny Willford
Jenny Willford was 28 years old and seven months pregnant when she ran for City Council of Northglenn, a suburb of Denver, in 2015. One of her campaign efforts included walking door to door to meet and talk with voters. "Oh, you're pregnant!" one man said. "Yes!" Willford responded. "And you're running for office?" he asked. "Yes!" she said. Another voter sized her up and commented on her "child-bearing hips." More than one person asked why her impending motherhood wasn't enough for her, or what her husband thought about her running for office.
Willford didn't win, but she's running again now. In fact, the sexism she experienced during her last campaign is motivating her current run. "We have to break through the sexism," she tells Bustle. "Did it stop me? Hell no. Did it make me even more determined? Absolutely!"
From Donald Trump calling Hillary Clinton a nasty woman during the final presidential debate, to Mitch McConnell silencing Elizabeth Warren as she read a letter from Coretta Scott King on the Senate floor during the debate for Jeff Sessions's nomination for attorney general (McConnell's remarks following the incident spawned the battle cry, "Nevertheless, she persisted") to Iowa Democrat Kim Weaver bowing out of her campaign against House Republican Steve King because of intimidation and death threats, this has been an ugly, visceral year for sexism in politics. And yet, Willford is just one of countless women who have decided that regardless all the misogyny they'll face — or perhaps because of it — now is the time they must run for office.
Vanessa Cardenas, communications director of EMILY's List, a political action committee that aims to help elect pro-choice Democratic female candidates to office, says that since Election Day, more than 16,000 women have come to them saying they're interested in running, compared to only 920 women after the 2012 presidential election.
To train this eager influx of potential female candidates, PACs like EMILY's List, Emerge America, and newer organizations like Dare to Run, Inc., are on hand to offer the education and resources women need to fundraise, campaign, and build a team for election. And while they provide the nuts-and-bolts tools for female leaders, they're also helping women in politics — whose lives are lived so prominently in the public eye — combat sexism with a little extra "patriarchy-smashing" chutzpah.
"'You're a divorced single mom, how am I going to believe you?' Or: 'Are you pregnant?' 'Why aren't you with your kid?' 'Where's your husband?'
A'shanti Gholar is the political director of Emerge America, a political action committee that recruits, trains, and provides a network for Democratic women running for office at various levels of political engagement. But Emerge America doesn't just provide general political training; the organization is also working to teach female candidates how to fight back against the sexism that most, if not all, of them will endure. Gholar herself can readily rattle off examples of sexist incidents, like the time in Lancaster, Pennsylvania, when a voter outside a polling place stated outright to a female candidate that he doesn't vote for women; a State Senator who was told she's a "hooker" because she works in PR; a young, short woman running for office who is often patted on the head by the men around her.
Gholar says that Emerge America weaves conversations about sexism into every aspect of its training. One technique is to pivot challenging, prejudicial questions into a discussion about the issues that women care about. "Trainers role play with questions," says Gholar. "'You're a divorced single mom, how am I going to believe you?' Or: 'Are you pregnant?' 'Why aren't you with your kid?' 'Where's your husband?' Trainers help women to formulate their answers. Being a mother, a wife, a woman who works — those are things that make candidates authentic, and at the end of the day, it's where they can connect with voters."
She tells Bustle that she looks to 14-term Representative from California, Maxine Waters, for inspiration. Waters grabbed headlines in early August when she repeated "Reclaiming my time, reclaiming my time, reclaiming my time," as House Treasury Secretary Steven Mnuchin refused to directly answer her inquiries into Trump's financial ties with Russia; her words made #ReclaimingMyTime to go viral on social media. "She's not just angry. She's doing her job," says Gholar.
Jessica Byrd, founder and principal of Three Point Strategies, a Washington, D.C.-based political consulting firm that works to get women of color candidates elected, says that connecting with voters by remaining authentic is key — and it starts with candidates understanding that there are gatekeepers whose sole job it is to maintain the status quo. This is a fact, she says, that her clients are already clear on. "Their job [as politicians] is to connect with voters so voters know they want change, so they can transform the system, so they can make that change."
According to The Center For American Women And Politics, of the 105 women serving in the 115th U.S. Congress (Senate and House combined), 36.2 percent are women of color; of the 75 women serving in statewide elective executive offices, only 9.3 percent are. Despite these numbers, the 2016 election saw the number of women of color in the U.S. Senate quadruple. It was an encouraging uptick, especially considering the double discrimination that women of color face.
"There's no sexism for women of color without racism," Byrd says. "They're never divorced; you're never having one without the other. The women I'm working with are accused of being mean or not qualified because they're single moms." But, Byrd points out, "being a black woman in the U.S. right now is such a powerful position because we are the moral authority; 90 percent of our voters voted for the right candidate. We make the right decisions and we need to lead in every place possible because we know what's at risk. For women of color," she asks, "what choice do they have?"
"How do you not diminish yourself to make yourself more palatable, but play up your strengths to be seen as a passionate fighter for justice?"
Kimberly Peeler-Allen, co-founder of Higher Heights, a national organization focused on mobilizing and electing black women, tells Bustle that their training programs, which were launched this year to an overwhelmingly positive response (more than 800 women have participated in online webinars and in-person trainings so far), offer black women opportunities to learn how to make those essential pivots from sexist and racist remarks to the issues that need to be discussed. "Are you going to be perceived as an angry black woman?" is one question Peeler-Allen says is posed during training. "How do you not diminish yourself to make yourself more palatable, but play up your strengths to be seen as a passionate fighter for justice? We tell women to channel their inner Michelle Obama. When they go low, you go high."
Willford, who's not only running for City Council in Northglenn, but is also the executive director of the Colorado affiliate of Emerge America and has gone through Emerge's training herself, says that Emerge Colorado spends a lot of time talking about internalized misogyny, too. "The way we buy insurance before we say something—'I "just" have a question'— we don't need to do that. When we diminish language, we minimize the space we're taking up." Another topic that's discussed are the assumptions about gender roles. "When you pick up the phone and call a police officer, who do you see coming to your door?" Willford asks. "A man?" As it turns out, even women who are interested in running for office have unchecked assumptions about who can hold what role, she says.
"If you have trolls, you're doing something right...But don't respond to the bait."
And if good, old-fashioned face-to-face sexism and racism weren't bad enough, enter the dawn of the social media age, including the angry trolls who heighten the stakes and hide behind computer screens. "It's easier now for people to say horrible things about people — women and men — but I think women suffer more," says Debbie Walsh, director of Ready to Run, a non-partisan campaign training program. "In Seattle, women are the majority of the City Council. When they voted down a new arena in 2016, the women were horribly attacked — death threats, disgusting things were said about them." There's no way political trainings can stop that kind of behavior, she says. The question, then, is how can organizations prepare women for it?
Byrd tells her clients that they can't respond to everything online, while Peeler-Allen says candidates and politicians shouldn't be looking at their own social media, anyway. She adds that "if you have trolls, you're doing something right." But, she says, "Don't respond to the bait."
If it's bad, though, the trolling needs to be reported. "You have to call it out," Ready to Run tells its trainees, according to Walsh. "Most importantly, you can't let it paralyze you from running."
But perhaps the primary tool in combatting sexism in politics is each training program's network — the scores of alumnae and other women who've held office who can assist the newbies at every turn. "The encouragement and network of strong and persistent women helped propel me forward on this path," says Alexus Viegas, 27, who is currently running for the first time for Annapolis City Council in Maryland. Viegas says that when when she campaigns door to door, she experiences countless residents who look past her to a nearby male volunteer, expecting him to answer their question while entirely ignoring the fact that the actual candidate is standing right in front of them, ready and eager to answer it. While she's always had a passion for justice, felt "love for the underdog," and known that her life's purpose was to serve others and bring people together, she says that before running for office, she still asked herself, "Am I qualified? What makes me think I can do this?" Through her Emerge training, and its network of women, she says she learned that "you can truly come from any background to earn the honor and privilege of serving the public."
"How can we lift up other women as we rise?"
As for women of color, Byrd says, "they're not just saying, 'I'm ambitious.' They're saying, 'There is no other path but for me to lead; there's no other path for my family than for me to get behind the policy people.' The powers and positives so far outweigh the negatives—women of color are way more connected to be in a position of transformational leadership than the mean little voices."
"How can we lift up other women as we rise?" Willford asks. That's what the training programs are really trying to do, and that effort is at the core of combatting sexism. After all, numbers speak much louder than words. "When we get more women in office," Gholar tells Bustle, "that's when we'll see change."