The 'RHOD' Season 2 Trailer Is Filled With A Lot Of Tears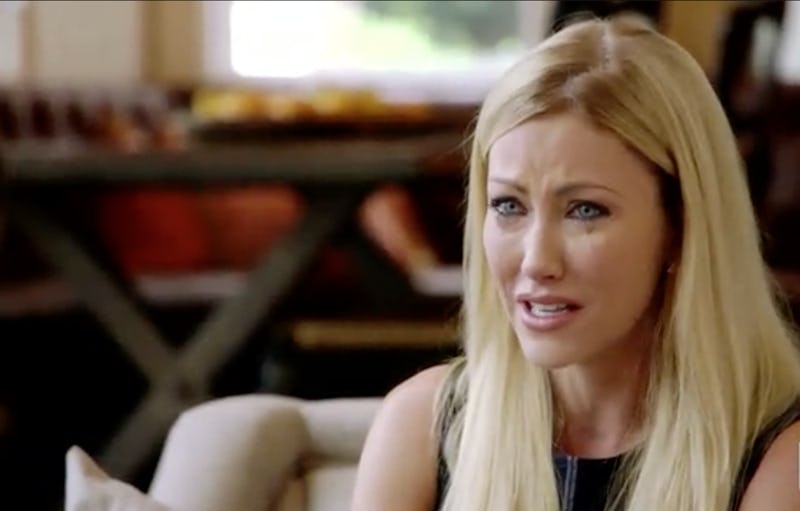 Bravo
Gather 'round, y'all, because the time has finally come. You're going to need a lot of Jesus Juice while watching the Real Housewives of Dallas Season 2 trailer. As viewers know, the first season was filled with major drama, but it sure looks like the sophomore run is going to be even more intense — and thanks to Stephanie Hollman and Brandi Redmond no longer being close friends like they once were. Yes, it's as shocking as it sounds.
"My best friend is not my best friend anymore," Brandi says in the teaser. Then, Stephanie is shown uttering through a stream of tears, "The one person who was supposed to love me like a sister threw me away like a piece of trash."
Based on the trailer, it seems like at least some of their issues stem from the way Stephanie has discussed Brandi's marriage. Throughout Season 1, Brandi's marriage troubles were a huge part of her storyline and Stephanie stuck by her side through it all. Well, that may not be the case anymore. "You said that my marriage was like watching a slow car crash," Brandi says in the video to Stephanie, who is once again shown crying.
It actually looks like the downfall of their friendship is pretty serious, because LeeAnne Locken says to Cary Deuber, "They literally have not spoken in months." To that, Cary replies, "I know, I've been there for Stephanie." It's surprising to see these two at odds, especially since they were thick as thieves last season. It didn't seem like anything could come between them, but the trailer has proven otherwise.
That said, there is one moment the former BFFs share that will please their fans. While wearing over-the-top hats, Stephanie says to Brandi, "People think that we're obnoxious." Brandi answers, "We are." Maybe that means the old Stephanie and Brandi haven't completely disappeared?
In addition to their drama, viewers can expect more glass smashing from LeeAnne, who is also only seen wearing a hot dog costume at one point. On a more serious note, LeeAnne appears to be suffering from some type of flesh-eating bacteria and is shown in the hospital. Here's hoping all is well with her. Then, there is Cary, who is, obviously, also returning for round two of shenanigans and even gains notice for her Halloween costume.
With Tiffany Hendra not returning full-time (she will be seen occasionally), there are two new Housewives joining the series: D'Andra Simmons and Kameron Westcott. Cary describes Kameron as a "real-life Elle Woods from Legally Blonde" and she definitely loves her animals, because she is hoping to create a pink dog food. Yes, you read that right. As for D'Andra, she is tight with LeeAnne and says she'll only "walk on eggshells" when it comes to her mother — and Jesus.
It's safe to say that this season of RHOD, which returns Monday, Aug. 14 at 10 p.m. ET on Bravo, is going to be even better than Season 1.