The Drunken 'RHONY' Trip Brought Out Twitter's Best Memes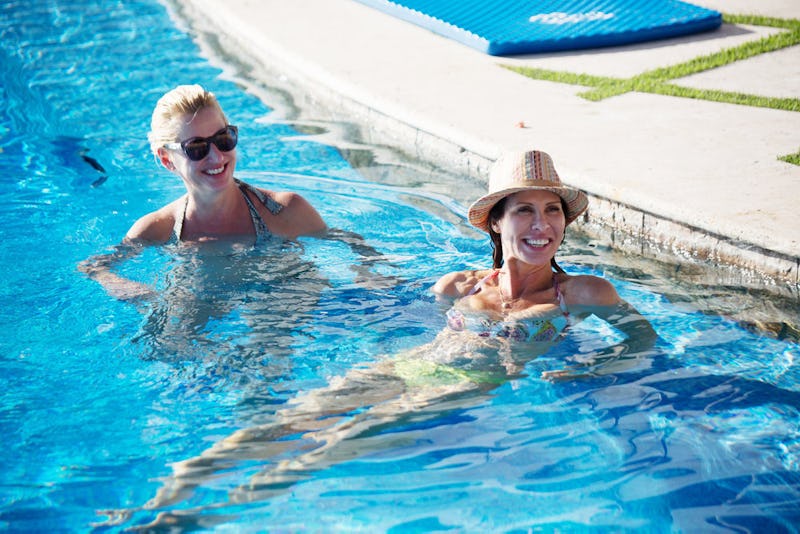 Paul Cheney/Bravo
What's the best part of any Real Housewives season? The trips, of course. When the cast gets away to play, that's when all of the best storylines (and drama) come out. The Real Housewives Of New York, in my opinion, has always had the best vacations. The Scary Island episodes in Season 3 are the best hours of reality television that Bravo has produced. Ever. Period. They are genius. Of course, the drama there is helped quite a bit not by sea breezes but by booze. That's because the Real Housewives (especially New York) love their drinking.
Trust me — I'm not here to judge. I think a hard-working woman deserves to let loose in a manner in which she sees fit, and as long as the ladies are drinking responsibly (and not driving), I'm for having a cocktail or two at the end of a workweek. Or weekend? I don't know if these ladies really have specific workweeks. Anyway, Real Housewives Of New York finally just made a trip that was all about drinking — Bethenny brought the gang down to Mexico to meet her tequila suppliers and tour the agave fields. The ladies were a little more lit up than usual, let's say, and I wasn't the only one enjoying it. Many on Twitter were into these ladies having fun and actually liking each other for once.
Sonja Had A Good Time
"I'm not drunk." — also me.
Everyone Was Getting Along
Ah friendship.
Some Fans Were Impressed
These women are pretty spectacular.
And For A Low-Dorinda Episode, There Was Plenty Of Love
Is the key to having a fun and fancy-free episode of Real Housewives Of New York some shots of tequila? People usually reveal their most honest feelings when drunk, so does this mean that the ladies actually like each other? I'm not ready to handle that idea just yet, so I'll curl up with a Skinnygirl margarita and work out my feelings alongside Bethenny and company.