This Housewife Is The Key To The 'RHOC' Stars Coming Together Again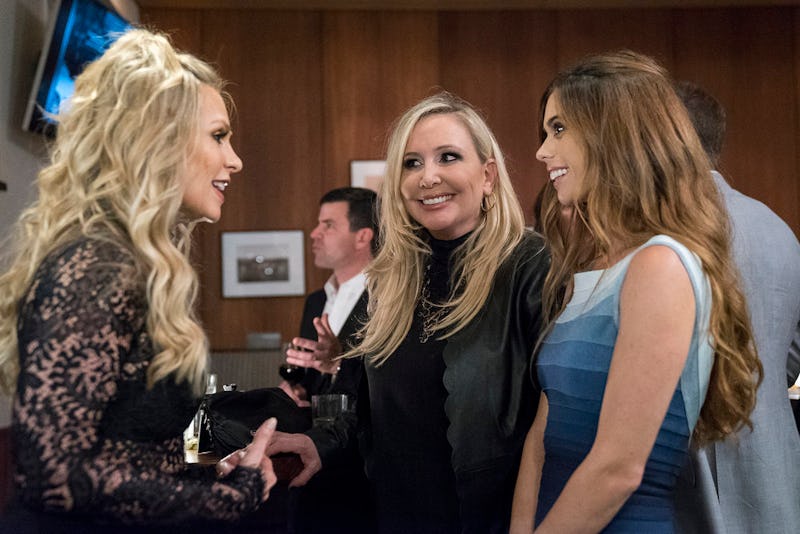 Nicole Weingart/Bravo
Women are chosen to star in the Real Housewives franchise because they have interesting lives, but the best additions to the shows are always the women who have real relationships with the other Housewives already in the cast. Real Housewives is definitely in its prime when the women have solid story lines as individuals and with each other, and the lack of the connections between the cast mates is why Real Housewives of Orange County is majorly slacking this season. The RHOC cast members need to stop ignoring each other, because the show is a lot better when the women actually interact.
At this point watching RHOC is like watching seven different shows in one hour-long episode. There is no intersection. There are no continuing story lines that keep up the anticipation from one episode to the next, and that's because the cast is so fragmented. It's great that these women have so much going on in their own lives, from running businesses to dealing with family drama, but it's tough to watch this season with the cast so splintered.
Meghan Edmonds did not interact with a single cast member for the first three episodes this season. She didn't even mention any of her fellow Housewives by name. Shannon Beador and Tamra Judge refuse to interact with Vicki Gunvalson. After avoiding events that Vicki might attend, the whole cast was finally in the same room when Meghan had a Sip and See party for her new baby, Aspen, but they didn't even all say hello to each other. It really is like watching a million separate stories and not at all like the cohesive show that it has been in the past.
Yes, it makes sense that Shannon and Tamra do not want to be friends with Vicki after all of the drama they have been through. The most recent (and offensive) strikes against Vicki are the fact that she talked to Kelly Dodd about rumors that Tamra's husband, Eddie, is gay and claimed that Shannon's husband David Beador "beat the sh*t out of her." Tamra has denied the rumors that Eddie is gay, and Shannon denied that David ever beat her. Shannon told Vicki during the Season 11 reunion, "You are horrible. You need to stop right now. I would never stay in a marriage if I were beat up. I would never teach that to my children." Obviously, Tamra and Shannon are going to be mad about rumors like this being spread; that's completely understandable. But with things being so split up, partially because of situations like this, RHOC is just not the same show it once was.
The Housewives do not have to be best friends. They don't even have to be friends at all. It's just a little much to see them all in the same room acting like their frenemies don't exist when they've all known each other for years.
Surprisingly enough, the one person who might have a shot at reuniting the cast is Kelly Dodd. Sure, Lydia McLaughlin returned to the show claiming to be the "friendship whisperer," but since she didn't keep in touch with Shannon or Vicki (the only cast members who were on during her previous season) she really has no relationships within the crew. Not only that, but she's caused more problems than she has fixed.
Meanwhile, last season's trouble maker Kelly is the only one coming through with the sincere apologies. She is the only one reaching out to the other ladies to resolve their past issues. She is the only one who is actually trying to have relationships with every single person in the cast. Kelly is the fandom's only hope at this point.
During the Monday night's episode, Kelly celebrated St. Patrick's Day with Meghan and Shannon and it actually went well. She apologized for past drama and they actually had a fun time partying. On top of that, it wasn't even boring to watch.
Real Housewives of Orange County is really at its best when the entire cast is interacting. All of the women don't have to be best friends by any means — that would make for a boring show — but RHOC will not be watchable if the story lines continue to be so isolated. If these ladies don't shape up, then there need to be some major changes to the cast next season if the show is going to thrive like it once did.