This Congressman's "You Lie!" Remark To Obama Has Come Full Circle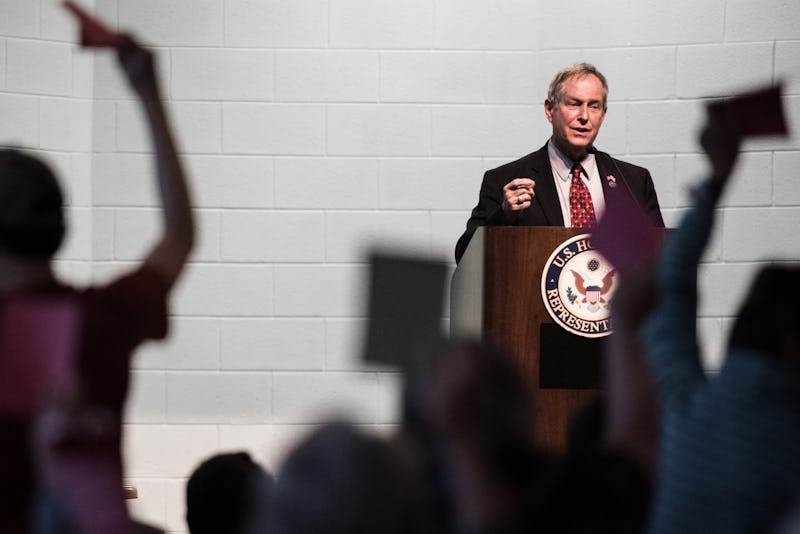 Sean Rayford/Getty Images News/Getty Images
Remember back to Obama's first year in the White House when a representative shouted out "You lie!" to Obama during a joint session of Congress? That was both Congressman Joe Wilson's passing moment of fame and a sign of the coming GOP attitude toward the president. Now it has come back full circle to haunt the South Carolina GOP congressman who started it all. On Monday, Wilson held a town hall and his constituents shouted the same message back to him in protest of his answers on healthcare.
They chanted "You lie" in unison for a good 20 seconds at what was already a tense town hall. According to TIME the congressman was about 40 minutes into the town hall when he fielded a question on Obama's signature healthcare bill, the Affordable Care Act. Wilson's response was that the law is denying coverage to its intended beneficiaries, prompting the outrage from the audience. The karmic justice is all the more sweet because it was Obama's comments on healthcare that prompted Wilson to disrespect him in the first place.
One constituent, a founder of the local Invisible chapter explained to The New York Times why there's such frustration with Wilson. "People feel really let down by Joe Wilson, and there's a lot of really high emotion when it comes to him," Julie Edwards, a pharmacist, told The Times. "A lot of it comes down to disrespecting President Barack Obama. Even a lot of Republicans in our state were face-palming over that."
The Post and Courier also reported that Wilson's comments on domestic violence drew a large pushback from the audience. "I've also supported the local solicitor here, and the solicitor in Lexington all efforts to make sure that violence against women is fully enforced," Wilson said during the town hall. It seems that healthcare is not the only issue he is willing to bend the truth on. Wilson actually voted against extending the Violence Against Women Act in 2013.
The meeting was held in Aiken Technical College in Graniteville, South Carolina, which is near the state's western border. Wilson's office has tried to paint the exchange as largely positive. His spokeswoman told The Times that the outburst was "less than a minute of a positive event that lasted nearly two hours where the congressman engaged with his constituents both in a town hall format and one on one after the official program ended."
What influence these sorts of town halls will have on politicians in D.C. remains to be seen. But the failure of Trump's healthcare bill is a sign that there is hope in resistance. Wilson mentioned the bill Monday night. "I had hoped to be standing here talking to you about a brand-new health care bill," Wilson told the crowd. "That unfortunately did not happen."
And then the crowd went wild.