All The Clues From The New 'Riverdale' Season 3 Poster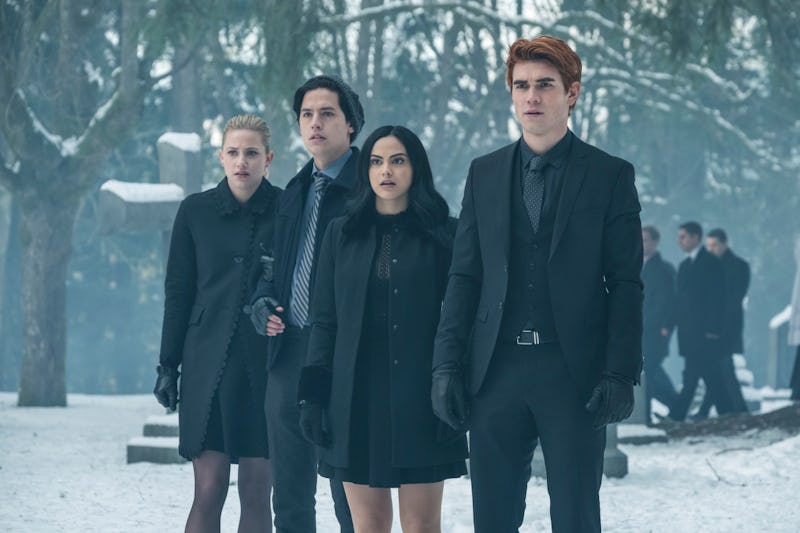 Katie Yu/The CW
Life is never easy in Riverdale and if the new Riverdale Season 3 poster is any indication, that fact isn't about to change anytime soon. The official Twitter account for the series unveiled the detailed image on Wednesday, which includes all of your favorite characters gathered together along with a new tagline: "Let the game begin." At first glance, you may think the photo is pretty insignificant in the grand scheme of things, but upon further inspection, there are definite clues from the Riverdale Season 3 poster that could hint at troubles to come for Archie, Jughead, Betty, and Veronica.
One detail that should immediately grab your attention is the presence of the masked-antlered monster that resembles a deer head. It seems that this ominous symbol could represent what series creator Roberto Aguirre Sacasa has now named as the Gargoyle King. This creature popped up briefly in a recent Season 3 promo, but in the poster, it's almost cradling the characters above it — or to put it more accurately — entrapping them into its tangled web of branches. Viewers may not know what this thing is or what it wants, but judging from the poster it's going to greatly impact every single person in Riverdale. No one is safe from its reach.
Another factor that's worth mentioning is how Jughead's back appears to be turned away from the group, while everyone else is pretty much facing forward. Could this mean that our favorite journalist will choose the South Side Serpents over his friends once and for all this coming season? Sure, it's a small detail that could amount to nothing, but when it comes to a show like Riverdale, you never know what clues could be hiding in plain sight.
Diving even deeper into the complexities of the poster, some could take the fact that Archie is placed prominently between Betty and Jughead as a sign that this love triangle could play a much more significant role in the days to come. The Season 3 trailer may show Bughead cozying up by a fire, but that doesn't mean their relationship will be smooth sailing for long. Trouble is never far behind these characters and this poster could very well be hinting that Betty and Jughead could have an Archie-sized problem on their hands soon. Moreover, Veronica's placement front and center (and very much on her own) in the poster may also be implying a romantic divide between her and Archiekins.
Speaking of the positioning of the character, anyone else find it interesting that Betty is so far in the back and off to the side? This could suggest that she'll play a less prominent role this season, or perhaps this is meant to symbolize her desire to create some distance between herself and the group. For a long time, Betty has felt that there's a darkness inside of her, which may be something that gets further explored throughout this third installment.
And last but certainly not least, there's overall look of the poster itself, which seems like it's been put under a dark and grainy Instagram filter. So in case you had any doubt on the matter, Season 3 is going to be the darkest season yet. Bring it on.