The RNC Chair Defended Trump's Campaign Ad Targeting Undocumented Immigrants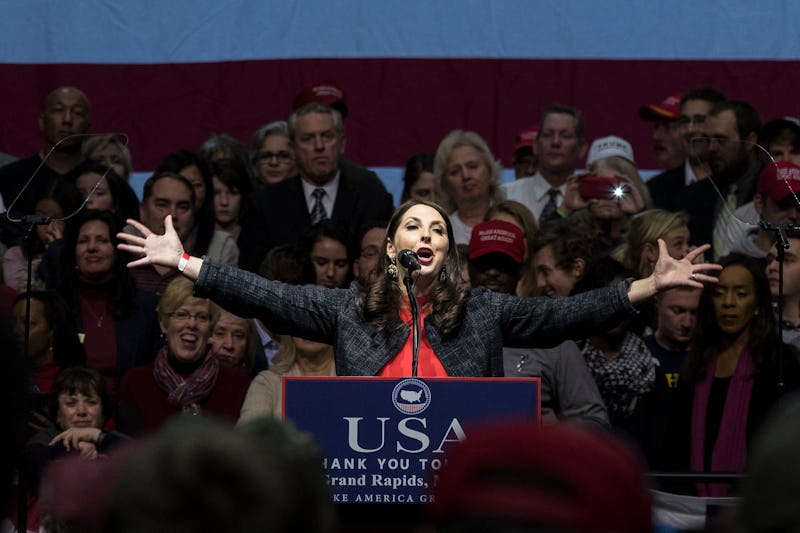 Drew Angerer/Getty Images News/Getty Images
In an exchange with CNN's Jake Tapper on Sunday, the RNC chair defended President Trump's campaign ad, which suggested that Democrats were to blame for enabling an undocumented immigrant who was convicted for killing two California police officers back in 2014. The president first shared the ad to his Twitter account on Oct. 31.
In speaking with RNC chair Ronna Romney McDaniel, Tapper pointed out that the ad contained factual inaccuracies insofar as blaming Democrats for the murders. The undocumented immigrant in the video, Luis Bracamontes, was deported from the United States twice, according to The Washington Post. Those deportations were in 1997 and 2001 — under one Democratic president, and under one Republican president.
"It's factually inaccurate and it's racially incendiary," Tapper said of the ad, according to Newsweek. "You don't have any issue with that?"
McDaniel responded that she had "an issue with our immigration system that's not being fixed. And the Democrats won't work with the president and we have caravans coming."
Both Democrats and Republicans have come out against the ad, describing it as racist and inappropriate. "This is a sickening ad," Arizona Sen. Jeff Flake tweeted. "Republicans everywhere should denounce it."
Colorado GOP Rep. Mike Coffman also denounced the ad. "The caravan is a humanitarian crisis of desperate families fleeing poverty and violence and the President's attempt to demonize them as criminals, in order to create fear among the American people, is simply wrong," he said in a statement provided to Colorado local news outlet Denverite last week.
But not all Republicans distanced themselves from the video. Donald Trump Jr., for example, took to Twitter on Saturday to defend the ad, lamenting that CNN reportedly refused to air it. "CNN refused to run this ad... I guess they only run fake news and won't talk about real threats that don't suit their agenda," he wrote. "Enjoy. Remember this on Tuesday. #vote #voterepublican."
CNN's Communications team responded to Trump Jr.'s tweet directly. "CNN has made it abundantly clear in its editorial coverage that this ad is racist," the communications account responded. "When presented with an opportunity to be paid to take a version of this ad, we declined. Those are the facts."
Aside from accusing Democrats of willfully allowing a violent and undocumented immigrant into the United States, the ad also showed footage of the migrant caravan currently making its way to the U.S.-Mexico border, suggesting that violent criminals were part of the group. "Who else would Democrats let in?" the ad asks, concluding that, "President Donald J. Trump and Republicans are 'Making America Safe Again.'"
President Trump's rhetoric regarding immigration — and especially undocumented immigration — has long been divisive, even before the migrant caravan became a talking point. And with the November midterm elections only days away, he has yet again returned the topic. The midterms have been characterized as the first major referendum on Trump's presidency, and cracking down on undocumented immigration was one of his key campaign promises. On the campaign trail, and afterward, he notoriously called for building a wall on the U.S.-Mexico border.
Though some Republicans decried the immigration-related ad, the president continues to enjoy major support from his political party. This was evidenced in McDaniel's defense of the video's message.